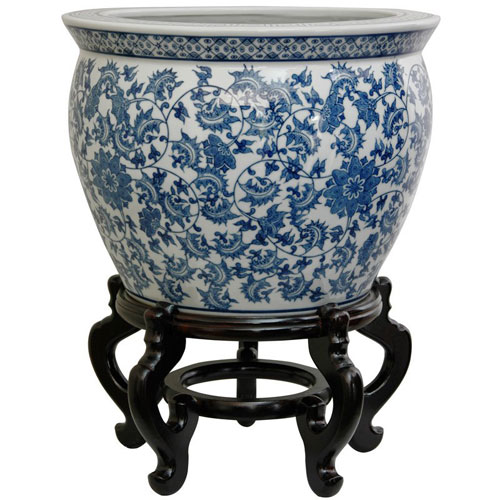 Historically, an item that grabbed the attention of European cultures was Chinese porcelain. China was able to develop porcelain ─ a specific process for creating attractive, high end ceramics ─ almost 1000 years before Europe created a similar technique. The following buying guide collects consumer information about antique Chinese porcelain. This guide will examine the history of Chinese porcelain, discover Chinese antique porcelain as a thriving category of contemporary consumer goods, look at the different component materials that are used to make up porcelain, the different types of porcelain items that are sold, the factors to consider when buying porcelain and the best practices to maintain antique Chinese porcelain. This guide aspires to arm consumers with the information they need to make more confident, informed purchases of Chinese antique porcelain.
History of Antique Chinese Porcelain
Blessed with rich deposits of kaolin, the clay most often used to make ceramics, China has, historically, been at the forefront of creating pottery and ceramics. As early as the Shang Dynasty, (1600-1046 BC), there was evidence of high-end ceramic items being produced in China. These examples of proto porcelain, as they were called, were more sophisticated than pottery elsewhere in the world. By the Han period in China, (196-220 AD), real porcelain was developed. Porcelain was invented in China more than a thousand years before anywhere else. During the Tang Dynasty (618-906 AD) aesthetic improvements created more varied and attractive porcelain items. An example of this was the three-coloured, Sancai porcelain, popularized at that time.
As the new Millennium swept in, and new dynasties of Chinese rulers emerged, China's divisions of labour became more complex and the export of porcelain increased dramatically. During the Ming dynasty (1368-1644) lucrative trade to Europe created a rich market for porcelain. New innovations in the porcelain production process led to new variations of porcelain, such as 'blue and white' porcelain. For hundreds of years Europe attempted to create ceramics of similar quality but never managed it. The proto porcelains that they did create, up until the 18th century, were chemically inferior to Chinese porcelain.
Discover Antique Chinese Porcelain
As looking at the history of Chinese porcelainshows, porcelain holds a central position in the history of trade. Porcelain trading was one of the most lucrative trades happening between Asia and Europe in the past. At its height, imported porcelain led Europeans to refer to many porcelain wears simply as "China".
There is wealth of choice when it comes to porcelain antiques. A great variety of different product types were created and different artistic genres explored. With just a little exploration by consumers an antique porcelain item for all price ranges and for all uses can be found.
Components of Antique Chinese Porcelain
The following, in chart form, will provide a brief list of some of the most common materials used to make porcelain:
| Part | Description |
| --- | --- |
| Kaolin | Kaolin is a soft, earthy, white clay that is found in abundance in China. This material is the base of most Chinese porcelain. |
| Petunse (pottery stone) | Petunse is the term for a wide range micaceous or feldspathic rocks. Petunse is also referred to as pottery stone |
| Feldspar | Feldspar crystallizes from magma and is a mineral that contains aluminium silicate and flint. It is a commonly used mineral in glass and ceramics making. |
| Quartz | A common occurring mineral inside the earth's crust. Quartz is often used to make jewellery and hard stone carvings. |
Types of Chinese Antique Porcelain
With a history dating back thousands of years, a variety of different types of Chinese porcelain products have been created. Below are a few of the most common found on eBay. Buyers are encouraged to look at other buying guides that offer specific consumer information for each of these item types below.
| Part | Description |
| --- | --- |
| | Porcelain vases were amongst China's largest exports to Europe. Known for their vivid decoration and beautiful construction. |
| | The solid, yet brittle texture of porcelain has long been use to make plates. |
| Pots/plant holders | Pots and plant holders have become a regular piece of decoration in Eastern and Western homes. |
| | Ceramic statues of varied height and size are considered to be the height of porcelain as an art form. Porcelain techniques allow for them to be richly decorated and ornamented. |
| | A ceramic Chinese tea-pot can serve as a great ornament or functional item. |
| | Vividly decorated bowls. |
| | Ceramic cups whether functional or decorative have been a popular porcelain item. |
Factors to Consider When Buying Antique Chinese Porcelain
Is the purchase for ornamental or functional reasons – When purchasing antique porcelain items, a major point to consider is, the intended use of the product. Different price points and concerns of maintenance will come to the fore depending on whether the item is to be strictly decorative or put into functional use. To best enjoy the purchased item, the buyer should plan their use for the item.
Provenance – The lineage of the antique, or provenance, is important to discover, if possible. If the seller has information, preferably written evidence, of the item's previous owners it can help to officially date the product. With an authenticated timeline of an antique piece of porcelain it is easier more accurately determine its real value.
Marks – When purchasing antiques look for markings that identify the manufacture or artist connected with making the item. This process connects to the above concept of provenance and can help identify the value of an item and will help to protect against fake items being purchased.
Authenticity – When purchasing items that are classified as antiques, buyers need to be cautious. Items coming from China that are true antiques should have a red wax seal on their bottom. This seal signifies that the Chinese government has examined the item before it was exported and classified it as an antique.
Has the item been tampered with or restored – The Buyer should look for signs of alteration or repair to an antique item. Alteration, if not explained originally in the description of the item, could be evidence of dealers or sellers trying to correct flaws with modern repair techniques. This would affect the value of the item in a negative way.
How to Care for Antique Chinese Porcelain
Generally a fragile item, antique porcelain requires additional care. The best suggestion is to store a ceramic item behind glass where it cannot be knocked over and broken. Furthermore, porcelain pieces should be stored away from direct sunlight, as the sun will cause artwork on porcelain to fade over time. Humidity and extreme temperature variations should also be controlled.
Use an artist's paint brush to remove dust from porcelain items. Ceramics can be washed with non abrasive soap and water. Use a soft sponge and clean the porcelain. Place a towel under the item when complete and allow it to dry naturally. Never use a dishwasher to clean ceramics.
Always pick up antique porcelain by the body of the item and not the extremities. Often the extremities, the handle or spout for instance, have weakened over time and could possibly be damaged.
Accessories for Antique Chinese Porcelain
Beyond maintenance items for porcelain (things like soaps and non abrasive cleaners) accessories depend upon the specific type of item purchased. Accessories should tie in with that item. For instance if plates have been purchased, cups or an antique table might complement them nicely. Buyers should read up as much as they possibly can on antique Chinese Porcelain before making any purchases.
Finding Antique Chinese Porcelain on eBay
Once the buyer has determined the type of antique Chinese porcelain to purchase, visit the Antiques portal on eBay, click on, 'Chinese' then 'Porcelain/Pottery' and start searching item listings. The Categories list on the left-hand side of the eBay page helps to narrow the search.
Searching for Antique Chinese Porcelain on eBay
Search eBay listing titles for specific words when shopping for antique Chinese porcelain. For example, to find an antique Chinese antique porcelain Ming vase, type 'Chinese antique porcelain Ming vase' into the search box, and then click the Advanced button to customize the results. Also visit eBay's Search Tips page for more advice on searching for Chinese Antique Porcelain with keywords. If you can't find the antique Chinese porcelain that you want, try shopping eBay Stores.
Conclusion
When purchasing an antique the most important aspect is finding an item that looks attractive in your decor and resonates personally with you. A piece of antique Chinese porcelain can also prove to be a sound monetary investment. The information in this buying guide has hopefully provided some much needed guidance in relation to different types of porcelain items and how to best avoid forgeries. It is advised that you gather as much information as you possibly can on the subject; whether it be from reference books in libraries or from buying guides on eBay.
Once you have collected this information, you can buy some antique Chinese porcelain safely and securely on eBay.