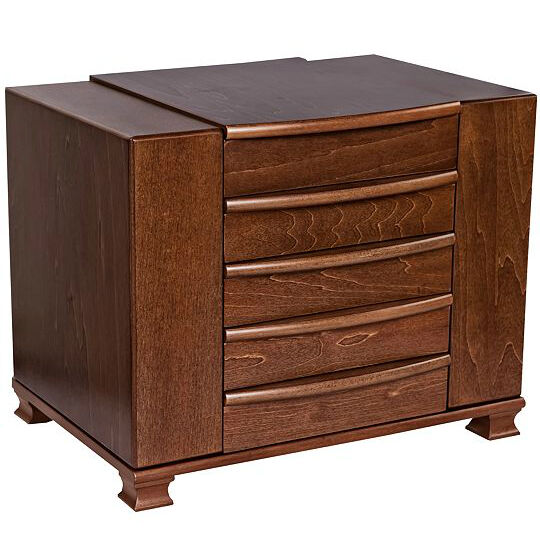 Antique wooden boxes combine charm and functionality to make them widely sought-after collectables. There are many types and varieties of boxes. Some people collect by box type (snuff box, writing box, vanity box, to name a few), while others collect according to decorative style (paintings, engravings, repousse, for example). Antique woodenware boxes can range in value from a few pounds to thousands of pounds. Age, artwork, condition, maker and construction material all play a part in affecting the value of the box. This buying guide will provide information about the history, types and styles of antique woodenware boxes. It will also provide tips to ease the selection process, and instructions for care and maintenance after purchase.
History of Antique Woodenware Boxes
Due its malleable nature, wood was probably the material of choice for the earliest makers of boxes. Writing boxes, gentlemen's vanity boxes and workboxes were often made of solid mahogany in the latter part of the 18th century. Their sturdiness was important to officers during wartime and travellers on the 'grand tour' of Europe. Later, thick veneers were used to cover boxes made in oak or pine. This enabled creative use of grain and a greater choice of decorative devices. Edging, banding, inlay, stringing and other techniques were used to enhance the appearance of the box.
The most popular woods for decorative boxes in the early 19th century were mahogany, fruitwoods, yew, harewood, satinwood and partridgewood. Very early in the 18th century and often used with the other woods, kingwood and rosewood were introduced. Hand-painting, pen work, chinoiserie, decoupage were commonly employed. Increased mechanisation saw veneers becoming thinner. Walnut could be cut very thinly, and many boxes were produced in the second half of the 19th century with walnut veneers.
Discover Antique Woodenware Boxes
Antique woodenware boxes have many unique features not found on modern boxes. Hinged lids and dovetailed construction are common. Historical notes are provided by engraved logos, painted lettering and old labels. This makes a box more appealing to collectors, and a more interesting piece for the home. The sheer range in the sizes of antique woodenware boxes creates many possibilities for different decorating styles. A small cheese box can work in the kitchen to hold cooking utensils and implements. Larger boxes can work in the living room as coffee or end tables.. The creative opportunities are endless. However, if a box is fragile or very valuable, it might be better used for display purposes only.
Parts of Antique Woodenware Boxes
There are nearly limitless variations of antique woodenware boxes but the essential constituent parts are similar to all. Below are the standard components
| Part | Description |
| --- | --- |
| Lid | Can be hinged on one side or removable. |
| Hinges | Hinges on large antique woodenware boxes are usually simple and well-built. Small boxes may have ornate or stylised hinges. |
| Body | The main part of the box that holds its contents. |
| Handles | Utility boxes for tools often have one long spindle handle; other carrying boxes usually had apertures as opposed to outcrops to facilitate packing; smaller boxes often did not have any handle at all. |
Types of Antique Woodenware Boxes
There are many different types and styles of antique woodenware boxes. Below are some of the most popular.
| Type | Description | Advantages | Considerations |
| --- | --- | --- | --- |
| Snuff box | Small, often ornate box for containing snuff, a kind of tobacco. | Can be re-purposed to hold other small items. | One of the most collectable types of antique woodenware boxes. |
| Writing box | Portable box for writing materials. | Likely to be delicately crafted. | Collectable. |
| Vanity box | Held personal items for men. | Beautiful craftsmanship. | Collectable. |
| Jewellery box | For ladies to put away jewels, gold and other personal items. | Beautiful craftsmanship, still ideal for this purpose. | Collectable. |
| Sewing box | Holds sewing items. | Beautiful craftsmanship, still ideal for this purpose. | Collectable. |
| Toy box | Used to hold toys, usually has a hinged lid on top. | Adds charm to a child's room and yet useful. | Ensure there is no mould or mildew. |
| Kindling box | Holds logs and kindling for a fireplace, often completely covered in brass or another metal (repousse). | Repousse kindling boxes are very attractive and make beautiful pieces of furniture. | Check for insects such as termites and beetles which could have been present in original logs. |
| Packing crate | Usually large, can have company name embossed, engraved, painted or labelled on. | Adds charm and historical interest. | Can also include original company slogans. |
| Tea caddy | Hold contents for tea. | Very detailed construction. | Date back to the introduction of tea to Britain. |
| Cigar box | Used to hold cigars. | Can be re-purposed for household knick-knacks, such as coins. | Collectable. |
| Cutlery box | Holds cutlery for special occasions. | Distinct in purpose, can still be used for this. | Ornate designs. |
| Lure box | Holds fishing lures and other tackle. | If sturdy, can still be used for this purpose. | Check bottom for water damage. |
| Nutmeg grater | Held nutmeg for grating into drinks or onto food. | Small and ornate. | Collectable as nutmeg was valuable and expensive before the 1900s. |
| Tool Box | Holds tools, usually open on top with a carrying handle that runs the length of the box. | If sturdy, can still be used for this purpose. | Oils and solvents can damage the antique wood. |
Factors to Consider When Buying Antique Woodenware Boxes
Antique woodenware boxes are valuable because they have weathered the passage of time and thus, should look the part. Recent trends toward restoration have blurred the line between reproductions and genuine articles. It is not uncommon for some early boxes to be sanded down and varnished, destroying the character and patina. Take note that while this may be aesthetically pleasing, it will reduce the historical value of the box, as well as its value for future resale.
Typical Features of Antique Woodenware Boxes
1. Engraved logos
Wooden boxes used to transport goods often bore the maker's name on the side, and sometimes even a company slogan. These were engraved, painted or even applied as a label.
2. Repousse
This is a technique by which metal is shaped by hammering from the reverse side to create a low relief design. This metal could be affixed in various sizes to a wooden box, or used to completely cover the outer surface. This was often done to beautify small boxes and also added to kindling boxes to protect the wood from sparks from the fireplace.
3. Parquetry
Parquetry involves the use of wooden pieces to form a geometric, decorative mosaic. Sometime used on the top or front of larger antique woodenware boxes, parquet patterns are entirely geometrical and angular and can include squares, triangles and lozenges.
4. Marquetry
Marquetry refers to the art of applying pieces of veneer to form decorative patterns, designs or pictures. This technique was used on wooden boxes both large and small.
5. Open top
Open top boxes were common for delivery of items like milk bottles. These can be used as attractive storage bins in the living room or hallway. They can also be flipped upside down and used as tables or display platforms for other items.
How to Care for Antique Woodenware Boxes
Not all antique woodenware boxes have monetary, artistic or historical value. In fact, proper restoration, refinishing or repair can sometimes increase the value. That said, the finish is often as important as the box itself. Stripping removes the original coating and time-worn patina. Once gone, they can never be recovered.
There are ways to enhance the look of the wood without damaging the existing finish. Polishes, adhesives, fasteners and finishes should be avoided as they will dramatically affect the value. UV light is also damaging to antique wood, turning clear finishes yellow or opaque. Curtains or shades should be used to diffuse or block sunlight. Heating and air conditioning ducts, fireplaces and stoves should also be avoided as the heat can shrink the wood and loosen glue joints, veneers, inlays and marquetry. Changes in humidity can also cause wood to expand and contract with similar negative results. Extended periods of high humidity can lead to mould growth, rot and insect infestation. Beetles and termites can also damage old wood. Their presence can be identified by exit holes and fine sawdust. Consult an exterminator and/or a restorer if these are present.
Antique wood does not need to be nurtured with oil to keep from drying out, as long as it is not left in a hot dry area. Oils will enhance the finish but can leave a residue that can attract dust and dirt over time. It is best to use a high-quality paste wax which is long lasting and offers protection from moisture and dust. A thin coat of wax applied annually will suffice. In between waxing, dust the box with a soft, lint-free cloth on a regular basis. Dampen the cloth slightly and turn frequently as a dry rag can cause scratches. Wax may not be appropriate for surfaces with a deteriorating finish. Consult a furniture restoration specialist if unsure how to proceed.
Makers of Antique Woodenware Boxes
Asprey
Betjemman & Sons
Bramah
Chubb
Edwards
Hancock
Howell James and Company
Jenner & Knewstubb
Leuchars
Lovegrove and Flint
William Lund
Toulmin & Gale
Accessories and Add-ons for Antique Woodenware Boxes
Some accessories for the care and maintenance of antique woodenware boxes include the following.
Antique furniture wax
Mild soaps or cleansers
Soft cloths or brushes
Finding an Antique Woodenware Box on eBay
Once you determine the type of antique woodenware box you want to purchase, visit the Antiques portal on eBay, click on 'Antique Furniture', then 'Boxes' and start searching item listings. The Categories list on the left-hand side of the eBay page helps to narrow the search.
Searching for an Antique Woodenware Boxon eBay
Search eBay listing titles for specific words when shopping for an antique woodenware box. For example, to find an antique wooden snuff box, type 'Antique Wooden Snuff Box' into the search box, and then click the Advanced button to customise the results. Also visit eBay's Search Tipsppage for more advice on searching for antique woodenware boxes with keywords. If you can't find the exact antique woodenware box you want, try shopping eBay Stores..
Conclusion
This guide provides much of the information necessary to search for antique woodenware boxes on eBay. Once you have collected all the information you need, you can buy an antique woodenware box safely and securely on eBay..