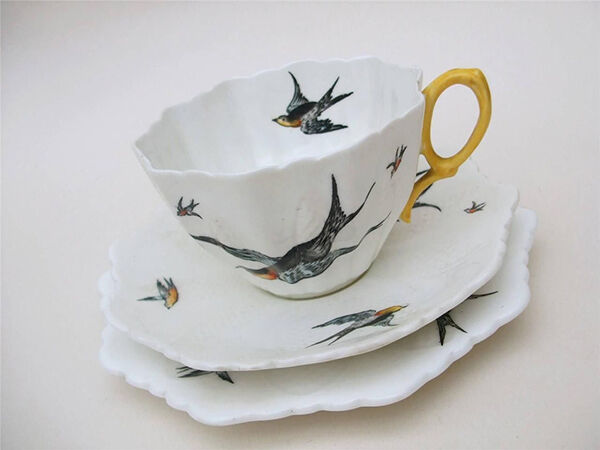 Spanning the years 1920 to 1939, the Art Deco era boasted an explosion in machine manufacturing. This led to the mass production of high quality china. Popular china designs from the Art Deco era included those with geometric patterns, sleek lines, and sharp contrasts. Combining bold colours with light colours was another trademark of Art Deco design motifs. The china produced during this time remains both traditional and timeless.
Although finding the perfect Art Deco china may seem overwhelming, it can also be fun to search for favourite patterns whether beginning or adding to a collection. Consumers in search of china from the early 1920s and 1930s often look to eBay to find a vast selection of patterns at varying prices. Using eBay, consumers can shop by manufacturer, type of china, product type, or condition. Relying on eBay affords customers with a convenient shopping experience.
Types of China
China from the Art Deco period was made from various materials. Although consumers can find some pieces made from silver or pewter, the most popular materials used during the 1920s and 1930s were porcelain and bone china.. Knowing a bit about each material might help consumers focus on what they prefer. When looking for a china cup, saucer, or plate on eBay, be sure to specify which material is desired.
History of Porcelain
Originally developed in China during the 10th century, porcelain is actually a type of ceramic pottery. Today, it is commonly referred to as china, thus acknowledging its ancient origin. Because china was rare and valuable at first, owning pieces became a symbol of extreme wealth, equivalent in value to gold and silver. In fact, it was referred to as white gold because of its extreme value. The secret to making china was not widely known outside of China until the early 1700s when a European apprentice chemist named Friedrich Bottger learned how to produce it. Soon after his discovery, china production began throughout Europe. Many companies that originated then, such as Wedgwood and Doulton, still manufacture dishes that remain popular today.
History of Bone China
Bone china is a type of porcelain that is specific to Europe, the most famous and most expensive being produced in England. Bone china's formulation of six parts cattle bone ash, four parts china stone, and 3.5 parts clay was finalised by English potter, Josiah Spode, in the late 1700s. When it was first made, bone china was considered equal to porcelain made in China, which was a victory for Europeans who had long been attempting to produce their own version of china to offset import costs. Known for its hard surface, chip resistant finish, and high mechanical strength, bone china has endured for generations. Bone china is easily recognisable by its white translucent finish. It is still predominantly made in England using the original formula and same firing methods that it did thousands of years ago.
Identifying Art Deco China
Sometimes, it can be difficult to tell the age of a piece of china at first glance. Although many sellers on eBay offer this information straight away, some do not; thus, it is helpful to know how to determine if the china is authentic. Some characteristics to look for include the maker's mark, glazing, imperfections, and type of imprint.
Maker's Mark
The maker's mark is the most important clue in discovering if the china is authentic. First, the buyer should locate or inquire about the maker's mark on the china. It is always located on the back or bottom of the piece. These marks or symbols "speak", telling who made the dish, where it was created, pattern information, and when it was made. Generally, those marks that appear handwritten date before the 1800s whereas marks that use the word "trademark" and are stamped in colours other than blue indicate the dish is from 1862 and later. Another clue to look for is if the dish has the word "Limited" or "Ltd" on it. If so, one can assume it dates from 1885 or later.
Glazing
Examine the glazing, or finish, of the china. Often times, a network of cracks running through the china's finish is noticeable. This is called crazing, and it is not unusual to see with older china. Crazing is also common when the dish is handmade and painted. A perfect glaze with no crazing suggests the dish was machine produced, which may indicate its age since the Art Deco period was the first time china was mass made.
Imperfections
Due to frequent use, it is normal for dishes to show wear, especially those that are old. Many Art Deco dishes that were regularly used decades ago show some age, such as crazing, discolouration, fading, and stains. When looking at china on eBay, consumers should be especially mindful of such imperfections.
Painted or Printed
Some china from the Art Deco era was hand painted or hand engraved, making each piece very unique. More commonly found from this time period were dishes that were mass produced and had printed images. Many times, the patterns and pictures on dishes were quite detailed. Popular themes for dishes from the Art Deco era include those with straight lines and geometric patterns.
Popular Manufacturers of Art Deco China
Although several countries produced dishes, such as Japan's famous Noritake, much of the china from the Art Deco era that is in demand today comes from American and English companies. To discover more information about the kind of china dishes available, it is helpful to know some of the most popular companies who manufactured china during this time.
| | |
| --- | --- |
| American | English |
| Royal | |
| Knowles | |
| Homer Laughlin | |
| Crooksville | |
| Lenox | |
| French-Saxon | |
Most of the companies listed created china using machinery that was inspired by the technological advances of the time.
Locating Art Deco China on eBay
There are several ways to search for Art Deco china pieces on eBay. eBay provides a host of options to help consumers narrow their selections in order to find the ideal china products.
Locate by Manufacturer
As mentioned, there are several popular china manufacturers that flourished during the 1920s in both England and America. When searching by manufacturer, buyers can specify certain makers to find desired china. Or, if preferring to browse several china manufacturers, buyers can also select a few manufacturers to begin their searches. Some manufacturers are not specified by the seller, so it may be worthwhile to check out these listings, too, especially if unable to locate certain china makers. Most manufacturers also maintain websites, and customers can check these out to learn more about each company's history and designs.
Locate by Type of China
Another option when looking for Art Deco china on eBay is to modify the search by the type of china desired. The most common types of fine china include porcelain and bone china. However, there are other kinds available. Often, these fall under larger umbrella terms, such as pottery, glass, and ceramics, and include many of the same manufacturers.
Locate by Product Type
Consumers can also search eBay for Art Deco china depending on the type of product desired. Cups and saucers top the list for china products. All sizes of plates, such as side plates, dinner plates, dessert plates, and chargers are also products that are available. Cake stands, sugar bowls, and serving pieces are also products that consumers may be seeking.
Locate by Condition
Consumers also have the ability to search for china by its condition, such as new or used. Because eBay includes sellers from all over the world, some people may have china in perfect condition whereas others might offer used pieces that show some wear. Buyers should be cautious when choosing used pieces and should ask questions about the item's condition before bidding. Additionally, buyers should expect to pay more for rare pieces that are in like new condition.
Buying Art Deco China on eBay
Buying Art Deco china on eBay is convenient and easy. Furthermore, with the advantage of working with sellers from all over the world, buyers are afforded limitless options. With so many ways to refine searches, consumers are sure to find exactly what they want. Using eBay saves time and money.
Searching for Art Deco China on eBay
To first begin a search on eBay, type in exactly what you are looking for in the search box on eBay's home page. Whether you want to find new or used china, try entering appropriate search terms, such as " Art Deco china &". This returns a wide variety of choices, and you can begin specifying more characteristics. For a more refined search, be more specific in your search criteria; enter the model or brand of china for which you are looking, such as "Tuscan china &". After checking out the listings, you can narrow down your options with the available refinements as mentioned. Using this approach is especially beneficial if you are feeling overwhelmed by too many choices.
Purchase Art Deco China on eBay with Confidence
There are so many advantages that afford consumers when using eBay, such as limitless shopping opportunities all under one safe and secure username. Additionally, registering for an account is free and easy. Moreover, eBay's partnership with PayPal protects personal financial information and saves valuable time when completing transactions. All of these things benefit buyers who wish to shop from the comfort of their homes.
Conclusion
The legacy left behind in terms of china from the Art Deco period remains strong still today. The straight lines, bright colours, and geometric patterns found on china from the 1920s and 1930s continue to be sought after motifs amongst collectors. Becoming familiar with how to distinguish between porcelain and bone china is also important for consumers who are considering purchasing pieces. Furthermore, knowing how to identify authentic china benefits buyers who are looking to begin a new collection or add to an existing collection.
Those in the market for china from the Art Deco period have a large selection to choose from on eBay. eBay's easy search features and convenient shopping platform offer shoppers an excellent option for finding just what they are looking for at prices they can afford. eBay allows buyers to shop for china by brand, type, and condition, ensuring them a successful and simple shopping experience.