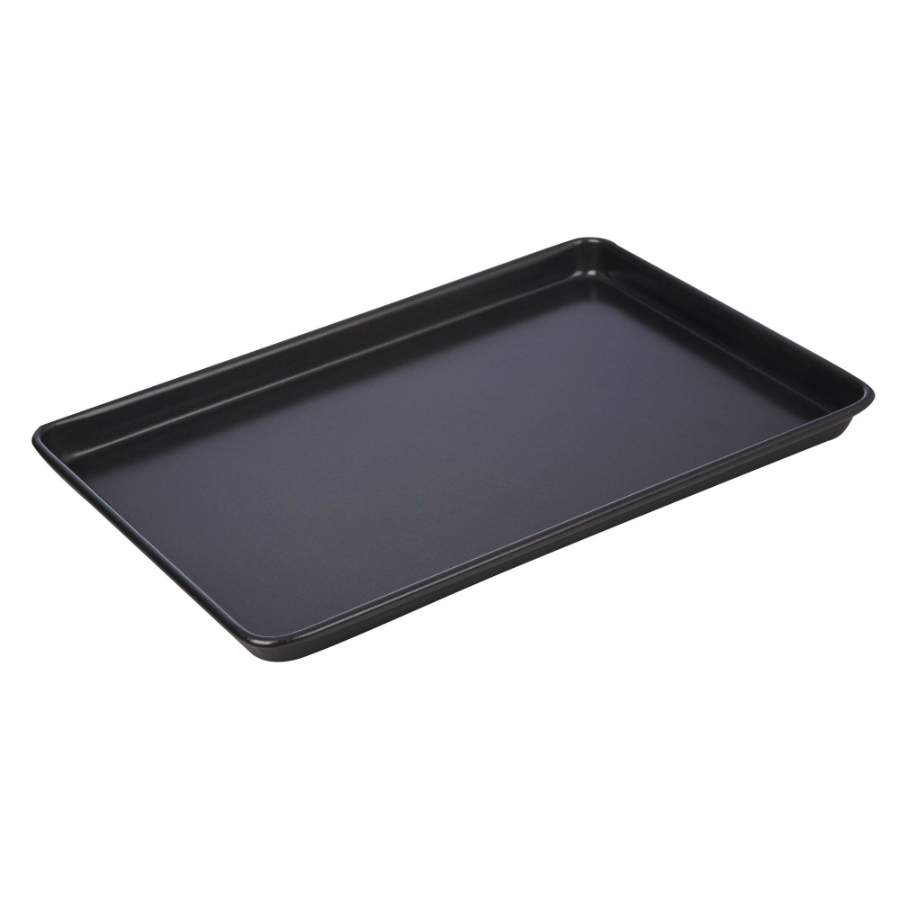 Baking trays are to be found in most kitchens being used to cook a wide range of items in the oven. Any cook buying a baking tray has a lot of options from which to choose, especially with new products and materials appearing on the market on a regular basis. Different types of product are more suitable for different types of baking, meaning it is advisable to do some research before purchasing a baking tray on eBay.
History of Baking
Baking began thousands of years ago when the first prehistoric man heated food on a hot rock. Evidence suggests that the Egyptians, as far back as 2500 BC, were baking bread, and they probably learnt this skill from the Babylonians before them. The Greeks did not use a baking tray similar to our modern ones, but they were making tarts and flans as far back as 400BC. Being a pastry chef in Roman times was an important role as the nobility back then had a great love of pastries. The art of baking gradually spread with the Roman Empire across Europe, and accessories such as baking trays were eventually developed for use.
Things to Consider when buying a Baking Tray
Given the diversity of things to bake, purchasing the right tray deserves due consideration. eBay is an invaluable resource to consult before buying a baking tray not only due to the wide variety of options, but also due to the amount of information available regarding baking trays. Using the eBay wish list should also be considered, as potential items to purchase can be saved here to be reviewed after thorough research has been conducted.
Material
Baking trays can be made from a wide variety of materials. Consider first how the tray is to be used before deciding upon a suitable material and if there is any doubt, read the product reviews which can be found on the eBay products. Feedback from people with experience in using these products can be very useful, and will help to answer any questions which may arise.
Metal
Metal baking trays are the most commonly seen, and may be made out of carbon steel, aluminium, or tinned steel. They may have a non-stick coating on the inside to aid the cleaning process and make it easier to get food out of the pan after cooking. Some trays also have a copper bottom, similar to some hob top pans. These are designed to spread the heat evenly and quickly across the base of the tray. Metal trays, especially those with a non-stick coating, should be stored in dry conditions to avoid rusting, and metal utensils should not be used on the non-stick surface as they might damage it. Thinner metal baking trays may be prone to warping under high temperatures and for this reason, heavier, thicker trays are advisable. Stainless steel baking trays have a pleasant shiny appearance when new, but this should not be taken as a major consideration when buying a baking tray, as keeping a stainless steel tray bright and shiny for any length of time can mean a lot of hard work.
Glass
Glass baking trays are less common than metal ones, and are made from tempered glass for safety reasons. Those who prefer this material for baking trays claim that the glass surface conducts heat more evenly across the base of the tray and, therefore, allows the food to cook through more evenly. Glass baking trays should not be subjected to sudden changes in temperature, and so should be allowed to cool before being put into cold water.
Silicone
Silicone baking trays are a relatively new invention and may not appear to be able to cope with the high heat levels of an oven, but they are actually surprisingly durable and can withstand higher temperatures than many metal trays. Silicone comes in a range of fun colours and is flexible, microwaveable, and easy to clean; its only vulnerability is to sharp knives or other objects that may pierce the material. Silicone baking trays are obviously less rigid than metal ones, so it is advisable to stand them on a firmer base if the food being baked is quite heavy.
Shape and Size
Baking trays come in a range of shapes and sizes and careful consideration should be given to the purpose of the item before making a decision. Make sure to use eBay's ask the seller a questions feature to clarify the exact size of the baking tray.
Rectangular
The majority of baking trays are rectangular; this is a shape that makes the most of the oven interior. The sides may be very low, which is good to get the heat freely circulating around a joint of meat, or higher, which helps if the food being baked has a lot of juices that may spill from a lower sided baking tray.
Loaf Pans
Loaf baking pans are also rectangular in shape and are deep-sided. They are used for baking loaves of bread or loaf shaped cakes, such as banana bread or other dessert breads. Loaf pans come in most materials; aluminium is best for an even spread of heat and, therefore, consistent baking, but the softer aluminium pans can get scratched quite easily.
Round
Round baking trays have a range of uses, the most common being for baking pizzas. They may have holes through them to allow the heat to get to the pizza base and crisp it properly. Round baking trays with higher sides are generally used for baking cakes.
Muffin Tin Baking Trays
These baking trays have a series of cupcake-sized indents to hold muffin or cupcake cases in the correct position whilst the mixture inside them is still liquid. They can also be used for making individual Yorkshire puddings, mini quiches, and mini flans. Muffin baking trays are ideal for any cupcake or muffin style baking.
Multiple Part Trays
This type of tray is designed for baking cakes and other dishes that can be difficult to get out of the baking tray after they are cooked. Baking trays with a push up base allow the cook to slide the cake up out of the surround, and then easily remove it from the base without ruining the shape or damaging the edges. These baking trays need to be carefully looked after to avoid warping, as any liquid mixture, such as batter, can leak out of them if the fit between the pieces is less than perfect.
Pattern Edge Trays
Baking trays or dishes with a patterned edge, such as wavy sides, are used for baking pies, flans, or quiches, which need the patterned edge to look correctly finished. These baking trays are often ceramic and the flan or quiches that are baked in them will usually be served straight from the dish.
Care of Baking Trays
A good quality metal baking tray will last for many years if it is properly looked after. The trays should be allowed to cool, at least partly before being washed up, as they may warp if thrust into cold water when they are very hot. Non-stick surfaces should not be scoured or scrubbed too hard as this will damage the coating; ideally they should be stored with a soft layer between them and other metal trays to keep the non-stick layer intact for as long as possible. Metal trays are unlikely to rust unless they are left wet for a prolonged amount of time, but storing them in dry conditions is advisable as all but the most sparkling clean baking trays can grow mildew if put away damp. Glass is a less common material for baking trays, generally only used for loaf tin shapes or as casserole dishes. These are easy enough to keep clean, but can chip if knocked or dropped.
How Much to Spend
Spending more money is no guarantee of a better quality of tray so it is best to shop around before buying. Friends and online forums will recommend brands that have proved good for them, and provide warnings about lower quality products. Thicker, heavier based baking trays will tend to last longer; thinner trays may warp and twist in really hot ovens. The inferior products adversely affect the spread of an even heat across the food being cooked. Do check the Buying Guides and Product Reviews on eBay to make sure that an appropriate product is found.
Spending on eBay
Learning how to use eBay wisely is a good way to spending wisely. eBay is primarily an auction site, but many products are available for direct purchase. These sales are referred to as Buy it Now, and are a good way of quickly acquiring products when the price is fitting. Using eBay's automatic bid function for the auctions is also an easy way to save money. With this feature, it is possible to set a maximum price. Following this, eBay generates bids automatically until the maximum price has been reached. PayPal is the preferred method of payment, and it makes sense to use this service as it is secure.
How to Buy a Baking Tray on eBay
A quick search for baking trays will bring up many thousands of results, so those that know exactly what they want should narrow these down by putting a material, size, or shape in the search string. When browsing, using the category links is also useful. To get to baking trays, go to Home & Garden followed by Home & Garden again. From here, click on Furniture & Living and then follow the link to Cookware, Dining & Bar. On the left, Baking Trays can be found in the Bakeware & Ovenware category, or even in Baking Accessories. The filters on the left of the search results can also be used to narrow them down to a specific price range, manufacturer, colour, or shape; this is a good way to have a look through all the options if one is not sure exactly which type of tray to buy. There are often sets of baking trays in a range of sizes that are a great idea for anyone who wants the flexibility of a selection of trays to suit all their baking needs; a set that stacks neatly inside one another are perfect for kitchens with limited storage space.
Conclusion
The many different sizes and shapes of baking trays available is overwhelming, however, a quick search on eBay will provide a sample of the products that are available. Those in search of baking trays can choose from a wide selection, which is sure to include something to suit individual requirements. From pizza baking trays to deeper loaf tins, all kinds of shapes, sizes, and materials can be sourced on eBay by just entering a few carefully chosen keywords in the search bar.