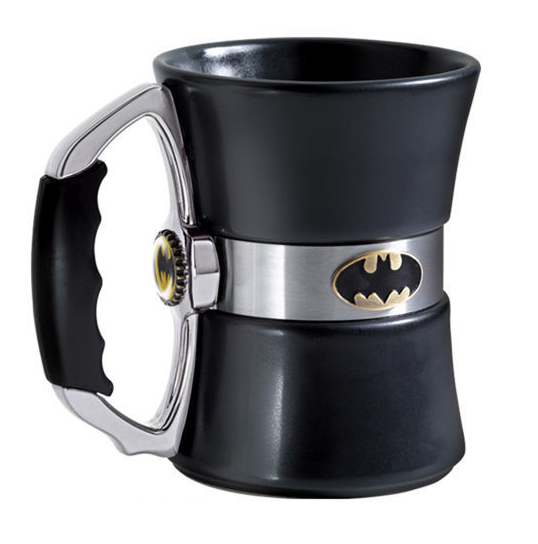 The first Batman comic arrived over seventy years ago, and ever since there has been a gradual growth in the variety and range of memorabilia associated with the Caped Crusader. Initially there were only comic books to collect, but over time, action figures, films, costumes and even vehicles became desirable to collectors. As a result, there is a vast selection of Batman-related items sought with great eagerness.
For the Batman fanatic, anything is worth collecting, and the more acceptable items include TV guide listings, magazines featuring Batman articles, action figures, clothes and, of course, the comics. While some collectors specialize in acquiring only Batman-related products, others will seek out items associated with the many characters that form a part of the Dark Knight's universe.
Batman Comics
Batman first appeared in 1939 in Detective Comics number 27, an issue that is a highly valued Batman collectible as it is where the story begins. For much of the early years, the original stories were written by Bill Fingers and illustrated by Bob Kane. Although a number of quality artists were brought in to provide additional drawings, they were never credited. A first edition from the Batman series usually sells for vast sums of money, but even less valuable copies that are in mint condition can carry a high price.
Through the years, the Batman comics have gone through several changes in direction and have spawned several spin-offs. Year One went back to Batman's early years, while a second series, K52, started out in 2010. Dick Grayson, the alter ego of Batman's sidekick, Robin, went on to become Nightwing and starred in his own comic.
Batman Action Figures and Toys
For many years the comic world has seen a range of Batman toys and action figures from companies including Kenner and Hasbro. The Batman television series and the subsequent movies have, in turn, led to the creation of collectable sets of figures and vehicles.
After the comics, some of the most desirable pieces of Batman memorabilia are the action figures. These may come in special edition sets from the Batman movies, especially the Dark Knight releases. There are figures dedicated to the 1960s series and even a range of Lego Batman figures. Mezco Toyz has returned to the fun and simplicity of the 1966 figures for its collections, creating miniature Adam West and Burt Ward figurines perfect for a small space.
Batman figures are categorized as Classic Era,, Dark Knight Era, Justice League of America, Batman and Robin action figures, and Batman Villain collections. Action figures vary in size and detail depending on the maker. DC Universe figures are 6-inches tall and relate to the comic stories, Mego Corp figures are 8-inches tall and have fabric costumes, while Kenner's figures are 5-inch tall plastic models. The movie franchise led to a series of larger, more detailed 8-inch figures that were sold in boxed collections to complement the films.
Over time, the Batman stories have introduced a great array of vehicles and these have been turned into collectable models. The range includes a number of versions of the Batmobile, Batcopter, Batboat, Robin's dragster, and Joker's motorcycle. These come as heavy metal die cast, injection molded plastic, and cloth costumed figures.
Photographs, Films, and Posters
The television series and films created a whole new niche in sought after Batman artifacts.. Still photographs taken on the movie sets or television studios and posters announcing the latest film release regularly come up for sale. The most desirable of the posters are the large cinema format Quad posters. These are not normally sold to the public and can be amongst some of the more rare Batman finds. It is also possible to get 35mm film cells from the original Batman series and films,, which tend to be mounted alongside images from the respective movies.
Items from the films sometimes go up for sale, and such gems as the Batmobile, actors' costumes, and props sell for large sums of money. Past movie memorabilia that has been sold include Danny DeVito's Penguin umbrella and monocle, Jim Carrey's Riddler mask, and one lucky fan drove away with the Batmobile from the 1995 film Batman Forever.
Batman Original Artwork
Comics, books, films, and figures all require initial artwork to be produced before the final product is made, and it is possible to purchase them. Finished drawings for the over 700 issues of comics, designs for costumes, and props and original camera work for posters and promotional merchandise are available to collectors. Colored covers are a great find, and internal comic strips can be valuable.
The key artists to look for are Bob Kane, Neal Adams, Frank Miller, Grant Morrison, and Dave Doorman. They produced some of the most dramatic images that brought life and substance to the characters.
Batman Trading Cards
The most desirable Batman trading cards are full sets of vintage pre-1980s cards in good condition. The brand name to look out for is Topps collections. In the 1960s these came in Black, Blue and Red Bat cards as well as Batman Movie collections and Gold and Hologram Batman cards. You will also come across promotional sets of cards on commercial products such as toothpaste and breakfast cereals.
The Bat Laffs series featured images from the popular television series and the Riddler Riddles collection all had a Batman image with a riddle on the reverse side. DC Comics produce various sets featuring extracts from comics and famous comic book cover shots.
The release of the Tim Burton Batman film saw a re-emergence of trading cards with the Topps Movie collection. These were followed by collections for Batman Returns and the Dark Knight series. The 2000s saw Cryptozoic insert cards, Magnet trading cards, and Rittenhouse Archives all producing Batman cards.
Household Goods as Batman Collectibles
The Batman motif has been used in a wide variety of areas, and there are even kitchen items of interest to the avid fan. Searches of the Internet will reveal cookie jars, dishes and plates, sets of cutlery, and lunch boxes complete with Batman thermos. Pez dispensers have been a popular item for children and collectors alike and there are a variety of Pez characters from the Batman series.
Batman images have also been printed on fabric, and collectors can find tea towels, bed covers, and bath towels. There is also high demand for the essential Batman apparel, such as the distinctive costume, T-shirts, caps, and scarves.
Condition
The best pieces always come in pristine condition, well looked after and preserved. These carefully stored and respected items should last a lifetime. It is advisable to keep comics and trading cards in plastic envelopes, while toys and vintage action figures are always worth more when sold in their original boxes.
Batman Items Sold on eBay
A diverse range of Batman memorabilia, autographed items, and rare objects have come up for sale on eBay.
● Original Keaton costume from Batman movie
● 1966 Ten Batman TV Series posters
● Corgi Batman Rocket Firing Batmobile, Batboat, and trailer
● 1990s Saga Batman Pinball Machine
● Irwin Plastic Batman Helicopter
● 1960s Batman wallet
● Replica Batmobile Batphone
● Map of Gotham City
Buying Batman Memorabilia on eBay
There are several areas where you can find Batman memorabilia on eBay,, and the main consideration is which area holds the most interest for you. Memorabilia can take all forms, from comics and action figures to vehicles and posters. The main search box will give you a massive collection of Batmania products to search through, but for a more realistic list check out the offers in the "Memorabilia" section of "Collectables and Art."
If you are looking for action figures, the "Toys and hobbies" section has a collectors and hobbyists link where you will find sellers with a wide variety of action figures and die cast cars. Another area for discovering the offers that are likely to appeal to Batman film fans is "Entertainment memorabilia." This is where the movie buffs advertise posters, films and artwork on show.
Conclusion
The market for Batman memorabilia is immense and covers a wide range of products. There is no shortage of offers, and no matter what area of the Caped Crusader's life you're interested in, you are guaranteed to find something unique.
The sheer diversity of objects available to collect is fantastic, and whether you decide to hunt down crisp copies of old comic books or browse the Internet to track down boxed action figures, you are sure to have a lot of fun and enjoyment along the way.