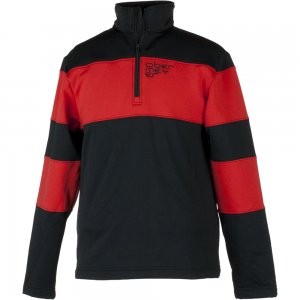 Pyjama tops are designed to keep children warm in the winter and cool in the summer, so that they can sleep comfortably. The tops are helpful in establishing a bedtime routine by making getting ready for bed an occasion that the child can look forward to. So, parents can put the boy to bed with less fuss. Pyjama tops are an essential item in any boy's wardrobe and are available in a wide variety of designs, from the club colours of a much-loved football team, to characters from films and television programmes. They can also be found in stripes, checks, and solid colours.
This buying guide will explore the factors to consider when buying boys' pyjama tops, such as the fabric, style and fit. Boys' pyjama tops can vary in their fabric and style greatly, so the choice of which top to buy depends partly on the season in which it will be worn. Boys' pyjama tops are available from bricks and mortar retailers, such as department stores and children's clothing shops. They can also be purchased from online auction sites, like eBay, which is a convenient option as it offers a wide variety of pyjama tops without the buyer having to leave the comfort of home.
Fabrics Used to Make Boys' Pyjama Tops
The fabrics used to make pyjama tops are in three categories: natural, synthetic, and blends. Each has its own advantages and disadvantages, so parents should do their research and decide which type of fabric is most appropriate for their child to wear.
Natural Fabrics
The natural fabrics often used to make pyjama tops are cotton and linen, with silk and wool being less common. These natural fabrics are typically not treated with chemicals that can irritate children's sensitive skin. They have the double benefit of being highly breathable and naturally wicking, that is, drawing moisture away from the skin. So, in the winter the child stays warm without sweating, and in the summer, he stays cool and dry. However, these fabrics sometimes require more care than their synthetic counterparts and, in some cases, are more expensive. The chart below explains the differences between these natural fabrics.
Fabric

Description

Knit or woven fibre derived from the seed pod of the cotton plant

Lightweight and breathable, cotton is ideal for warm weather, but it also traps body heat in the autumn and winter

Creases easily and can shrink if not washed or handled properly

Linen

Woven fibre from the flax plant

Lightweight and absorbent, making it suitable for the summer

Often more expensive than other options, such as cotton and synthetic

Creases easily and fibres can break if they are folded at the same place too often

Silk

Natural fibre that comes from the cocoons woven by silk worms

Warm in the winter and cool in the summer

Naturally hypoallergenic, its soft texture is ideal for sensitive skin

Delicate, so it should be hand-washed or dry cleaned

Wool

Natural fibre made from a sheep's fleece

Designed to be absorbent and breathable, it is also water repellent

Helps to regulate body temperature, so it can be worn in both warm and cold weather

May require special care to keep it in good condition

Can shrink.
The care instructions will vary from one garment to the next, so buyers should check the labels of the pyjama top before washing. Following the recommended guidelines helps to keep the top from losing its shape and prolongs its life.
Synthetic Fabrics
The synthetic fabrics most commonly used in the making of children's nightwear are polyester and lycra. Polyester is a recyclable fabric derived from coal. It takes many forms and can be used to make fleece, a soft, warm fabric ideal for the winter. Elastane, or lycra, is stretchy and usually combined with other fabrics so that the garment retains it shape. Synthetic fibres are highly durable, resistant to shrinkage, and generally less expensive than their natural counterparts. However, they may be treated with harsh dyes and chemicals, which can irritate children's skin.
Fabric Blends
Sometimes, a garment will be made of a blend of synthetic and natural fibres to take advantage of the best properties of both. For example, a pyjama top may be made of cotton primarily, with a cotton/elastane blend used for trimming the collar and sleeves. Some fabrics, such as jersey and flannel, may be made exclusively of either a natural fibre or a synthetic fibre, but typically they are composed of a blend. In flannel, this helps reduce the potential for shrinkage or warping, while preserving the best qualities of cotton and wool, including their ability to wick moisture from the body.
Pyjama Top Features
Boys' pyjama tops are available in such a wide array of designs that it is easy to find something to appeal every boy. Boys' pyjama tops have in two main styles: pullover and button-up. However, there are a variety of options to choose from for the neckline and sleeve lengths. In addition, both pullover and button-up pyjama tops may feature one or two breast pockets.
Designs
The designs can feature popular characters from books, films and television programmes. Other prints focus on hobbies and interests, such as animals or sport, with club logos and club colours for football teams being a popular choice. Solid colours, checks and stripes are available too.
Neckline
A pullover pyjama top can have a simple crew neck, a grandad neck with buttons or a V-neck.
Sleeves
Boys' pyjama tops can have long or short sleeves. A long sleeve pyjama top may have mock layer sleeves, which create the appearance of a short sleeve T-shirt over a longer sleeved garment, or raglan sleeves, where the seam runs from the underarm directly to the collar of the shirt rather than the shoulder. This sleeve design, typically found in sportswear, eliminates the shoulder seam and allows for greater freedom of movement for active boys.
Fitting Boys' Pyjama Tops
Buyers should bear in mind that while UK sizes are given in years, some children will be smaller or larger than those of the same age. Also, sizing can vary between each designer and manufacturer. So, the best way to ensure a proper fit is to use the boy's exact measurements: height and chest.
To measure for a pyjama top, first note the boy's height to the crown of his head while he stands with his back against a wall and his bare feet together. A chest measurement can be taken with the boy's arms relaxed at his sides, and the tape measure should cross the fullest part of the shoulder blades and chest while remaining parallel to the floor.
Buying Boys' Pyjama Tops on eBay
To buy boys' pyjama tops on eBay, visit the eBay home page. In the search box on any page on the site, enter the keywords that describe what you would like to buy, such as "blue boys' pyjama tops". You can filter the results by price, delivery type and by the seller's location. By choosing a local seller, you may receive your items faster or you may even be able to arrange a local collection and save on postage and packaging costs.
New to eBay
If you are new to eBay, consider registering for an account. While this is not required to browse, having an account allows you to save your searches and keep track of the items that you may like to buy. When you are ready to make a purchase, you can set up a payment method. eBay offers a range of payment options, including as PayPal, which is convenient, secure, and widely accepted by sellers.
Conclusion
Boys' pyjama tops come in a wide variety of styles, from short sleeve cotton to long sleeve fleece, designed to appeal to boys of all ages. When buying pyjama tops, shoppers need to consider a variety of factors, such as the fabric, design and size.Cotton and other natural fibres are generally more breathable than synthetic options, but they also require more care and may be more expensive. Synthetic fabrics are highly durable and relatively inexpensive. However, some may be treated with chemicals and dyes, which may irritate sensitive skin. Buyers should also consider which fabrics will keep the boy warm or cool according to the season and look for something of quality, so that it can withstand repeated wearing and washing.
The size of children's clothing can vary between clothing manufacturers. Also, some children may not fit the sizes recommended for their age group as they could be taller or shorter than their peers. So, the boy's measurements should be taken before shopping for the top. If buying a pyjama top as a gift for a boy, then discuss his size, and favourite colours and designs with his parents. Parents buying for their own child may consider involving the boy in the decision. In both cases, the boy receives something that he likes and is keen to wear. eBay is an excellent place to shop for the pyjama top that the boy will wear for a good night's sleep.