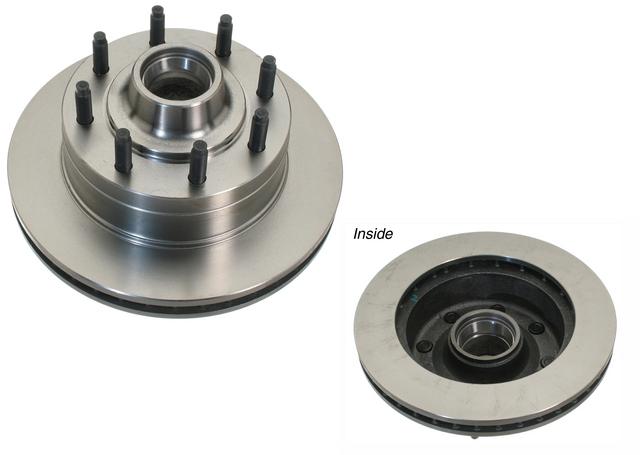 When buyers are not schooled in the parts of their car, they may not know that brake discs are essential components of a car's brake system. The job of the brake discs is to assist the brake pads in making a complete stop when the brake pedal is stepped on. Brake discs are sometimes referred to as rotors. For drivers who are not sure when to replace brake discs, there are generally a few clues that the car provides when the brake discs are wearing out. When drivers are having difficulty with their brakes or feel like they are not working properly, it could be that the brake discs need to be replaced.
A visual test can also be done to determine if new brake discs are needed. Worn out brake discs may look old, rusted, and even misshapen. Though brake disc shopping may not be simple, it does not have to be overly frustrating either. It is helpful for the consumers to know what type of brake discs are needed for their Nissan vehicle, as brake discs vary by brand and design, along with materials. They also vary in price, and many consumers can get a good deal on affordable brake discs for their Nissan on eBay.
Shop for Brake Discs by Vehicle
The simplest way to begin narrowing down the best brake discs for a Nissan is to know the specifics of the vehicle. This ensures that buyers are getting the correct part for their particular car and do not end up with a part that does not fit or is not the right disc for their Nissan's year or model.
Nissan Model
Buyers need to purchase brake discs for their particular Nissan model. Whether consumers are driving a Primera, Sunny, Almera, Skyline, or Maxima, there are specific types of brake discs that are created just to fit these models of Nissan vehicles. Shopping by car model eliminates much of the frustration for buyers who are not as familiar with the world of brake discs and what to look for when purchasing these parts.
Nissan Year
Consumers are able to purchase brake discs that fit their car's model as well as the year the car was made. If a driver owns a 2011 Nissan Maxima, the brake discs for that vehicle are meant for that vehicle only, and parts for other Nissan cars do not work effectively or fit properly. The easiest way for buyers to find the proper brake discs is to eliminate other model years, because the designs of rotors change, and older model cars may not work with newer, updated rotor designs.
Nissan Part Number
If buyers are replacing existing brake discs, they can easily check the model number of the old brake discs to match it with a new version. The model number and brand name are located on the actual discs themselves. It is recommended to replace both brake discs at the same time, so it is a good idea to buy brake discs for your Nissan in pairs instead of individually. This way the entire braking system works well and is updated and maintained for optimal performance.
Shop for Brake Discs by Brand
For consumers who are brand savvy and enjoy purchasing auto parts made by a specific brand, there are several top brands out there that make brake discs. Some of these well-known brands include Mintex, Brembo, EBC, and Apec. Brands may vary in price and performance, so buyers who are in need of specific types of brake discs, such as for racing or driving in inclement weather frequently, special attention may be given to which brands offer high performance brake discs and which offer more standard brake discs.
Research What Materials Brake Discs Are Made Of
Shoppers looking to buy brake discs may find that brake discs are made with a variety of materials. It can be frustrating for drivers who do not know what the difference is. Some brake discs are made of more high performance materials that are meant to be more durable, or they are meant to be used in a variety of driving situations that may not apply to common drivers.
Carbon Alloy
Carbon alloy brake discs are considered a high performance brake disc. They are made of steel and coated with carbon alloy, which increases the way that the brake performs, and these are best suited to situations where drivers must brake frequently, such as racing.
Cast Iron
Most standard brake discs are created from cast iron. The reason for this is because cast iron is extremely durable and can withstand any temperature. Cast iron is recommended for general use for any type of vehicle, and works for standard Nissan vehicles. Cast iron brake discs are also generally the most affordable types of brake discs or rotors.
Carbon Ceramic
Brake discs made with carbon ceramic are the most expensive types of brake discs, and they are generally used on heavy vehicles like SUVs and trucks, or sports cars which are high performance. They are also sturdier than other materials, and they do not rust or fade even with heavy and frequent driving and braking.
Look at Standard Brake Discs
For consumers who are simply looking for standard brake discs for their Nissan, the best option for a sedan is cast iron brake discs that have a smooth surface. These are perfect for average braking and driving in most standard situations that consumers may encounter on a daily basis. For cars that are not too heavy or not sports models, cast iron brake discs are an affordable and durable option.
Look at High Performance Brake Discs
For sports cars, SUVs, pickup trucks, and race cars, high performance brake discs are made with alloy or ceramic, and offer a couple of additional features such as slotted or drilled designs. Slotted brake discs have notches along the surfaces that create more friction when braking, and can help drivers easily navigate a big vehicle while braking.
Drilled brake discs are filled with small holes along the surface of the brake discs, and are also commonly seen on sports cars, but are not really needed on traditional sedans or standard Nissan vehicles. A combination of slotted and drilled discs is the cross-drilled and slotted model of brake discs, which are the most premium type of brake discs drivers can purchase. These are generally used on tougher vehicles that race competitively.
Select the Right Brake Discs
Choosing brake discs can be confusing, especially with all the various types and brands of brake discs. Consumers should select brake discs that fit their budget and their driving needs and style, as well as their vehicle model and year.
| | | | |
| --- | --- | --- | --- |
| Vehicle | Brand | Type | Material |
| Check model of car | Blue Print | Smooth | Alloy |
| Check year of car | | Cross-drilled | Iron |
| Look at disc model number | | Iron | Carbon ceramic |
Brake discs are created for average drivers as well as high performance racers, and everyone in between. Selecting the right brake discs can alleviate problems with the overall braking system and make every stop smoother.
How to Buy Brake Discs for a Nissan on eBay
Shopping for brake discs for a Nissan can be confusing, but if you know what you are looking for, it can be a cinch, especially when you shop for brake discs and other car parts on eBay. Navigate to "car parts", then "braking", and then you are able to select the option for "brake discs". Once you have reached that page, narrow your search for the perfect pair of brake discs by selecting the model of your Nissan vehicle, such as the Kubistar, or you can shop by brand. If you are on a budget and do not want to spend too much on your brake discs, adjust the price range and only view items that fall within it.
If you have questions about brake discs, pads, or other parts, go to the seller's page and click " Ask a Question" to find out more about the items. Read all of the listings carefully to make sure you know what you are getting, and it is best to purchase brake rotors new and in great condition. Ask to see additional images of the brake discs before your purchase if you desire.
Conclusion
Replacing brake discs are just a part of car maintenance that has to be done. For effective braking and smooth driving, brake discs are essential no matter what kind of vehicles consumers drive. From a Nissan sedan to a sportier model, there are brake discs for every car that offer great performance and easy braking in all types of weather conditions. Some consumers can get a great deal on brake discs as well as brake pads, which may also need to be replaced at the same time as the brake discs.
Keeping a vehicle's braking system working properly can ensure that the vehicle lasts longer and remains more reliable overall, and it does not cost much to maintain the brake system. If the brakes are not taken care of properly, repairing them is much more costly down the line if they break down completely. From eBay, buyers can find an array of brake discs, pads, and many other parts to keep their Nissan vehicle running perfectly.