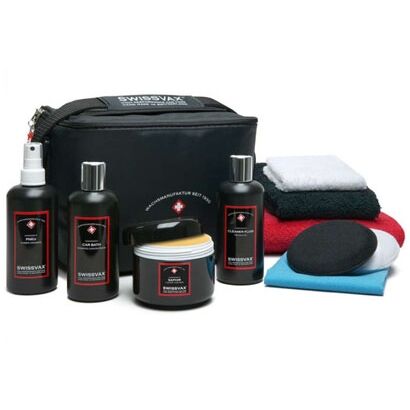 One of the more gratifying aspects of owning a car is getting it cleaned and waxed so it shines like new. For many car owners, it is even more gratifying to clean and wax cars by themselves. That is why so many car owners take to their driveways in neighbourhoods across Britain when summer arrives. The warm weather is ideal for washing the grime of spring and summer off a car and applying a fresh coat of wax.
Waxing a car is more than just a great way to pass a summer day. In addition to making a car look good, it helps preserve a car's paint. Doing the job right requires time, effort, and the right car waxing accessories. Consumers should know the benefits of waxing a car and the accessories they need for the pre-waxing, waxing, and post-waxing processes. eBay is a good source from which to buy car waxing accessories. Consumer can shop successfully on the website by acquiring knowledge about what they need to get their cars looking like new.
Why Wax a Car?
Part of the appeal of a car lies in its paint. Many cars come off the assembly line with a shiny coat of richly-coloured paint. From the moment they purchase new cars, many car owners fight a constant battle to keep their cars looking as new as possible. Those who are successful keep the paint looking as fresh as it was when their cars left the dealership.
Car wax is a key weapon in the car maintenance struggle. It protects paint by providing a thin, clear layer between the car's paint and all of the elements conspiring to degrade it. Everything from the sun's UV rays to insect fluids can permanently damage a car's paint. It is possible to repaint a car, but periodically applying a fresh coat of wax is a more cost-effective solution. Not only does car wax protect paint, but it also allows paint to shine through the wax layer.
Applying wax is a detailed process that requires certain accessories to do the job well. There are also numerous steps involved in making a car's paint shine before waxing it for protection.
Pre-Wax Process and Accessories Needed
If a car's paint is to shine through a layer of wax, the paint itself must be shiny. Car owners therefore need certain car waxing accessories to wash their cars, prepare surfaces for waxing, and polish paint. Pre-wax accessories help car owners achieve the kind of shine that car wax is meant to protect.
Car Wash
Washing is the first step in preparing a car's paint for wax. This is meant to remove dirt and grime from the paint that obscures the lustre of its colour. A good washing starts with a car shampoo that uses thick suds to break up dirt and grime and leave a nice gloss. One good accessory for applying detergent is a washing mitt. This is an oversized glove made from woven fabric. It is soft, making it easy to spread suds and scrub without damaging the paint. After rinsing the detergent, an accessory such as a microfibre towel is great for absorbing water droplets before they leave stains on the car's surface. Alternatively, consumers can use water blades or squeegees to completely dry a car's surface.
Surface Preparation
After cleaning the car, the next step in the pre-wax process is to prepare the car's surface for polishing. This involves removing spots left by water and other imperfections. A water spot remover is a helpful item for removing water spots, and a clay kit or a compound is good for addressing other imperfections. A clay kit comes with a formula that removes contaminants that washing cannot fully address and a piece of clay for smooth treatment of the car's paint. A compound helps remove scratches and other blemishes such as bird droppings. Consumers should use a soft applicator pad to apply a compound and another microfibre towel to wipe away remaining streaks.
Polishing
The last step in the pre-wax process is polishing. This is what gives a car's paint the kind of shine it had when it first came off the assembly line. The polish itself is a formula that conditions paint in order to lend it gloss. Consumers can apply polish with another soft foam applicator, an attachment that fixes to a drill, or a power polisher. These attachments, such as a PowerBall or a power polisher, buff a car's surface more powerfully than a human hand can and therefore help achieve even brighter shine. Consumers can go over the car's surface with a microfibre cloth to remove polish residue.
Car Waxing Accessories
Once the car's paint has bright shine to it, it is time to apply wax to maintain that shine. Car waxing accessories include the wax itself, applicators, and items for finishing.
Car Wax
Wax is the key component in the car waxing process, and there are a few options available to consumers. One may choose between natural and synthetic waxes and different forms of wax.
Natural Vs. Synthetic Wax
Natural waxes are mostly made from carnauba. This comes from the Copernicia Cerifera tree of Brazil. Although carnauba wax tends to last only a month or two, it enhances a car's shine a great deal. It also causes water to bead and roll off the car, helping to preserve the shine of the paint beneath the wax. Carnauba wax looks especially appealing on darker paint.
Synthetic waxes do not create as strong of a shine as carnauba, but they do last six to nine months. These waxes are made of polymers or acrylic waxes, and they are quite strong when it comes to protecting a car's paint job. They make up for the relative lack of shine by not leaving streaks on paint.
Forms of Car Wax
The table below lists the different forms in which wax is packaged. The benefits and drawbacks of each form are also provided.
| Form | Benefits | Drawbacks |
| --- | --- | --- |
| Liquid | clean look; shiny; durable | difficult to apply and buff |
| Paste | easy to apply | less appealing look |
| Spray | easy to use; good for spot waxing | not as durable as other forms |
The form of wax that a consumer chooses depends on the needs. Liquid looks appealing, but it can be time consuming to apply and buff properly. Spray is easy to apply, but it does not last very long. Paste is a good balance between the two other forms.
Applicators for Car Wax
For applying car wax, one may use a foam sponge or a microfibre cloth. Both are soft, but the former is a bit easier to clean. A sponge also tends to be less tiring to use because the user's hand is not in as close contact with the car's surface as it is with a microfibre cloth. A microfibre cloth tends to last longer, though a washing machine is needed to get one as clean as possible. Whichever applicator a consumer chooses, one should apply the wax in gentle, round motions until the wax appears clear.
Finishing
Waxing often leaves behind a few streaks. It is necessary to remove these streaks in order to complete the waxing process. Many people use basic woven rags for finishing, but these do not work as well as microfibre cloths. Microfibre is smooth and soft for gently treating a car's surface and maintaining the wax that is already in place.
Another option for a finishing accessory is chamois. This is a porous, soft leather cloth with good absorption properties. Its softness also makes it well suited to rubbing a car's surface since it does not offset the wax.
Post-Wax Accessories
Although waxes can protect a car's paint for many months after application, maintaining a beautiful wax finish requires some upkeep. One important post-wax accessory is a detail spray. Using a sponge or a microfibre cloth, consumers can spray the solution on their cars and wipe it away. This removes dirt and dust that accumulates on cars, and it helps to maintain the bright shine that waxing achieved in the first place.
Buying Car Waxing Accessories on eBay
It is possible to buy car waxing accessories from a variety of sources, such as local and online car detailing shops. eBay is also a good source for car waxing accessories. There is a large selection of these accessories for sale on the website, and it is easy to find the ones you need to make your car's paint shine.
You can perform a search from any eBay page with the search bar. Enter a term for the accessory you are looking for, such as "microfibre cloth", into the search bar. When eBay displays the search results, select the Car Accessories category, then Car Care & Cleaning, and then Cleaning, Waxing & Valeting. Finding the right category helps ensure that the listings are related to your search term.
Shoppers looking to buy all of their car waxing accessories from the same seller may find an eBay Shop that sells all of the accessories they are looking for. To do this, go to the eBay Shops page and search using a term such as "car wax". eBay displays the site's shops selling car wax-related items, making it easy to find a single supplier for multiple accessories.
Conclusion
Periodically waxing a car is a great way to keep its paint looking fresh for years. Wax protects paint from the weather and other airborne hazards. However, applying wax alone is not enough. Car owners should wash and polish their cars before putting on a coat of wax. If the objective of waxing is to preserve a car's paint job, it makes sense to preserve the paint job when it looks its best. Car owners need the right waxing accessories to complete the entire process successfully.
There are car waxing accessories for the pre-waxing, waxing, and post-waxing aspects of the overall process. In addition to wax, car owners should have an arsenal of accessories, including applicators, drying tools, polishing tools, and surface preppers. eBay is a good source from which to buy car waxing accessories, but a consumer may find it challenging to use the site, if unfamiliar with it. By being aware of the car waxing accessories they need and how to use eBay to find the accessories, shoppers can keep their cars' exteriors looking like they did when they came off the assembly line.