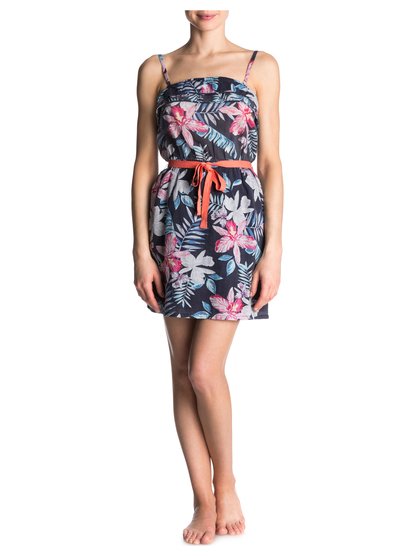 Casual dresses are the key to looking fashionable yet comfortable. They come in a wide array of shapes, sizes, and styles and are designed to fit any woman's wardrobe. Casual dresses have a range of lengths: full length, calf length, knee length, short, and mini. The sleeve length also varies. While sleeveless, cap sleeve, and short sleeve dresses are ideal for the summer, three quarter sleeve and long sleeve casual dresses are better suited for cooler seasons.
Examples of casual dresses are the shirt dress and the wrap dress. Women's casual dresses are made of a variety of fabrics, such as light cotton, cotton blends, jersey knit, and linen. These fabrics are known for being easy to care for and most casual dresses are machine washable. The necklines of dresses can also vary and range from modest to revealing and include the V-neck, boat neck, crew neck, plunging neck, and scoop neck. Women should choose a neckline that is appropriate for their facial structure, body shape, and bust size. eBay is an excellent source for buying casual dresses and this guide will help buyers to take the proper steps to make an informed purchase.
Types of Casual Dresses
There are various types of dresses that are considered casual wear. These dresses are designed for everyday use and can be worn for a number of occasions.
Shirt Dress
The shirt dress has a silhouette that is similar to a man's shirt, but it is longer, sometimes reaching a woman's knees. Shirt dresses typically have either short or long sleeves. The front of the dress is fastened with buttons, starting at the neckline and ending at the hemline. Shirt dresses usually have a defined waistline and may be accompanied by a belt. These dresses can be paired with boots or sandals to complete the casual look.
Wrap Dress
A wrap dress wraps around a woman's body and is typically fastened at the waist with a button, belt, tie or snap fastening. The nature of the wrap dress means that it opens at the front, but like other dresses, it fully covers the legs at the back. Wrap dresses have a V-neck and the top part is usually close fitting, whereas the skirt is loose. They are available in every length of sleeve from sleeveless to long sleeve.
Maxi Dress
A maxi is a floor length dress usually worn in the summer for outdoor occasions. The most common versions are loose fitting with an empire waist and are designed to float ethereally as the wearer moves. Maxi dresses are often sleeveless with spaghetti straps. They can be paired with simple sandals or wedges.
Shift Dress
Shift dresses are sleeveless with a relatively undefined waist. They are typically associated with work wear, but in lighter fabrics can be worn as casual wear. To give the waistline some definition, a belt or sash can be worn. To complete the casual look, shift dresses can be paired with sandals.
Body Shape
It is important to consider body shape when buying a casual dress, as a woman's body shape can alter the way that the dress fits and looks.
Apple
Apple shaped women, who have a greater proportion of their weight around the middle of the body, should consider a casual dress with an empire waistline. This elevated waistline will help to conceal the stomach area.
Pear
Pear shaped women carry weight around their hips, so a V-neck top with a full skirted bottom will complement their figure. This helps to draw attention upwards towards the chest, while concealing the problem areas.
Inverted Triangle
Inverted triangle shaped women, who have broad shoulders and a narrow waist, should consider a dress with a block coloured top and a patterned skirt. The skirt helps to draw attention to a woman's lower half and her most flattering features.
Hourglass
A woman with an hourglass figure has a narrow waist, but relatively broad shoulders and hips, so a form fitting dress that shows off her curves will work best.
Straight
Women with straight figures who are small busted are best suited to casual dresses that have ruffles or other embellishments near the chest to make that area look more curvaceous.
Finding Casual Dresses on eBay
Buyers should begin their search for a casual dress on the eBay homepage. Buyers can enter keywords into the search box at the top of the page, for example, "wrap dress", or browse through the list of categories that help buyers to narrow their search. When entering keywords, buyers can be as general or as specific as they like. When looking for inspiration, use a general search and look at the wide variety of casual dresses available. If the buyer has her heart set on a particular dress, then specific keywords can be used, for example, "purple maxi dress". eBay offers an advanced search feature, that gives the buyer the ability to search casual dresses within certain boundaries, such as a given price range.
Item Descriptions
Buyers should read the item description carefully before placing a bid on a casual dress. Item descriptions ought to contain information about the specific features of the dress including its size, brand, material, neckline, sleeve type, condition, and any other relevant information. As sizing differs between manufacturers and it is possible that the dress was altered, make sure that recent measurements are taken of the bust, waist and hips so that they can be compared to the information provided about the dress. For all the questions that have been left unanswered by the description, the buyer should contact the seller using the "Ask a question" link in the listing.
Item Condition
eBay has a list of definitions to help sellers to accurately describe the condition of their items. This helps to prevent misunderstandings between buyers and sellers and leads to a more positive transaction. For instance, a "New" casual dress is unworn and has its original tags attached to the garment; "Like new" refers to a dress that is in pristine condition, but does not have its tags.
Photos
Photos are often the first thing that a buyer looks at when considering buying a casual dress. However, for used dresses in particular, the photos should be looked at carefully to see if there is any damage to the dress. Even if there are no visible signs in the photo, contact the seller to get further information if you need to be reassured that the photo is the current state of the item and not a manufacturer's picture.
How to Buy Casual Dresses on eBay
eBay makes buying a casual dress a straightforward shopping experience. The buyer can save listings of their favourite dresses and come back on another day to pick the ideal dress. By using the information provided by other buyers, it is possible to identify the sellers that will offer the best products and customer service. A range of payment methods are available to make the transaction run smoothly.
Monitoring Bidding Activity and Lists
If the buyer has registered for My eBay then they are able to manage both the items that they are interested in buying and the items that they have placed bids on. If the buyer sees a number of casual dresses, but cannot decide which one to buy, the dresses can be added into a list for easy access later on. Multiple lists can be created, for example, a list for wrap dresses and another for shirt dresses. Up to 200 items of interest can be added to a list. If a bid has been placed on an item, then My eBay allows the bidder to see if they are still the current highest bidder or if they have been outbid.
Top-Rated Sellers
Top-rated sellers are recognised by the eBay community for dealing fairly and providing great customer service to eBay buyers. In order to gain Top-rated seller status, sellers are required to meet eBay's standards for excellent customer service consistently and to receive high ratings from past buyers.
After receiving the casual dress, the buyer is encouraged to leave feedback for the seller using eBay's feedback rating system. This system helps other buyers to find reputable sellers and offers a note of caution to those thinking of buying from sellers with low ratings.
Payment Methods
eBay offers multiple ways for the buyer to pay for their casual dress. A credit card or debit card can be used, and PayPal is frequently the preferred method. As a partner to eBay, PayPal helps to make the buying process faster and more secure. PayPal allows buyers to keep their personal information, including credit card numbers and bank account information confidential. The seller will never have access to any personal data if paying through this method. Information about which methods a seller accepts can be found with the item listing.
Conclusion
Casual dresses are a main staple in the wardrobes of many women. These dresses are ideal for everyday wear and can be dressed up or down, depending on the occasion. A few carefully chosen accessories, such as a belt, jewellery, or a pair of high heels, can transform the casual dress. A woman's body shape should be taken into account when choosing the dress to ensure that her most flattering features are highlighted. Choose from a range of popular brands such as Desigual, Joe Browns and Land's End.

When purchasing a casual dress on eBay, buyers should familiarise themselves with the search methods and information about sellers that are designed to make shopping a pleasurable experience. Although buyers may be drawn to the pictures featured in the item listing, it is important to ask questions to the seller about the features of the dress, whether it is new or used. Using the information in this guide, buyers will be able to find the perfect casual dress on eBay at the perfect price.