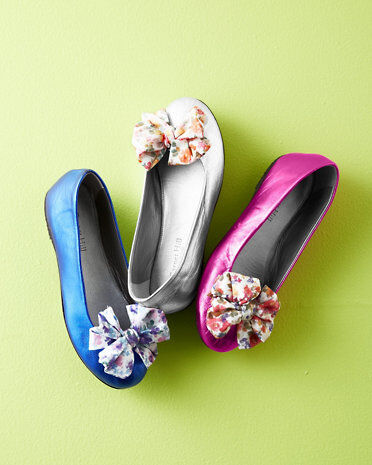 Flat shoes have become popular with women of all ages because they are a comfortable, yet stylish choice for both casual and business wear and they can be matched with almost any type of outfit. Flat shoes are generally a better alternative to high heels, especially for everyday wear, because they are more comfortable to wear during the entire day. Women's flats come in a variety of styles, ranging from loafers and sandals to peep-toes and ballerina flats. With such a large selection of flats to choose from, buyers can easily be overwhelmed. The important thing to keep in mind when shopping for comfortable flats is to find the right pair that matches the style of the existing wardrobe. Choosing the right colours is also essential and many women prefer to have several pairs of flats to complement all their outfits. Learning how to choose women's flats that are fashionable and comfortable at the same time is useful for making each purchase a wise investment.
Features of Comfortable Flats
The main advantage of choosing flats for day-to-day wear is their level of comfort, which is superior to that offered by heeled shoes. Flat shoes are designed for effective walking, but not all styles provide the same benefits. It is important to look for shoes with arch support in order to maintain the feet in a comfortable position while walking. Wearing unsupported flat shoes may cause arch problems over time and they can even make walking painful. Ankle and lower back pain may also result from wearing flats without arch support. Many flat shoes styles have little or no built-in support inside and they may feature either thin soles or thicker ones made of rubber and other sturdy materials, such as plastic. To ensure a maximum level of comfort, buyers should opt for flats featuring arch support and soles that provide a good level of flexibility.
Types of Comfortable Flats
There are numerous types of comfortable flats available either in high street stores or online. Not all flat styles are comfortable, so it is essential to try multiple models before deciding which style is suitable for effective and easy walking.
Ballerina Flats
Ballerina flats are one of the most popular styles of flats and their main characteristic is the absence of a heel. Some styles are simple, others feature decorative ribbons or metallic toes. The most comfortable styles of ballerina flats are those featuring cushioning, because they support the feet in a proper position for effective walking. As for materials, buyers should opt for soft fabrics such as leather or canvas.
Plimsolls
Plimsolls are comfortable flat shoes that are suitable for a wide variety of occasions, including a day at the shops, the beach, a night out, or even for longer walks. The main benefit of investing in a pair of plimsolls is that they go with most casual outfits. Plimsolls come in a large palette of styles, some of them athletic, others more fashionable. Fashion plimsolls may work great as a comfortable alternative to ballerina flats and they are perfect with jeans and a casual jacket.
Sandals
Flat sandals are the perfect choice for warm summer days as well as for special occasions year-round. As in the case of ballerina flats, it is important to choose a pair of flat sandals that features enough support to provide a maximum level of comfort. Flat sandals are ideal for laid-back outfits and they work well with skirts, dresses, jeans, and shorts. A pair of flat sandals that is comfortable may also be worn at special occasions when matched with an elegant lace or silk dress.
Loafers
Loafers are some of the most comfortable flats one can have, particularly because they have no laces. The feet feel free in these shoes and they can be put on and taken off very quickly. Loafers are suitable for informal occasions, but they are also available in more formal designs that can be worn to the office. These types of flats come in a wide range of colours and thus they can be paired with all kinds of outfits. Most loafers that buyers can find online and on the high street are made from leather, but suede and synthetic materials are also popular choices.
Boots
Finding comfortable boots that look gorgeous at the same time is every woman's dream and the good news is that it's something that can be attained. In order for a pair of boots to be comfortable even if it is worn all day long, it needs to be flat and made from soft materials. Leather and suede are two of the best fabrics that can make a pair of boots comfortable and suitable for prolonged wear. Flat boots do not jam the toes as their high-heeled counterparts tend to do, but instead they offer support for effective walking. Cushioning is essential in order for a pair of boots to be comfortable, because it protects the feet from shocks and provides proper support. Flat boots come in a wide range of styles and buyers can choose the perfect pair for each occasion, whether formal or casual.
Brogues
Until recently, brogues have been considered a masculine style, but they have gradually become very popular with women due to their versatility and the level of comfort they provide. Brogues can be paired with numerous wardrobe items, ranging from jeans to dresses. They can be worn with shorts for a casual look or with trousers for a more formal outfit. Brogues are available in a large palette of colours, with two-tone models being extremely popular. Juxtaposed with feminine details such as frilly shirts and short dresses, brogues are ideal for obtaining an androgynous effect on top of enjoying plenty of comfort.
Flip Flops
Flip flops are a quintessential accessory for hot summer days, and contrary to popular belief, they can be extremely comfortable if selected correctly. In order for flip flops to be comfortable, they need to have good arch support and be as light as possible. Comfortable flip flops feature a thick, rubber outsole that can absorb shocks and prevent the wearer from slipping. Flip flops made from soft materials such as leather should be preferred over those made from plastic or synthetic materials.
Choosing the Right Size Flats
Whatever the foot size, it is vital to purchase shoes that fit perfectly and provide ankles and feet with the support they need. When it comes to flats, problems may arise for those with Achilles tendon and arch problems, but in the majority of cases, choosing the correct shoe size should not be a difficult endeavour. Buyers should consider the width of the feet as well when buying flats. Many styles of flat shoes for women come in a wide width, so buyers should look for these if necessary.
Flat Shoes Size Chart
The table below can help buyers decide which shoe size is the correct one for them. When buying shoes from a US or European brand, the UK size is not always specified on the label, so buyers should look at the corresponding centimeter size and use the table below to find the corresponding UK size.
| UK Size | US Size | European Size | Centimetres |
| --- | --- | --- | --- |
| 2.5 | 5 | 35 | 21 |
| 3 | 5.5 | 35.5 | 21.5 |
| 3.5 | 6 | 36 | 22 |
| 4 | 6.5 | 37 | 22.5 |
| 4.5 | 7 | 37.5 | 23 |
| 5 | 7.5 | 38 | 23.5 |
| 5.5 | 8 | 38.5 | 24 |
| 6 | 8.5 | 39 | 24.5 |
| 6.5 | 9 | 40 | 25 |
| 7 | 9.5 | 41 | 25.5 |
| 7.5 | 10 | 42 | 26 |
Even though buyers may think they know their shoe size, they may sometimes find out that sizes may differ according to the style or brand. This is why trying on shoes before making a purchase is highly recommended.
How to Buy Comfortable Flats on eBay
There are so many places where you can buy comfortable flats that sometimes it might prove to be difficult to decide which is the right pair for you because you have so much choice. eBay offers a wide range of flats in many colours, sizes, styles, and materials. Moreover, shopping on the website could not be simpler. To search for a pair of comfortable flats, you can start by simply typing 'women's comfortable flats' in the search bar on eBay's home page and you will get hundreds or even thousands of results to choose from. Alternatively, you can browse the fashion section until you reach the women's flats section. In order to make everything quicker and help you select the right pair of flats, you can refine your search results by specifying the size, shoe style, fabric, colour, and more.
When buying shoes online, it is important to know your size and check for conversions between UK sizes and US or European sizes, if necessary. Paying attention to sizes allows you to save money and time by avoiding returns. Once you have decided which pair of flats you would like to buy, you can go to the product's page and read all the details about it. If there is anything you would like to know, but it is not listed in the product's description, you can contact the seller. Shopping for women's flats on eBay is a straightforward process and the range of styles can satisfy even the pickiest buyers.
Conclusion
When purchasing comfortable flats for women, it is essential to pay attention to both the style of the shoes and the material they are made from. Buyers should keep in mind that it is possible to wear comfortable flats that are also fashionable. Thanks to the multitude of styles available online and in high-street stores, it should not be too difficult to find a pair of flats that is comfortable and complements one's outfits at the same time. Every woman knows that walking in uncomfortable shoes can ruin a night out with friends or a stroll in the city. But wearing uncomfortable shoes can also cause lower back pain. This is why it is essential to buy comfortable flats that offer the right support to the arch of the foot, besides being stylish and matched to an outfit. When shopping for shoes, it is vital to take into account the occasions for which a new pair is purchased in order to choose the best option that provides the optimum level of comfort. Buying flats on eBay is a good way of browsing through hundreds of styles before purchasing a pair.