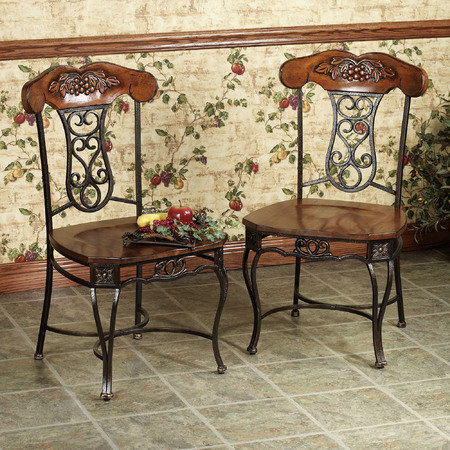 Furnishings are an integral part of the home, and they can make it not only comforting but appealing as well. Many people enjoy having a central theme in their homes, and one of the popular ones is the contemporary look, especially in the dining room. Contemporary styles are easy to match with other home décor themes if chosen correctly. Contemporary dining room chairs are a great addition to an existing dining room table, but careful forethought must go into the purchasing process to ensure that the chairs give the desired effect that a person is after. Contemporary dining room chairs can be purchased at retail furniture stores, home improvement stores, and on eBay.
One of the things that need to be taken into account is the style of the existing table before investing in contemporary dining room chairs. Beyond these considerations, there are other things that are important as well, such as durability and value. Making the right choice in contemporary dining chairs not only improves the appeal of a dining room, it also makes the buyer feel like a smart shopper as well.
Choosing Contemporary Dining Room Chairs
Choosing the right contemporary dining room chairs is going to depend largely on what the style is of the existing dining room table. Although there may be other furnishings in the room, it is assumed that the furnishings already match the table, so adding contemporary dining chairs should be a breeze. Being able to pair chairs with the existing table style is not limiting as the options for great contemporary dining room chairs is astounding.
Contemporary dining room chair styles are widely available in many shapes, materials, colours, and sizes. It is fun to work with contemporary styles because the chairs come in such rich textures and elegant fabrics as well. Choosing contemporary themes is a great way to show off personal style and taste without having to spend a fortune to do so.
Pairing Chairs to Tables
One of the first considerations that needs to go into pairing contemporary dining room chairs with an existing table is to take note of the overall style and shape of the table. The shape of the table top as well as the shape of the table legs create specific lines that can be used to pair contemporary dining chair styles and pull the look all together.
Tables with straight lines and clear glass tops are easy to pair with any contemporary dining room chair. The only thing that needs to be taken into account in this instance is the shape of the table top and the style of table legs. Focusing on those two elements, choose chairs that closely resemble the pattern of the table to get a great overall effect.
Wooden tables are relatively easy to match as well. Following the same principles as choosing dining room chairs for a glass table, follow the table top pattern, the style of the legs, and then add the colour of the wood into the equation. Upholstered contemporary dining room chairs are always a great option for wooden tables, and they are very comfortable and stylish as well.
Contemporary Dining Room Chair Styles
Dining room chairs receive a lot of daily use so it is only practical to choose ones that are durable. Chairs get pulled out and pushed in several times each day. This can be hard on chairs and weaken the support structure in the legs. Besides being moved around a lot, dining room chairs also are subject to spills and stains, so it is important to consider how much the chairs are going to be used on a daily basis as well as how often they get handled by dirty hands. Fortunately, there are many styles of contemporary chairs that not only look great but hold up to high use.
Faux Leather Chairs
Contemporary faux leather dining room chairs are great options for durability. They are easy to clean, generally only needing to be wiped down with a damp cloth when they become dirty. Not only are faux leather dining chairs a smart look to have as a contemporary chair choice, they are also able to withstand extended periods of UV rays without needing extra conditioning.
Leather Chairs
Leather chairs are a favourite style that goes with almost any decor. Their contemporary look paired with rich durable leather makes this dining room chair choice a perfect one for people who love to entertain. Leather is comfortable enough to feel casual, and yet, it is still perfect for formal occasions. Most contemporary leather dining room chairs have strong wooden legs, which also adds to their overall durability factor.
Lounge Chairs
Lounge chairs are not only durable, but they are comfortable as well. There are so many different styles to choose from in this genre that it is possible to find ones that are simple or extremely elegant. Many lounge chairs style have metal legs which make them extremely durable and easy to clean as well. Many of the more elegant models come equipped with plush fabrics that are already treated with stain guards. Coupled with strong wooden legs, these contemporary dining room lounge chairs add a very classy look and feel to the room.
Affordable Choices Are Plentiful
There are many affordable choices when it comes to finding the right style of contemporary chairs that fits nicely into a dining room. Wooden contemporary dining room chairs are popular styles for many homes because they can be found in wood varieties that are cheaper than most hardwood varieties. Oak and walnut are beautiful hardwoods; however, finding ones that are within a budget can be especially difficult, especially if several chairs need to be purchased. Contemporary chairs constructed from pine are not only attractive and affordable, but they are also durable and easy to clean as well.
Plastic Contemporary Dining Room Chairs
Plastic chair varieties are also inexpensive compared to other styles of chairs. There are so many great contemporary styles and colours to choose from, this style of chair is another common one for people who want to stay within a budget but still make their dining space look great.
Used Contemporary Dining Room Chairs
Another option that is also available is purchasing used contemporary dining room chairs. Many people enjoy upgrading their dining room chairs and do not have room to store their old ones. Often, these contemporary dining room chairs are sold for a fraction of what they are worth. They are great deals for anyone who is on a budget but still wants to add great pieces to the dining room.
Buying Contemporary Dining Room Chairs on eBay
Even if you do not know exactly what kind of contemporary dining room chairs you have in mind for your home, it is easy to find a wide selection of choices available to you with just a click of your mouse. Searches for this style of dining room furniture can be as general as needed to allow you the opportunity to view the numerous styles available. Searches can be performed from the eBay homepage or at the top of any page on this website. If staying within a budget is the goal you have in mind, search results returned can be minimised by using the advance search feature and filtering your results according to your desired price range, or even by category, seller, and location, just to name a few options.
Once the search results have been narrowed down, make sure to read the detailed information contained in the full listing. The full listing provides additional information regarding condition, the method of payment accepted by the seller, and the shipping options offered. By clicking your mouse on the seller's name, you can also review the feedback given from other customers on their buying experience with that individual. If you are interested in more than one product, take the time to review this information on each seller and find the one that is right for you.
Conclusion
Adding contemporary dining room chairs to your home decor is an exciting experience. It is always nice to upgrade from time to time just to change the look of your surroundings. Unlike many other furniture upgrades, there are a wide variety of attractive dining room chairs in contemporary styles that finding the right ones to match an existing dining room table is relatively easy and a lot of fun.
It is also easy to find a multitude of contemporary dining room chairs that are not only attractive but durable as well. This is especially important if you have people in the home who are rough with furnishings. Buying durable dining room chairs is a great way to protect your investment and own a great set of chairs for years to come. Getting the contemporary dining room chairs that you want at a price that you can afford is also a very pleasant experience. In fact, the hardest part about buying contemporary dining room chairs may be deciding which ones to purchase.