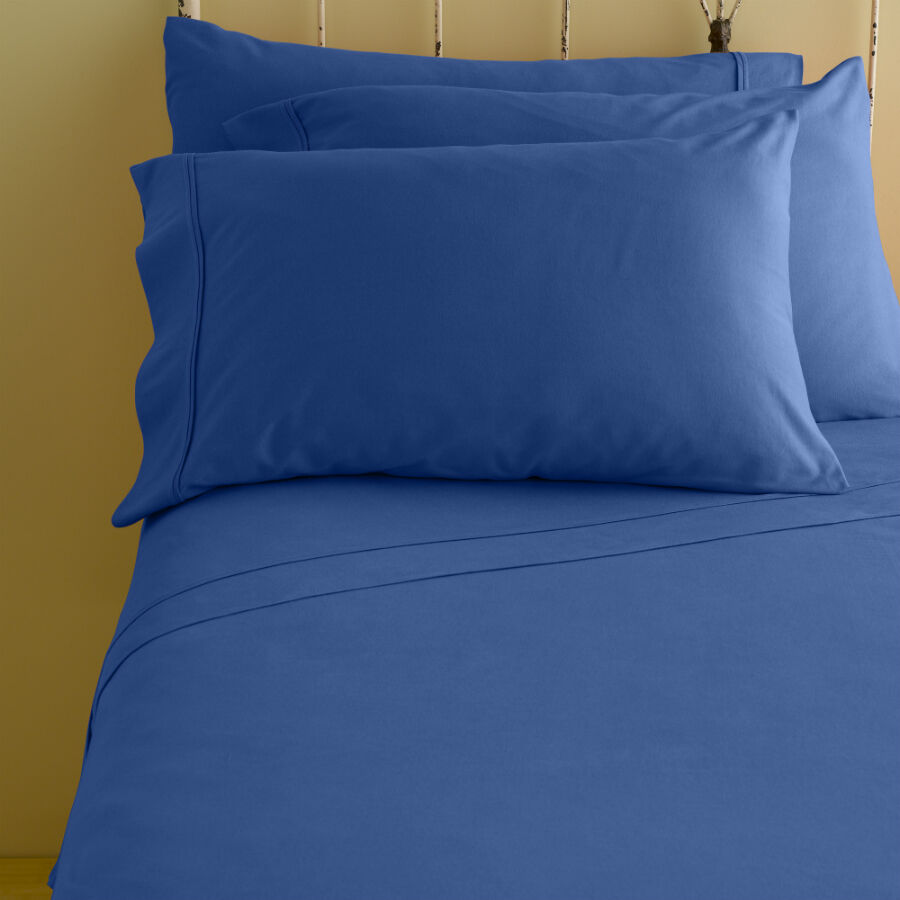 For consumers looking for a fabulous new set of cotton sheets to make their night of sleep a comfortable and cosy one, picking out sheets isn't as simple as one might imagine. There are many different factors that go into making a purchase, such as the type of cotton, thread counts, whether or not the cotton is organic, and why are coloured sheets stiffer? Grabbing a package of sheets actually may require a little more than selecting the colour and pattern that is liked. Cotton sheets made from real cotton are often the safest bet, but there are a few types of cotton sheets worth checking in to before a purchase is made.
Whether the consumer is a fan of the softest cotton possible, or just wants an affordable style of sheet that is easy to care for and maybe even stain and wrinkle resistant, there is a cotton sheet to fit that need. Shopping for cotton sheets is easy if the consumer knows what they are looking for, and there are a few things to know before making that purchase such as thread count, types of cotton sheets available, and sizing options.
What to Consider When Buying Cotton Sheets
Before purchasing cotton sheets, the consumer needs to take into account what his or her own needs are. Are the sheets for kids, and the buyer is worried about the sheets staining? Is comfort the utmost priority, no matter what the cost of the sheets is? Also, if living organically is important to the buyer, does he or she need organic cotton sheets as well? There are a few questions to ask, essentially because the buyer needs to know his or her own priorities when it comes to finding the perfect sheet. Also, budgeting for sheets is a must, because even cotton sheets can run the gamut from affordable to high-end.
Thread Count
When looking at sheets, the consumer will quickly notice that almost all of the cotton sheets are labelled with a number called the thread count. What does this mean, exactly? The thread count of sheets means how many threads are woven through each sheet per inch. So the consumer should keep in mind the higher the thread count, the softer and more comfortable the cotton sheet will be. Most affordable cotton sheets may offer a thread count of 200, but for a consumer that needs a soft sheet; a thread count of 300 or 400 will be much softer.
Consumers should not only pay attention to thread count, though. Buyers should check the ply of the cotton. Single-ply sheets aren't going to be as sturdy or comfortable as double-ply sheets.
Types of Cotton Sheets
Cotton sheets don't just come in one type. There are several types that the consumer will run into when he is shopping for cotton sheets. The cotton sheets a consumer selects really depends on personal preference, softness of sheets, style or brand, and the price of the sheets. There are a few common types of sheets that are the most well-known and easy to find when looking for cotton sheets to purchase.
Egyptian Cotton Sheets
Egyptian cotton sheets are the most luxurious type of cotton sheets. They often have a higher thread count than standard cotton sheets, and they are known to be extremely soft and comfortable to sleep on. Egyptian cotton sheets can cost more than regular cotton sheets, but many consumers say it is worth the extra cost. Egyptian cotton sheets can go from 300 thread count, all the way up to 1000 thread count.
Egyptian cotton sheets are definitely the most high-end cotton sheets that can be purchased. They come in an array of colours and come in many brands, which may account for some price fluctuations, but on the whole, Egyptian cotton sheets will be the most expensive type of cotton sheets.
Organic Cotton Sheets
These days, taking care of the planet is on everyone's mind. For responsible and eco-friendly consumers, organic cotton sheets are the only way to go. Organic cotton sheets are made from certified organic cotton, and typically they are created with a 200-thread count, but the thread counts can vary from brand to brand. While this is low on the thread count spectrum the sheets are still known to be quite soft and comfortable, and made with 100 percent natural threads.
Organic cotton is also quite durable and can withstand a regular wash and dry cycle, and stay looking great for years to come. They also become softer with each wash, so it may take a few washes to break the sheets in. Organic cotton is a great choice for planet friendly consumers that want a high-quality but natural type of cotton sheet. Organic sheets don't have to be plain; they also come in a lot of colours and patterns to please every buyer.
Jersey Cotton Sheets
Jersey cotton sheets are an affordable choice but still quite comfortable. Jersey cotton is the same type of stretchy cotton that most T-shirts are made from. Jersey sheets are knitted, so they feel different than typical woven cotton sheets. They are also a little bit heavier, but this only serves to make them a softer style of sheet. They also fit perfectly on the bed and rarely cause any slippage, extra fabric, or problems sliding off of the bed once they are on.
Jersey sheets don't have a thread count, because they aren't created the same ways as traditional cotton sheets. It's up to the consumer when selecting jersey sheets, because they come in a variety of colours, styles, brands, and of course, prices. Jersey sheets are easy to wash and care for, and may be a great choice for young kids and teens since they are easy to keep clean and can be thrown in the washing machine and dryer. Plus, it doesn't cost much to replace them once they begin showing wear; however, a quality set of jersey sheets can last for years.
Cotton Polyester Blends vs. Real Cotton/Pima Cotton
Some cotton sheets are a blend of cotton and polyester. These polyester sheets may not be as soft as traditional, 100 percent cotton sheets made of Pima cotton, which is the standard cotton type that most cotton sheets are made of. The upside to blends that include polyester is that these sheets are usually stain resistant and can offer wrinkle-resistance too, so if these qualities are of high priority to the buyer, then a polyester/cotton blend sheet may be the right choice. Polyester is of course not a natural fibre, so the sheets will not become as soft as Pima cotton sheets.
The other downside to polyester blends is the fact that over time and with repeated washings, the fabric may begin to form little pills. Natural cotton won't do this, so weigh these considerations before purchasing a polyester/cotton blend of sheets. The sheets that are blended will keep the consumer warmer since the material is not as ventilated as real cotton, which is another plus for those interested in a cotton blend.
Cotton Sheets Sizes
Knowing which size of sheets to purchase can become nothing but a guessing game. A sizing chart can help to identify the correct size by comparing it with the measurements of the bed.
| Bed Size (cm) | Fitted Sheet (cm) | Flat Sheet (cm) | Duvet Cover (cm) |
| --- | --- | --- | --- |
| Single (90 x 190) | 90 x 190 x 20 | 180 x 260 | 135 x 200 |
| Double (135 x 190) | 135 x 190 x 20 | 220 x 260 | 200 x 200 |
| King (150 x 200) | 150 x 200 | 280 x 290 | 260 x 220 |
When it comes to purchasing cotton sheets, it definitely helps to know the correct size. By comparing measurements to the chart above, one can determine the correct size and move forward in making the proper purchase.
How to Buy Cotton Sheets on eBay
Cotton sheets are a great buy. They are not only comfortable but more durable than other types of sheets, and 100 percent Pima cotton offers durability, longevity, and comfort as well. Search for the perfect set of cotton sheets on eBay by typing in sheets. You'll see a variety of different kinds of sheets, and you can search sheets by selecting bed linens to see what types of sheets eBay has to offer. Narrow the search by choosing bedding sets & duvet covers, and then you can tailor the search further by selecting what type of cotton sheets you'd like to look at, whether it's Egyptian cotton sheets, polyester cotton sheets, or 100 percent cotton sheets. Sheets typically come with a fitted sheet, flat sheets, and two pillow cases.
Sheets can also be searched by colour and pattern, if you know what colour you'd prefer that would match with your existing bedroom décor. Buy sheets on eBay with confidence from Top-Rated Sellers that have amazing feedback from other buyers, and see what else the seller can bundle with your cotton sheets to get an even better deal and lower cost on shipping, such as duvet covers, pillow shams, or another set of sheets.
Conclusion
When it comes to cotton sheets, there isn't just one kind. Luckily, as informed consumers, it's easy to make a decision based on the individual needs, budget, and qualities of cotton sheets that are the utmost priority. Whether it's a buyer that only wants to purchase organic, or a consumer that can't sleep on a sheet that's less than a 400-thread count, there's a simple way to purchase every type of sheet, and that's on eBay. Make sheet shopping less frustrating by finding all of the brands, styles, colours, and materials of sheets that are needed online.
Purchase extra sets of sheets and get a great deal so there will always be another set when one set is being washed, and since kids tend to spill things, a backup set will always be handy. Select sheets based on what individual preferences are, and enjoy sleeping on an amazing set of comfortable, cosy cotton sheets. A great set of sheets can be the difference between a restful and a restless night of sleep, so invest in some cotton sheets today. For guest bedrooms or rooms that aren't slept in as often, a 300-thread count is fine.