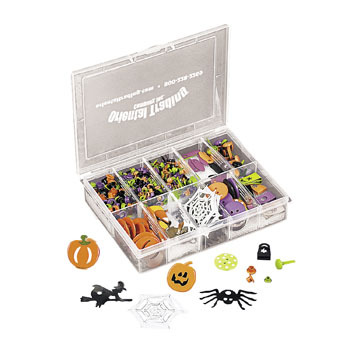 Craft embellishments are any small accessories that can be used to embellish paper crafts including cards and scrapbooks. Some of these embellishments are glitter, stickers, small decorations, ribbons, string, and sometimes even thin wire. Any of these items can be found and purchased on eBay and buyers can choose between purchasing from local and international sellers. Pros and cons include more interesting products, cheaper prices, or faster shipping.
eBay has a range of different craft supplies including most types of embellishments so buyers can usually find anything they are looking for. However, it is important to ensure that the product being purchased is the product desired, and that the embellishments can arrive on time to be used in the project they are intended for. Most buyers can use the following information to quickly and easily purchase any craft embellishments on eBay.
Choosing Craft Embellishments Quantity
One of the most important decisions to make when purchasing craft embellishments on eBay is how many embellishments should be purchased. eBay includes everything from very small boxes and pages of embellishments to large quantity wholesale lots that might be much too large for the average crafter who simply wants to make a single scrapbook or a few cards. Anyone who simply needs a small amount of embellishments to finish a single project might be better off going with a few pieces, even if they are only slightly more expensive than a larger lot. On the other hand, anyone who either tends to do a lot of crafts, or who could utilise a box lot of embellishments might be better off looking into a larger purchase.
Usually, items that can be used frequently include glitter, glue, rhinestones, and other easy-to-apply embellishments. Ribbons, string, and other items might be suitable for one project but unsuitable for another if that project is a different colour, in a different style, or even does not require ribbon or string. Choosing between lots and small purchases is relatively easy for buyers who consider their needs before making a purchase.
Craft Embellishment Kits
Many craft embellishments on eBay are sold in kits. This means that instead of being sold as a box lot of the same thing, many are sold in boxes with multiple different items. A kit could include different stickers, different colours of beads, different colours and shapes of glitter, or even a complete craft embellishing kit intended to allow the buyers to do anything they want with their paper crafts. Kits are generally great for anyone who needs a small amount of each item but might want to mix and match, and does not necessarily need anything exact to decorate the crafts. For example, a craft embellishing kit with different colours of rhinestones might be more flexible than a large lot of white rhinestones, and a kit with ribbon, glitter, and glass beads is easier to utilise in different ways than a box of any single item.
Local vs. Overseas Purchases
One of the decisions buyers have to make is whether to purchase the embellishments from local eBay sellers, or to look at international sellers as well. There are pros and cons to each but most buyers should consider how long they can wait for the product to arrive, how much of it they need, and how affordable it has to be. Other options include quality, style, and local availability.
| Feature | Local Sellers | Overseas Sellers |
| --- | --- | --- |
| Shipping | likely very fast and cheap | more expensive, can take weeks |
| Price | can be low or expensive | depending on location, can be very cheap or same as local |
| Quantity | usually smaller lots due to items being easier to re-order | usually but not always larger lots |
| Availability | limited selection | wide selection that might be impossible to get locally |
| Quality | low or high quality depending on price | cheap items usually lower quality; expensive items usually high quality |
It is important to consider that some locations might take longer to ship than others. For example, shipping from China can easily take three to four weeks while shipping from the United States might take much less time. Looking at the original currency can also help buyers to find better deals. The lower the value of the currency from the country, the lower the price of the product is likely to be. Anyone who simply needs craft embellishments as quickly as possible might want to consider a local eBay purchase where the shipping is faster.
Using Craft Embellishments on Paper
Most embellishments sold for card and scrapbook making are safe to use on paper, but anyone making a purchase should check to make sure that the embellishments are intended for paper. There is also a variety of attachment methods of the embellishments to paper, which should be considered as well. Most buyers might also want to consider tools such as stencils for glitter, tweezers for small embellishments, and acetone for removing extra glue. Each of these extras can be purchased on eBay either on their own or in a kit.
Self-Adhesive Craft Embellishments
Self-adhesives are very popular for stickers, rhinestones, and small objects because they are easy to place and require a minimum of mess. Most self-adhesive rhinestones, glass beads, and stickers are safe to use on paper because they contain a low liquid content, which is generally ideal for paper crafts. Usually, self-adhesives can be easily applied using tweezers or by simply peeling and manually sticking the backs. Important, paper or cardboard surfaces should be dry before applying self-adhesives.
Glue
Not all glue is suitable for use on paper but most craft glue is. Anything that reads wood glue, fabric glue, should be suitable. Any glue that reads anything but 'for paper' might be too strong, too liquid, or not strong enough for paper. Usually, it is a good idea to purchase adhesives intended for paper crafts in order to ensure that the embellishments stick well and the paper is not damaged. For this reason, it is important to read the eBay description to ensure that the glue or adhesive is suitable for use on paper.
Glitter
Glitter can be messy if used incorrectly but most crafters can start by laying out a sheet of newspaper and then using stencils to put the glue in place. Some people also use paper cones, which can then be easily dumped back into the glitter box. Glue should be applied and allowed to become tacky before applying the glitter. Alternatively, glitter glue can be purchased and applied directly to the paper or cardboard.
Ribbons and Lace
Ribbons and lace are popular card and scrapbook making accessories but can be difficult to apply. For most, simple light glue should do the trick. Some people also choose to sew the ribbon in place, especially if they would like a decorated attachment border or embroidered stitch line. Glue and any sewing accessories can be purchased on eBay along with the original embellishments.
Large Embellishments
There are many large embellishments available on eBay and these sometimes require special attachments. Very heavy embellishments should be used with strong glue in order to keep them from falling off. Most sellers list any special requirements in the item's description, so it is important to read and see what might be necessary for the attachment. Usually, any strong glue is suitable for larger embellishments but some might require staple, such as clips or fasteners, that punch through the paper.
Buying Craft Embellishments on eBay
If you have looked at your crafts and decided how many embellishments you need, what styles you are looking for, and what they have to be compatible with, you can look for and purchase them on eBay. Considerations include whether you want to purchase locally or from international sellers, how quickly you need the crafts to arrive, and how much of each item you need. Once you make your decisions, you can easily search for the items on eBay.
Try searching for a specific search term such as 'bows for crafts', or 'woodworking embellishments' rather than simply 'craft embellishments'. For example, if you are in search of paper stickers, searching for the exact term is more likely to get you the embellishments you need. Remember to read the description, check the price of shipping, and any specifications about the item. From there you can check out using eBay's purchase options.
Conclusion
eBay is home to a great deal of different craft embellishments with options including glitter, stickers, ribbons, lace, and rhinestones. Buyers can choose to purchase craft embellishments in small packages or in large wholesale lots, depending on their needs, but should be careful of purchasing too much of any one thing if they are not likely to use the entire quantity. Other considerations include purchasing locally or from an international seller with factors including shipping time, local availability, and price.
Searching for craft embellishments on eBay is easy, especially if the buyers already know what they want. Whenever possible, buyers should look for the specific item, for example 'purple glitter', rather than 'craft embellishments' in general. This can ensure buyers find what they are looking for quickly. It is also possible to search for embellishments that can be used on a wide range of paper products as long as the embellishments are safe for use on paper. Any eBay buyer can use this information to choose, find, and purchase craft embellishments on eBay.