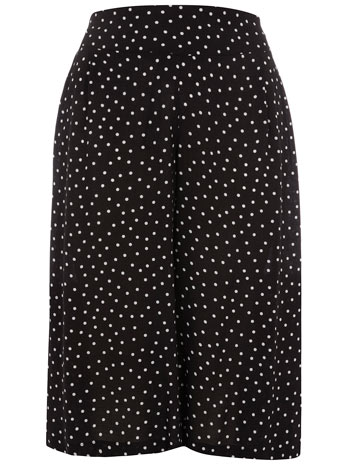 Culottes are a pair of loose trousers that resemble a skirt and they may be either calf or full length. They are an alternative to skirts for women who wish to be able to move freely without any potential for unwanted exposure. Unlike regular skirts, culottes offer more coverage because they are less likely to flip up in windy weather. Culottes come in a wide array of patterns, some in simple block colours, others featuring intricate prints. Buyers can find culottes in department stores and online. Not many high-street shops offer a good selection of culottes, so buying them online is probably the safest bet. Before deciding on purchasing a new pair of culottes, women should take into account several things such as styles, materials, and sizing. Knowing what culottes are and how they can add a plus of individuality to one's wardrobe is important for making an informed and wise choice.
The History of Culottes
Culottes were one of the most popular fashion garments for women in the sixties and the seventies and to this day they are associated with the Flower Power movement. However, the history of culottes goes back to the Middle Ages, when the term designated the knee-breeches frequently worn by the men from the upper-classes in Europe. They first became popular in France at the end of the 14th century and initially they were fastened to the knee with a drawstring, a strap and buckle, or buttons. Because culottes were only worn by the upper classes, the working-class revolutionaries of the French Revolution of 1789 became known as 'sans-culottes' (which translates as those without culottes).
Culottes only became a women's garment in the 19th century, when they were worn for horseback riding. By wearing culottes, women could use a regular saddle instead of a side-saddle. In the twentieth century, women began to wear culottes for a wide range of activities and eventually, simply for fashion reasons.
Culottes vs. Skorts
Many buyers tend to mistake culottes for skorts, but the latter combine shorts with skirts and, as a result, are not designed to fall above the knee. Even though some culottes may resemble skorts, they lack the front covering that is used for skorts in order to look just like a skirt. Skorts are popular among women who practise a range of sports such as golf, tennis, and field hockey. Culottes are therefore not be mistaken with skorts and this is important to know before looking to buy a pair.
How to Wear Culottes
Culottes are some of the most versatile pieces of clothing women can opt for. They can be paired with different kinds of tops in order to obtain a casual or a more elegant look. Pairing culottes with sandals and a casual T-shirt is a great option for family gathering and shopping days. Women can also use a pair of culottes with block-heeled shoes and a dressier blouse for occasions that are more formal.
Colour Palettes
When buying a pair of culottes, it is important to choose colours and patterns wisely, as they can easily clash with the colour palette of the tops one plans to wear them with. The rule of thumb is to wear unicolour culottes with unicolour or printed tops or printed culottes with unicolour tops. It is never fashionable to mix two kinds of patterns and prints in the same outfit and culottes are no exception to this rule.
Matching Shoes
Culottes are extremely versatile when it comes to shoes, so buyers can pretty much pair them with almost any kind of shoe, including sandals, flip flops, ballerina flats, boots, and even fashion trainers. Most culottes go well with tights; however, buyers should again make sure the colours do not clash.
Materials for Culottes
Culottes come in a wide variety of materials, suitable for all tastes and seasons. A large number of culottes that are designed to be worn for casual occasions are made from materials such as linen, polyester, wool, denim, corduroy, and chiffon. When it comes to culottes suitable for special occasions, women can choose from fabrics such as satin, silk, or velvet. An important factor in choosing a new pair of culottes is the season, with thick materials being suitable for autumn and winter. For warm summer days, women can choose a pair of culottes made from chiffon or linen, paired with sandals or ballerina flats.
Buying the Right Size
It is always a good idea to buy clothes in sizes that fit properly, but this is even more important in the case of culottes, as their shape may be somewhat deceiving. The main thing to keep in mind is that culottes should fit perfectly on the waist, even though they may seem larger on the hips. In the majority of cases, culottes do not fit very tight on the hips, thus providing the wearer with plenty of comfort when moving.
Taking accurate waist and hip measurements is important for choosing a pair of culottes that fits properly. Buyers should pay attention to the form of the culottes, as they may differ, especially when it comes to waist. Many styles are made to be worn at the natural waistline, but women can also opt for low-waist styles.
Culottes Size Chart
After taking the waist and hip measurements with a tape measure, buyers should match them with the measurements in the table below in order to find out what size fits best.
| UK Size | US Size | European Size | Bust circumference (cm) | Waist circumference (cm) | Hip circumference (cm) |
| --- | --- | --- | --- | --- | --- |
| 6/8 | 6 | 36 | 81 | 61 | 89 |
| 10 | 8 | 38 | 86 | 66 | 94 |
| 12 | 10 | 40 | 91 | 71 | 99 |
| 14 | 12 | 42 | 97 | 76 | 104 |
| 16 | 14 | 44 | 102 | 81 | 109 |
The table above can be used as reference when purchasing culottes, especially when no sizing information is provided by the manufacturer or when buying culottes online.
Culottes and Body Shape
Even though culottes are a garment that can be worn by all women, regardless of age or height, there are some aspects related to body shape that are worth considering. Culottes are the perfect choice for showing off slender legs and drawing attention from the chest, so they are a good option for thin women with long legs. Women with an hourglass figure can also benefit greatly from wearing culottes, as they act the same way as wide-leg trousers, narrowing the hips and creating the illusion of longer legs.
Culottes are also suitable for full-figure women, but they should opt for full-length models to create the illusion of thinner legs and natural height. Drawstring styles should be avoided by full-figure women, as they usually draw attention to the waist. Culottes can complement petite women as well, but they should pay attention to the length of the pair they are buying and go for full-length styles that are known to create the impression of longer legs.
How to Buy Culottes on eBay
As culottes are not a must-have item in a woman's wardrobe, they are not available in a large selection in high-street stores. The best option you have for browsing a wide selection of culottes is shopping for them online. eBay offers a wide choice of culottes in plenty of styles, materials, and colours. By entering 'culottes' in the search bar on eBay's home page, you will get many results from which you will be able to choose the pair that works best for your body shape, preferences, and existing wardrobe.
If you feel that there are too many culottes to choose from and you find it difficult to select the right pair, you can refine the results according to size, colour, condition, and price. You can also modify your search by adding extra terms if you are looking for a specific model. If you simply wish to browse the selection of culottes on eBay, you can do so by navigating through the fashion menu until you reach the culottes section.
When purchasing culottes on eBay, you should have your accurate measurements and sizes at hand. This will save you time and money, as you will not have to bother with returning an item that does not fit properly. Check the sizing information available in the product description and contact the seller when in doubt.
Conclusion
Culottes have been around for several decades and they continue to be a practical, yet stylish garment for women of all ages. Moreover, culottes are very comfortable and they allow the wearer to move as freely as possible without being in danger of exposing more of their body than they wish. The culottes work well for casual and elegant outfits alike and can be paired with simple or dressier tops, according to the occasion. Culottes come in styles that are suitable for all seasons and it is up to the buyer to find a flattering pair that complements well their body shape and other wardrobe pieces. Whether one is looking for a new pair of culottes to follow the latest trends or is simply interested in comfortable, yet stylish piece of clothing, eBay is the place to go for a large selection of culottes in all colours, sizes, lengths, and styles.