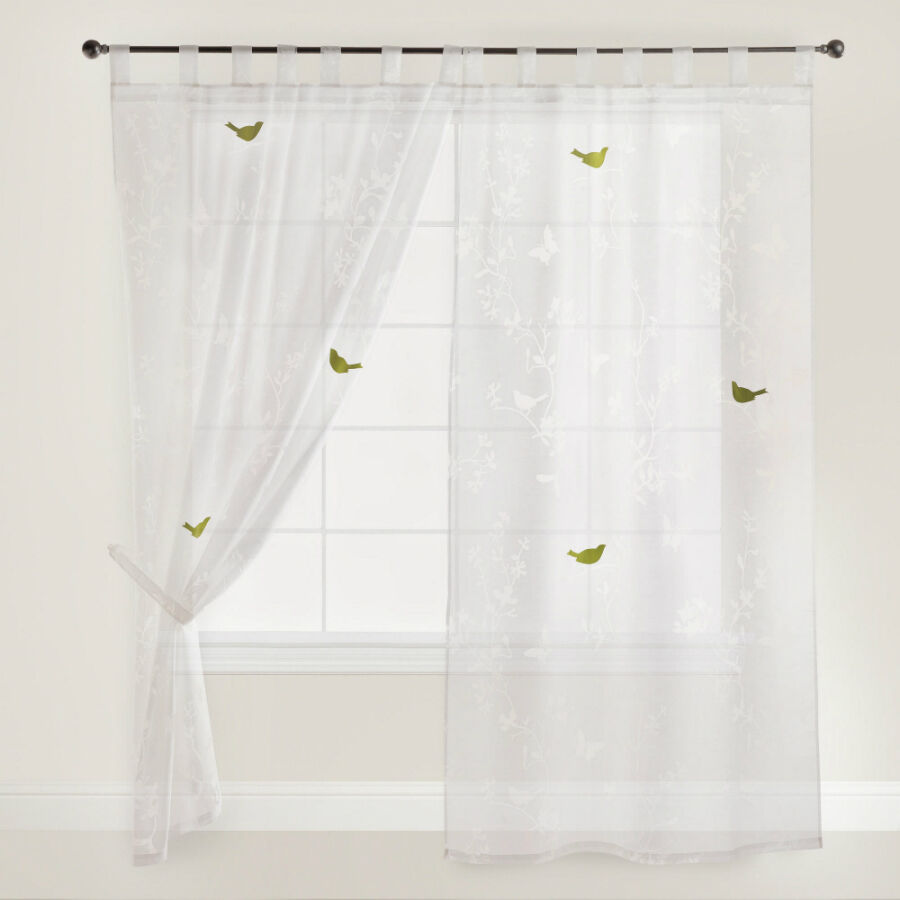 While historians cannot pinpoint when curtains first became a staple inside of homes and places of business, mosaics from the era of the sixth century depict curtains suspended from rods that spanned hallway arches. The curtains from that era were used to divide rooms. Eventually, curtains became a popular way to embellish the look of a room or hallway. Manufacturers introduced multiple curtain lines that complemented the decor in virtually every room of a home. While the decorative benefits of hanging curtains entice consumers to buy curtains for their homes, other benefits began to emerge as manufacturers tinkered with curtain fabrics and designs. By the end of the 20th century, curtains provided homeowners with multiple benefits that extended far beyond aesthetics.
Homeowners and office managers can find curtains that match their buying needs online at the leading auction website, eBay, from various sellers, some of which specialise in selling interior decorations. Before consumers shop for curtains, they should learn the curtain terminology used by interior decorators, the multiple purposes of hanging curtains, curtain styles, and the steps to take when buying curtains.
Curtain Terminology
The first step of the curtain buying process is to become familiar with common curtain terminology. This allows consumers to speak the same language when they discuss curtain options with an interior decorating sales professional or analyse the sellers who offer curtains through eBay. The following table lists the most common curtain terms accompanied by brief descriptions.
Curtain Term

Description

Face Fabric

The fabric that faces the interior of the room

Referred to as the "good" side of the fabric

Return

The section of the curtain that flushes at right angles with the wall

Heading

Top of the curtain

Referred to as the heading because of the heading tape used for decorative purposes

Stackback

The area used by pleated curtains when opened on either side

This area must be calculated for measuring curtain track

Padded Edge

Padding roll on leading edge of the curtain

Attached above the window to hold the curtain

Connects curtain with track

Heading Tape

Used to create French, pencil, and gathered pleats

Tape is sewn and pulled through the curtain strings

Leading Edge

Inner vertical curtain edges often decorated with braid or tassel fringes

Hem

Curtain base where fabric is turned back

Provides smooth finish to bottom curtain edge

Provides insulation and protects curtain from moisture

A must have feature in humid climates
These 11 terms apply to most styles of curtains and they are essential terms to know before consumers begin to browse for curtains on eBay. Knowledge of these terms reduce the amount of time that consumers spend searching for curtains.
Purposes of Curtains
Curtains were initially designed as decorative enhancements for most rooms inside of an office or home. Over the years, curtains have assumed additional purposes that vary depending on the room. For instance, living room curtains may be installed for decorative and light control purposes, while bedroom curtains may provide climate control benefits.
Decorative Curtains
Curtains still serve to embellish the look and feel of most rooms. They add colour and energy to drab interior designs. Interior decorators often hang curtains as the last decorative touch that pulls together the design elements of a room. Most homeowners utilise curtains to enhance the ambiance of their living rooms and kitchens. The number of curtain designs is almost endless and consumers can custom order curtain designs from most manufacturers.
Curtains for Privacy
Homeowners order curtains that possess thick fabrics to protect their privacy in bedrooms, bathrooms, and office dens. Heavily-lined curtains or blackout curtains provide the best way to protect both homeowner and office building privacy. Curtains constructed to protect privacy typically are heavy enough to withstand wind gusts.
Climate Control Curtains
Home construction companies historically focused on sealing the area around windows to provide homeowners with some semblance of climate control. The introduction of curtains that help retain heat and absorb moisture change the way interior decorators go about selecting curtains. Some air inevitably leaks inside of a home, especially through large windows. Consumers can purchase thermal curtains to reduce the amount of warm or cool air that escapes from inside of a room. Climate control curtains are popular in bedrooms and living rooms.
Light Control Curtains
Heavier-constructed curtains also reduce the amount of light that beams into a room. This is important for rooms that directly face the sun or rooms that are adjacent to bright traffic or pedestrian lights. Heavier curtains also darken rooms at night for sleepers who require absolute room darkness. Light control curtains also alter the mood of a room by the amount of light that is allowed to enter a room. Many interior decorators are adept at manipulating light to create decorative effects.
Soundproof Curtains
Noisy rooms, such as entertainment rooms, benefit from thermal curtains that also possess noise reduction properties. These curtains are made with fabrics that absorb noise wave, instead of bouncing them off of curtain surfaces. Manufacturers rate curtains for their soundproofing properties. Curtains that have a rating of 0.5 reduce up to 50 per cent of the noise in any room where they hang.
Curtain Styles
It does not take an artist's eye to find the right style to match a home or office room. However, it does require consumers to understand the numerous available styles. In addition to the following curtain styles, consumers can also buy curtains that integrate two or more styles into one curtain. The styles that have more detail typically cost more than simpler designed styles.
French Pleat Curtains
This style comprises triple-pleat sections that pinch together at the bottom of a curtain. The pinched bottom allows the pleats to spread at the top of the curtain. This style requires a special rod that manufacturers construct to keep the pleats in line. Interior decorators utilise French pleat curtains to present a formal look for living rooms and bedrooms. Pencil pleat curtains are also available for a different look.
Sheer Curtains
This is a see-through curtain that adds a romantic touch to any room in the home. The light and airy design allows this curtain to hang around large beds. Most buyers of net curtains hang the style in their bedrooms.
Tab Top Curtains
As the most casual curtain style, tab top curtains present a straight appearance in which tabs appear at the top of a curtain. The tabs slide over the curtain rod, and hence, keep the current symmetrical as it moves back and forth over the window. This is a good style to use in basement rooms and home offices.
Panel Curtains
Some home, and many office, windows are not open enough to warrant hanging other styles of curtains. Interior decorators use panel curtains for this type of window. Also called a rod pocket or casement, a panel curtain is a straight curtain that contains one or two pockets at the top of the curtain. The curtain slides through each pocket to present a uniform appearance.
Cased Heading Curtains
Cased heading curtain manufacturers sew openings on each end of a curtain through which a rod may thread. Homeowners gather the curtain across the rod, which can be a time-consuming process to maintain a gathered look. Because of the time-intensive task to maintain a gathered look, the place to hang cased heading curtains is in a room where the curtain is kept open most of the time.
Curtain Valances
Valances offer consumers curtain hanging flexibility. They can hang in less formal rooms, such as a bathroom, or add a touch of elegance to a living room. This type of curtain has a pencil pleated heading that can stand alone or layer over richly textured floor-to-ceiling curtain fabric.
How to Buy Curtains
Curtains come in a number of styles and sizes that provide both professional and novice interior decorators with plenty of flexibility for choosing the right curtain for the right room. Curtains can be modern, formal, traditional, or functional. They can hang from ceiling to floor, or from the top of a windowpane to above the floor. Regardless of the type of curtain, buyers should follow a five-step process for how to buy curtains.
Curtain Measurements
Decide whether to hang a curtain from the inside or outside of a window frame. Use a metal measuring tape to measure the height and width of every window that requires a curtain. Measure height and width at the top, middle, and bottom of each window to ensure accurate dimensions. Record the measurements by rounding each measurement to the nearest quarter centimetre.
Selecting Curtain Style
Curtain style largely hinges on a room's function and the overall home decor. This step is usually what trips up many novice decorators, and it may require the advice of a seasoned decorating professional. Some general rules include hanging standalone valances in kitchens, while hanging pleated ceiling-to-floor curtains in formal living room settings. Choosing curtain style often comes down to personal taste.
Curtain Fabric
Fabric also determines the formality that a curtain gives to a room. Satin, silk, and jacquard curtain fabrics are considered more formal, while weave and casement fabrics work better in casual settings. Manufacturers construct patterned curtains using cotton or a cotton blend. The type of fabric chosen also depends upon the ease of cleaning the fabric. Consumers should choose easy-to-wipe-clean curtains for high-traffic areas of their homes.
Curtain Liners
Curtain liners work best behind heavier curtains, and in more formal room environments, such as reception areas. Liners also enhance the curtain privacy capabilities. Recent developments have produced liners that protect curtains from fading due to sun exposure and the condensation and dirt that enters through small window frame openings. Insulated liners increase the amount of heat retention.
Curtain Accessories
The last task on the curtain shopping list is to decide on accessories. Curtain rods are the most common curtain accessory, and interior decorators consider other curtain accessories to be optional. Deciding whether to purchase decorative accessories, such as finials, holdbacks, trim, or tassels, depends largely on a consumer's decorative skills and the curtain budget.
Buying Curtains on eBay
eBay offers a wide variety of curtain styles that fulfill multiple purposes. You can search for curtains by typing keywords into the search engine, and then navigating through the search result pages. Type specific keywords into eBay's search engine to reduce the number of search result pages. For instance, typing "white curtains&" or "silk curtain&" into the search engine narrows your search and saves you time. Once you find a seller that matches your buying criteria, click on the seller's product page to review accepted payment methods, delivery terms, and return policies.
Consider buying from eBay's Top-Rated Sellers. These sellers have established strong records of selling high-quality products and offering generous return policies. You want to buy from an eBay seller who allows buyers at least 30 days to return curtains. This allows buyers to see if the curtains possess durability and the curtain colours do not fade. You can also review customer feedback on seller product pages. Look for sellers who have garnered positive feedback for at least a year and have some experience selling curtains or room drapes. Once you forge a business relationship with an eBay curtain seller, inquire to see if that seller has an eBay store where you can forego the auction process and purchase products directly from the seller.
Conclusion
What was once considered a way to brighten up a room or accentuate room decor has morphed into an essential component of any homeowner's interior decorating plan. Curtains do much more than simply add elegance to rooms in homes, office buildings, and public reception areas. Manufacturers construct curtains to protect privacy, obscure light, control temperature, and reduce noise levels. The additional roles that curtains perform make them indispensable parts of any home. The only question to answer is which style of curtain fits best within which room.
The answer to that question requires homeowners to understand the myriad styles of curtains. French pleat curtains work better in more formal settings, such as in living rooms and dining rooms. This style of curtain provides more of a decorative benefit that emphasises elegance and panache. On the other hand, valances present a casual appearance that look best in bathrooms and storage rooms. Homeowners who decide on the purpose and style of curtains can then move onto measuring the amount of material needed to hang a curtain. The final stage of the curtain buying process involves choosing liners and curtain accessories.. As manufacturers continue to expand the role of curtains, expect the buying process to become more involved as well.