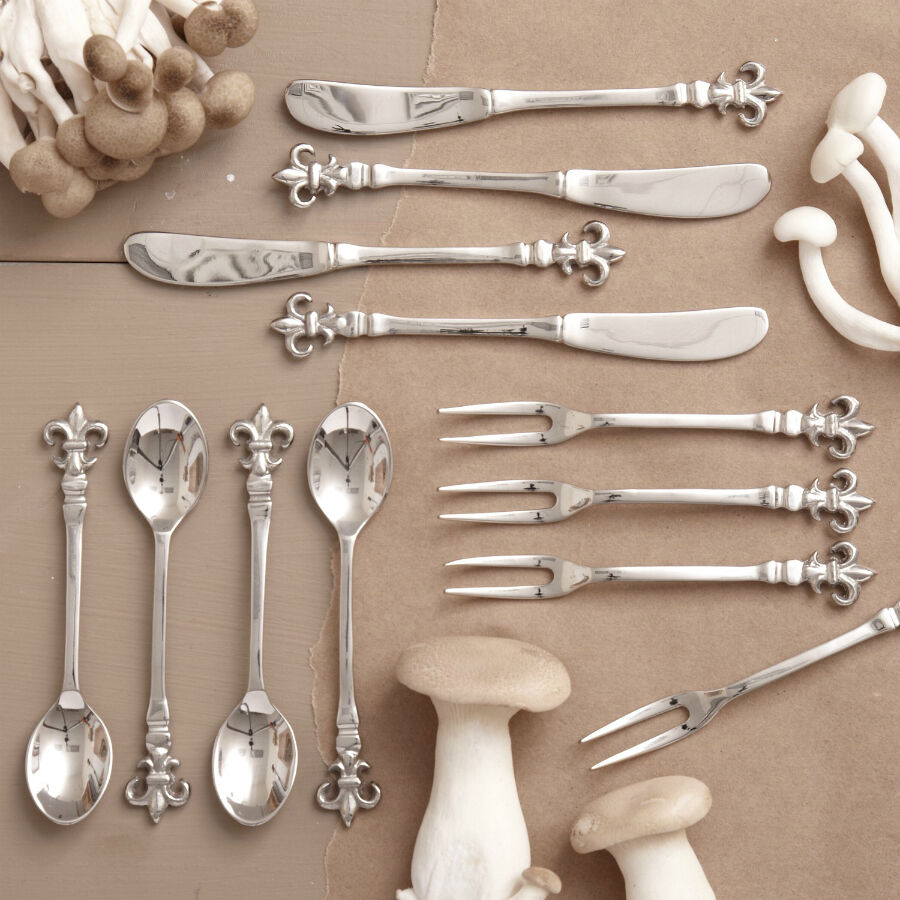 Cutlery is an essential item in every home, and some people prefer to have more than one set, one for everyday use, and another smarter set for use when entertaining. Choosing new cutlery may seem straightforward; however, many people do not appreciate just how many different options there are when it comes to buying cutlery. eBay is an online auction site that has comprehensive tools to help research the different types and styles of cutlery, to decide on a cutlery set wished to be purchased, and to buy the set for a reasonable price.
About Cutlery
A definition of cutlery is any instrument used to prepare, serve, or eat food. In the UK, cutlery sets most commonly feature conventional knives, forks, and spoons. Not all cutlery sets are the same – some may be basic, whereas others may be more comprehensive with various sizes and types of knives, forks, and spoons, some for specific purposes.
Basic Cutlery Sets
The basic cutlery sets are likely to feature just one knife and fork and two spoons per place setting. The knives and forks are usually a standard size that are suitable for eating all kinds of food, and the set will usually include tablespoons, desert spoons, and teaspoons. Most households use a basic cutlery set for eating most of the daily meals. Basic cutlery sets can be bought very cheaply online, for example from eBay, or from traditional brick and mortar stores. They are usually simple in design, and are commonly made of stainless steel. Some sets have decorative handles that are often made of plastic to simulate bone or ivory.
Comprehensive Cutlery Sets
The contents of the more expensive and comprehensive cutlery sets vary greatly. For when entertaining guests or eating a number of different courses, consider buying a larger cutlery set with extra pieces. Due to the additional contents, comprehensive cutlery sets are considerably more expensive than the basic cutlery sets, and may be kept exclusively for use on special occasions. Such sets will come with a number of different knives, forks, and spoons for use on different foods – for example, steak knives, soupspoons, dessert forks, and fish knives. There are two main types of comprehensive cutlery set – fine dining sets, which are usually made of more expensive materials, such as silver, and are reserved only for the most important occasions; and family dining sets, which contain many of the same pieces of cutlery as a fine dining set, but are made of a less expensive material and will not be as highly finished.
How to Choose Cutlery on eBay
With eBay's comprehensive research and buying tools, quickly and easily find cutlery sets that suit the needs. Before researching cutlery sets, make sure to have a clear idea of what sort of cutlery is wanted. It is important to consider a number of factors.
Considering Purpose When Choosing Cutlery
One of the most important things that to consider when choosing cutlery is what the cutlery will actually be used for. If seeking cutlery for everyday use, it might be wise to choose a very different cutlery set that one for use on special occasions. Everyday cutlery is likely to be more basic – usually, one knife, fork, teaspoon, and dessertspoon will be enough for each person, unless the family regularly eats meals with a number of different courses – in this case, a larger family set would be more suitable. Everyday cutlery needs to be hard wearing, as it will be used and washed regularly – stainless steel is a popular choice for these sets. Cheaper cutlery sets may have plastic handles, although always ensure that the cutlery is good quality, and is suitable for the home – if the cutlery is to be washed in a dishwasher, the cutlery must be labelled as dishwasher safe. Consider purchasing a plastic cutlery set for use outside, for example on picnics. Cutlery meant to be used occasionally in this way is usually much cheaper and more lightweight than standard cutlery. It may also be smaller. On the other hand, if the cutlery is to be used for special occasions, then choose to purchase a more expensive fine dining set made of a more expensive material, such as high-grade, finely finished stainless steel or even silver. If this is not an option, then choose to buy a mid-priced family set, which will serve the same purpose and costs much less to buy.
Considering Number of Heads When Choosing Cutlery
An obvious consideration when buying new cutlery is how many sets of cutlery (place settings) is required. There must, of course, be one set for every member of the family, plus some spare sets for visitors. When a family dining set is purchased, it will be sufficient to buy just enough cutlery to provide a sufficient amount for the family. If there are a particularly large number of people dining, spare basic everyday cutlery may be given to the children to use. A similar principle may be applied to fine dining sets, although people who wish to buy the most prestigious of cutlery may be embarrassed, if there is a large group, to bring out cutlery that does not match. Consider the type of cutlery that is affordable to buy, and balance it against the amount that would be required if guests drop by for a meal.
Considering Budget When Choosing Cutlery
One of the most important things to consider when purchasing cutlery, is the available budget. It is vital to ensure that it can be afforded to buy enough place settings of the cutlery in question, before going ahead and buying it. If having felled in love with a very expensive fine dining set, then it is useless when only able to afford three place settings when having a family of eight. There are so many different cutlery sets available that it is possible, with any budget, to find a set to suit the needs.
Using eBay's Research Tools
Researching the different types of cutlery available is very easy using eBay's comprehensive research tools. One of the most useful research tools available on eBay is its comprehensive and efficient search facility. It is possible to search by using specific phrases, for example 'fine dining cutlery' which will bring up a list of all matching items. Then use the tick box system on the left hand side of the page to eliminate unsuitable items, and thus narrow down the list, saving time by only displaying the items that are of interest. There is a choice to view only new or used items, items which are within a certain distance of the home, items within a certain price bracket, or cutlery sets which are made out of a specific material. The left hand menu also gives a list of eBay shops, allowing to browse all the items of one regular seller.
Using eBay's Buying Tools
Once the different cutlery available has been researched, eBay's helpful buying tools can help find out more information about the product, decide which seller to buy the item from, and obtain it for a reasonable price. If the listing does not give sufficient information about the cutlery, it is also possible to use the Ask a Question feature to view questions that have been asked previously about the item, or ask an own question if the answer is not displayed. The seller will then respond to the query directly. eBay provides helpful information about sellers, to help to decide whether to do business with them. One of these tools is the feedback system, which allows the leaving of feedback every time something is bought. A feedback score is then calculated for the seller, on a percentage basis. Sellers with 100 per cent positive feedback are likely to be more reliable than those who have a lower score. To help make a decision, see how many transactions the particular seller has made and view comments from previous buyers about the product and delivery service provided. Once decided to purchase a specific cutlery set, either bid on the item or buy it now, depending on the format of the listing. Bidding on the item allows the place of a maximum bid to try to win the item against other potential buyers. The Buy it now option allows to buy the item immediately at a set price.
Finding Cutlery on eBay
Finding cutlery is very simple. Either search for 'cutlery' or a more specific phrase such as 'everyday cutlery' in the search box, or find suitable items by browsing categories – from the homepage, select Home, Furniture and DIY, followed by Cookware, Dining and Bar, followed by Cutlery.
Conclusion
Use eBay's comprehensive search and buying tools to find suitable items of cutlery and then buy them for a reasonable price. Before committing to any purchase, consider the purpose of the cutlery, budget, and exactly how much cutlery is required to meet individual needs.