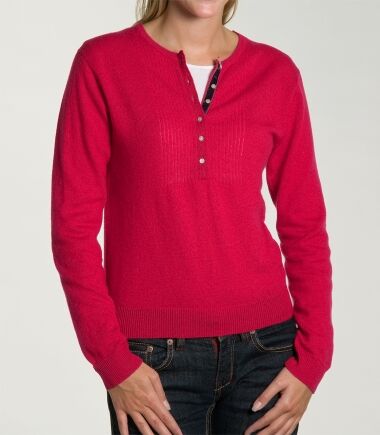 Designer women's jumpers may carry a slightly higher price tag than their mass produced counterparts, but this is due to the use of high quality materials and the superior craftsmanship employed in their construction. These garments tend to be cut to flatter the wearer's figure and investing in a few designer jumpers makes any woman's wardrobe more versatile. eBay sellers offer a wide selection of designer women's jumpers, making it easy to find the perfect item at a reasonable price.
Knowing what type of jumpers are available and what factors to consider when shopping simplifies the buying process. Jumpers are available in various styles and necklines, as well as sizes, materials, and colours. The secret to finding the right women's designer jumpers lies in knowing how to search eBay effectively. Learn how to use the site's search function to find what you are looking for. An understanding of the eBay buying process and how to evaluate items and sellers allows you to shop with confidence.
Factors to Consider When Shopping for Designer Women's Jumpers
Several factors should be considered when shopping for designer women's jumpers. These include the style, colour, and fit of the jumper.
Styles and Necklines for Designer Women's Jumpers
Jumpers can be long sleeve, short sleeve, or sleeveless, and feature a variety of necklines. Jumpers that have buttons in the front are called cardigans; most jumpers are of the pullover type. As designer women's jumpers are available with a variety of sleeve types they can be worn all year round, provided the material they are made from is fit for the season. The length of the jumper should suit the wearer's build and personal style. Designer women's jumpers come in hip and waist length, and cropped designs, with a range of lengths in between.
Necklines include V-necks, crew and round necks, scoop and cowl necks, polo necks, and boatnecks. The type of neckline chosen should suit the wearer's body type and the clothing that will be worn with the jumper. V-necks, cowl necks, and boat necks are universally flattering. For layering over a blouse or collared shirt, consider a V-neck jumper, while a crew or round neck usually looks best with a T-shirt or a item with a similar neckline. Of course, designer women's jumpers can be worn on their own, especially if they are made of softer materials.
Sizing and Fit for Designer Women's Jumpers
UK clothing sizes are not standardised and care should be taken when choosing a size. It is usually best to have the wearer's bust and hip measurements to hand while shopping. The wearer's dress size can be used as a guide to find the correct size range, but exact sizing should be confirmed with the seller. To confirm whether the item will fit, compare the wearer's dimensions to those of the jumper. Many eBay sellers offer returns policies like those of high street retailers. To avoid buying an ill-fitting designer women's jumper, buy from a seller with reasonable returns or exchange policy.
Designer women's jumpers come in a variety of fits, from loose and baggy to snug and tailored. The wearer may prefer a more tailored look if the jumper will be worn to work, while a chic baggy jumper is perfect for casual wear. In addition, jumpers are available that are tailored to particular builds and body types, such as tall, petite, or plus size women.
Materials for Designer Women's Jumpers
Designer women's jumpers are made from both natural and synthetic fibres. Natural fibres include cotton, silk, cashmere, mohair, and wool, while synthetics include acrylic and viscose. Cashmere and silk are considered luxury fabrics as they are soft, drape well, and tend to be more expensive than others. These two materials are fairly delicate and require special care to keep them looking their best. As a result they are often blended with synthetics or other natural materials to make them easier to launder. Most synthetics drape well and are easy to care for.
Silk and cotton are ideal for warmer weather as they breathe well and offer better thermal regulation. Cashmere is warm, but light, and wool and synthetics tend to be better for cool weather. Consider the material's drape, durability, and the wearer's laundry preferences when choosing a material.
Colours for Designer Women's Jumpers
Designer women's jumpers come in a wide range of colours, leaving the buyer spoilt for choice. Darker or neutral solid colours are more versatile and formal than bright colours or patterns. Choose black, gray, or caramel jumpers for versatile office wear, but match casual jumpers to the season by choosing brighter colours for spring and summer. Of course, a bright solid colour can be used to add character to a bland outfit.
Searching for Designer Women's Jumpers on eBay
Searching for designer women's jumpers on eBay is a straightforward process. Type a keyword or phrase, such as "Ralph Lauren women's jumper", into the search bar, which can be found on every page, to see the listings available. This type of search displays all the listings tagged with the keyword used. In some cases, eBay may suggest keywords. If these apply to the search, click on the keyword suggestion.
The results displayed can be refined by choosing the most appropriate category. This is usually the category with the most listings, but can vary according to the item sought. Further refine the search results by choosing the desired item characteristics, such as size, colour, or brand. If you would like to perform a more specific search, use the advanced search option. Knowing what is available from eBay sellers will inform your search and make it easier to set search parameters.
The eBay Buying Process
Take a moment to read the information included on the item listing page once you have found the designer women's jumper that you want as this allows you to learn about the product and the seller. This page can be accessed by clicking on an individual listing and contains all the information that you need to make an informed buying decision. Here you will find the item description and photos, details about the postage and packaging costs, bidding and buying options, the seller's accepted payment methods, the terms of the seller's returns policy, and the seller's feedback information. Remember to add the postage and packaging costs to the item's selling price to work out the total cost. The seller can be contacted by clicking on the "Ask a question" link if you have any additional questions about a listing.
Meet the Seller
To learn about the seller, visit his or her profile by clicking on the person's username. The eBay seller feedback system allows buyers to leave feedback for sellers regarding their products and customer service after the conclusion of each transaction. Detailed seller ratings provide additional information about aspects such as the seller's communication, the item description, postage and packaging charges, and the time it took for the seller to send the item. The type of items sold can be viewed in the list of individual comments.
Remember to leave feedback once the sale is concluded. This allows other buyers to form an opinion of the seller and shows the seller where improvements can be made. Wait until the item has been received before leaving feedback.
eBay Shops
If you find a seller with high quality products and excellent service who you would like to support in the future such as Moncler, visit their eBay Shop. Many sellers focus on a particular product type and have a range of similar items for sale at any given time. Instead of settling on a single designer women's jumper, it may be possible to buy an entire outfit or a number of jumpers in one place.
Conclusion
eBay is the perfect place to shop for designer women's jumpers. Due to the wide selection of items on offer from sellers, pricing is competitive and bargains can be easy to find. Knowing how to search is crucial when shopping on eBay. The search function is easy to use and searches can be refined by using keywords in conjunction with category and item feature choices. The site also offers a handy keyword suggestion feature to assist you in your search.
Understand what is on offer to search effectively. Women's designer jumpers come in a variety of styles, with different necklines, lengths, colours, and sleeve lengths. Some are more suited for warmer weather, while others will keep the wearer toasty warm in cold weather. Have the wearer's measurements on hand to ensure that the item fits, and buy from a seller with a returns policy just in case is does not.
Before you buy on eBay, take a moment to read the information on the item listing page and to check the seller's feedback details. Knowing what you are buying, the terms of the sale, how to pay, and who you are buying from gives you confidence in the eBay buying process.