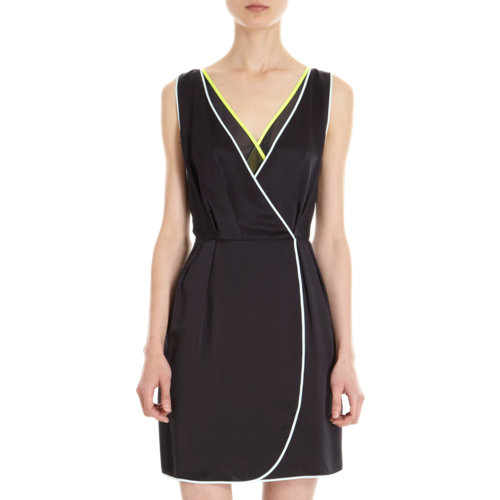 Dresses are a key component of any woman's wardrobe. They come in a wide array of shapes, sizes, and styles and are designed to fit almost any occasion. While wedding dresses and cocktail dresses are best suited to more formal settings, clubwear dresses, maxi dresses, and shift dresses are associated with casual wear.
Women's dresses are made of various fabrics and come in different colours. Popular fabric choices include cotton, silk, wool, satin, chiffon, and lace. While some fabrics are designed to be put in the washing machine, others require dry cleaning or hand washing to preserve the fabric. eBay is an excellent source for buying dresses whether you are looking for dresses by Henri Lloyd, Moschino or other big brands such as Kaleidoscope, Mango, Artigiano or Fern Wright Mason. This guide will help buyers to take the proper steps needed to make an informed purchase.
Types of Dresses
There are many different styles to choose from when shopping for a dress. From the classic cocktail dress to more relaxed maxi style, there is a dress for any occasion.
Cocktail Dress
A cocktail dress, commonly known as a party dress, is worn for semi-formal occasions and is mid-length. Most often associated with evening wear, the cocktail dress can be dressed up or dressed down depending on how a woman chooses to accessorise her outfit. If worn during the day, women may choose to pair the dress with a cardigan or jacket. At night, the dress can be paired with a long necklace and high heels. Zara dresses have a great range of stylish silk cocktail dresses.
Clubwear Dress
Clubwear dresses are usually reserved for nightclubs. These dresses are more elaborate and often contain sequins, beading, and other embellishments. These dresses may also have plunging necklines and reach far above the knee. Balmain for H&M have an extensive range of high quality club dresses to suit anyone.
Maxi Dress
A maxi dress is usually worn in casual environments. These dresses have spaghetti straps, often accompanied by an empire waist or a natural waistline. Maxi dresses are long, reaching floor length and are popularly worn for outdoor events. They flow loosely and are commonly paired with simple sandals or wedges.
Shift Dress
Shift dresses resemble a long T-shirt and may feature short or long sleeves. These dresses have little to no form, hanging loosely from a woman's body. Women can give the dress definition by adding a belt or other accessory around the waist. The shift dress is considered casual wear and can be paired with sandals or boots.
How to Find Dresses on eBay
Dresses can be found in various ways on the eBay website. From the eBay homepage, buyers can use the search bar to conduct a search for dresses. This method is likely to result in a large number of listings. Conversely, buyers with a more specific idea about the type of dress they would like to buy should use eBay's advanced search feature. This allows buyers to include additional search terms which help to narrow down their results. Once on the search results page, buyers may filter their search by subcategory listings. These subcategory listings give buyers the option to choose between new and used dresses, to search within a limited price range, and to search by item location.
For those who are unfamiliar with the various types of dresses available, eBay offers an easy to navigate category search option. By following the provided category links, buyers are lead to their correct destination. This is often the preferred way of searching as it allows buyers to see the options that they may have otherwise skipped by limiting the search.
Narrowing the Search Results for Dresses on eBay
The number of search results for dresses can seem vast, especially to first time eBay buyers. Although eBay's large selection of products is often the main reason buyers are attracted to eBay, with so many choices, it may be difficult to settle on a particular dress. Fortunately, eBay has filters in place, allowing for easy navigation of the site's features.
Search by Occasion
Buyers searching for a dress for a particular occasion can use eBay's filtering option. This filter allows buyers to narrow down choices depending on the type of dress they require. Women may choose from party dresses, formal dresses, casual dresses, cocktail dresses, and clubwear dresses, amongst other types.
Search by Sleeve Length
Alternatively, buyers are free to search for dresses by sleeve length. Sleeve length often becomes a consideration for particular settings, such as, in the workplace or for cultural events. While one may opt for a short sleeve or long sleeve dress for a Sunday school picnic, women heading for a fun weekend may choose something more risque such as a sleeveless dress.
Searching by Condition
Many buyers seek dresses in a particular condition. While new dresses are widely available for purchase, some women may opt for a used dress as a cheaper alternative. Dresses, such as wedding dresses, have more than likely only been worn once. Because of this, many used wedding dresses can be found in like new conditions for a fraction of the cost of a new dress. Buyers should ask about any alterations that have been made to modify the dresses sizing.
Although you'll often be drawn to a listing by pictures of the item, always be sure to read the detailed item information before making a purchase.
Searching by Location
Depending on the budget, buyers may want to limit their search to items being sold close to home. To find local sellers, buyers can filter the listing pages by item location. This allows buyers to limit the distance from a specific postcode. By using the "Sort" drop down feature, buyers can arrange listings by distance in order of nearest location.
Postage and packaging can be expensive, especially for heavier dresses. Factoring in postal insurance to protect the dress only adds to the cost. Therefore, it may be beneficial to arrange a local collection of the dress to ensure safe delivery.
Buyers should always communicate clearly with the sellers to see if they allow local collection. This information may be listed under the item's description as well. While some sellers may not be comfortable with this type of transaction, others are willing to work with buyers to ensure a positive shopping experience and to help to eliminate shipping and insurance costs.
Understanding Item Condition
Sellers must use standard terminology to describe the condition of their items, as outlined in eBay's guidelines, and each listing will include a brief definition of the item's condition in the Item Specifics section. Dresses that are still in their original packaging or have the tags attached are classified as brand new; whereas, like new items are those that appear to be new, but have had their tags removed. Like new items contain no signs of visible wear and are in pristine condition. If the dress is listed in very good condition, this may mean that it has been worn previously, but has incurred minimal wear and tear. The dress should be free from damage, including runs and tears. Stains and discolouration should not be present. An item that is said to be in good condition may be subject to minor imperfections, such as minor tears or a frayed hemline. Dresses in acceptable condition can still be worn, but include obvious signs of wear and tear. Embellishments may be missing from the dress, compromising the appearance of the garment.
Buy Dresses with Confidence
Before making a purchase, buyers should always examine the listing images for signs of wear and tear to the dress. The photos of dresses for sale can provide a helpful insight and let the buyer know exactly what they are bidding for. If additional images or information is desired, ask the seller. Sellers will usually be happy to provide additional information to promote a positive transaction. However, it is possible to end up with a dress that is not as one expected.
To prevent being left with an unreturnable item, buyers should only purchase dresses from sellers that accept returns. It is also important to remember that postage, packaging, and insurance costs are typically non-refundable. Information regarding returns and exchanges are generally included within the item's description. If the description does not discuss the returns policy, buyers should contact the seller to ask about this important detail before committing to a bid.
Ask a Question
Buyers can find an Ask a Question link under each item listing. This link is designed to help buyers communicate effectively with the seller. If an item listing is unclear or a buyer would like more information regarding the dress, then the link allows the buyer to get in direct contact with the item's seller.
Feedback Ratings
Check a seller's feedback rating before purchasing a dress. Ratings are determined by information provided by other sellers within the past year. This information, along with the number of transactions a seller has completed, can offer insight into the level of service a seller provides. Upon receiving the dress, leave feedback for the seller. This can help worthy sellers find new customers, or it can provide useful information about unprofessional eBayers. If you are dissatisfied with the dress, then contact the seller to see if a resolution can be reached before leaving negative feedback.
Conclusion
Shopping for dresses on eBay is a good idea because buyers may not wish to pay the full price for garments that can be found for a fraction of the cost. The selection of dresses available on eBay is far larger than almost any other retailer can offer. Whether buying a dress to wear to a wedding or to a nightclub, eBay offers buyers the pick of the most interesting and unique dresses at some of the best prices. Buyers should familiarise themselves with eBay's condition guidelines which have been set in place to avoid confusion between buyers and sellers, and to help form a positive buyer-seller relationship. The category listings on eBay are designed to help buyers narrow down their options, although buyers are free to input their own search details as well using the keyword search. Whichever route one decides to take, buyers should always familiarise themselves with a seller's returns policy and eBay's feedback rating system before placing a bid. Doing so helps to ensure a positive transaction and a pleasurable online shopping experience.