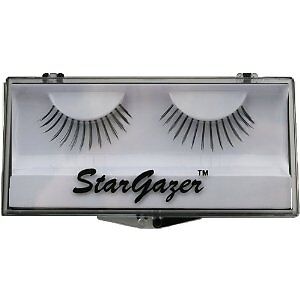 False eyelashes are an important part of many people's regular make-up routine and they can add real definition to the eye area. They come in a variety of lengths and colours to vary how dramatic they look and some are reusable while are others can only be worn once.
Whether you choose thick or thin false eyelashes, eBay has a whole range of eyelashes to choose from to give your eyes an entirely new look. It is vital that false eyelashes are flexible and are not prone to breaking and it is even possible to buy handmade false eyelashes.
Many people who like to wear false eyelashes like a natural look that is subtle, while others prefer to go all out and buy eyelashes that are thick and long. Today it is common to buy packs of false eyelashes as they offer better value for money than buying one pair at a time. eBay offers the ideal way to shop for all kinds of make-up including false eyelashes and here are some things to take note of when shopping online.
How to Choose the Best False Eyelashes
When shopping online it is important to read the product description thoroughly as this is the best indication as to what the product looks and feels like. It is also imperative to look at the accompanying photos as these are also a good indication as to what the product looks like. The best false eyelashes will vary depending on what they are needed for. For example, if only one use is required then there is no need to buy a huge packet of eyelashes that can be reused and vice versa.
False Eyelashes for Everyone
Everyone wants something different from their false eyelashes and make-up routines vary from person to person. False eyelashes come in a variety of offerings including:
Thick
Thin
Natural looking
Short
Long
Black is the most common colour to use, but some come in shades of brown as well, while others have additional features such as silver glitter and sparkles. False lashes can compliment any style and add depth to the eye area to help to achieve a number of different styles and looks.
False Eyelashes for Daily Use
False eyelashes can be used during the day for everyday things such as going to work and many fans of false eyelashes will opt for a more natural look during the day and thicker lashes at night. However, it is up to the individual wearer what style they choose to wear and false eyelashes of all styles can be worn during the day.
Natural, thin eyelashes are popular during the day as they add a new element to the eye area without dramatically altering the natural appearance. Thinner, shorter eyelashes are perfect for the day and a natural false eyelash is subtler for day use than the more glamorous Hollywood style with thicker lashes, which is perfect for night use.
False Eyelashes for Night Use
Anyone wanting to buy false eyelashes should check out eBay as there is a comprehensive selection of false eyelashes available. False eyelashes can be worn at night to add some serious glamour to any make-up routine. Long, luscious eyelashes look great with night time make-up and many people opt to wear thicker eyelashes at night than during the day.
Buying Affordable False Eyelashes
It is important to source affordably priced eyelashes and shopping online usually offers good value for money when it comes to buying all kinds of products. eBay sells a range of affordably priced eyelashes that vary in style and price.
| Type | Description | Used for… |
| --- | --- | --- |
| Thick, long eyelashes | Nigh time wear, glamourous events such as a wedding. | Thick, long eyelashes should be worn to parties and night time events to dress up an outfit. |
| Thin, natural eyelashes | During the day, to work, shopping. | Thin, natural looking eyelashes are great to wear during the day while at work or doing everyday duties like shopping. |
| Individual eyelashes | Anytime | Individual eyelashes give you more flexibility so you can make your eyelashes as thick or as thin as you want. |
Different Styles of False Eyelashes
It is easy to find false eyelashes in a variety of different styles, so anyone can wear them at any time. Thick, luscious eyelashes that are long will add a sense of glamour and style to an outfit and they work well with dark, heavy make-up. In contrast, thinner, shorter false eyelashes work well during the day to add some density to the eye area without making the eyes look too heavy for daytime wear. These can look good with minimal daytime appropriate eye make-up.
Alternatively, for a completely different look that is easily controllable individual eyelashes can be used. These eyelashes can be applied to create all kinds of looks as the user is free to use as many or as few as they choose.
Caring for False Eyelashes
Some false eyelashes can only be worn once and then they must be thrown away, while others will last for a few applications as long as the user takes good care of them. Taking care of false eyelashes is simple enough to do. They will need to be stored carefully to avoid being damaged and sometimes it is worth removing all the glue from the lashes before setting them in their storage case. eBay sells a variety of cases and storage bags that are ideal for storing false eyelashes in as well as different adhesives.
Some lashes come with an adhesive strip that will only last for one use. But if they retain their stickiness, then they should be stored carefully to avoid sticking them to the case that they are being kept in. Sticking false eyelashes with adhesive is often a popular choice and users of false eyelashes can choose between clear adhesive and black adhesive, depending on which one is least noticeable with their eye contour and colouring.
Make the Most of Your Eyes
False eyelashes can add real depth to the eye area and they can help users to add something different to change the appearance of their eyes. They are often used with make-up to get the best from false eyelashes, and here are some of the different types of make-up that should be used alongside false eyelashes for the best results:
Eyeliner
Eyeshadow
Mascara
Eyebrow pencil
Users can define the eye area with an eyebrow pencil before adding eyeliner either above or below the eye (or both). Some people will choose to put mascara on their own eyelashes before applying the false eyelash, while others prefer to add the false eyelashes to natural lashes. The entire eye make-up look can be finished off with the addition of eyeshadow. Eyeshadow can be dark and heavy with long false lashes or light and colourful with the use of more natural looking lashes.
How to Buy False Eyelashes on eBay
Buying false eyelashes via eBay is easy and anyone can shop online. The eBay website is easy to navigate around and the first step in the process is to go to the drop-down menu, where you will find a list of categories to choose from (at the top of the page). From here, you will need to select the Health and Beauty section and you will be given a list of sub-categories to choose between. Browse through these sub-categories to find what you are looking for and then click through to that specific page.
Another way to search for what you want on eBay is to use the search toolbar option, as this allows users to search for individual products such as false eyelashes, adhesives or individual eyelashes. Narrowing down your search so that you can see specific items that match your criteria is the quickest way to find an specific product and is the ideal way to search if you know exactly what you are looking for, However, if you are looking for a general product rather than a specific one, then you might prefer to search through the entire category listings for some ideas.
For further details on how to use eBay, look through the Search Tips page on the eBay website.
Conclusion
Make-up is something that is used on a regular basis by millions of people all over the world on a daily basis, and false eyelashes are often an integral part of any make-up routine. Whether they are worn at night to add glamour and style to an outfit or during the day to add some volume to the eye area, false eyelashes can be a great way to make your eyes look even more beautiful. Used with the right make-up for the right occasion, false eyelashes make for the perfect addition to any make-up routine and can be a simple way to make your whole appearance look different and ultimately better.
eBay is a simple shopping platform that is perfect for anyone who likes to buy affordable false eyelashes for all occasions.