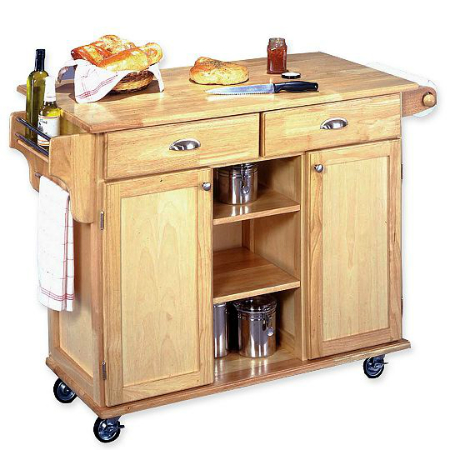 The modern, modular, built-in kitchen, laden with gadgets and gismos galore, bears little resemblance to its ancient ancestors. Today, storing, preparing and cooking food is more of a pleasure than a chore. The kitchen has become a household highlight, adding value and design panache to any home; however, because of the burgeoning proliferation of products, deciding what food storage and kitchen storage units to choose can be a perplexing business. Here is a quick guide to help make the decision a little easier.
About Kitchens
Kitchens have come a long way since the human species first appeared on planet Earth. If food was cooked at all back then, it was undoubtedly done outside over an open fire – the first kitchen that humans invented. The ancient Romans, at least the less well-healed ones, often cooked together in large public kitchens, although their wealthier compatriots tended to have a patio area attached to their homes with a large brick-built fire in the middle.
It was not until the 18th and 19th century that stoves and pipes carrying running water started to feature in household kitchens, again for the wealthy only. The first 'reform kitchen' was presented in 1928, with interconnecting units and functional interiors. This was followed by the first 'fitted kitchen', which was displayed at the 1950 Cologne Furniture Show. Electrical appliances such as blenders and toasters started to appear in kitchens at around the same time, and kitchen were designed to accommodate larger appliances such as electric or gas cookers and refrigerators.
As for food storage, the ancient model of a single room at the back of the kitchen area has given way to a plethora of technologically advanced and hygienic solutions.
Choosing Kitchen and Food Storage
Much depends on the size of the kitchen area and the size of the family – the more mouths there are to feed, the greater the quantity of kitchenware items and utensils there will be. Pots and pans, cutlery, roasting trays, crockery, cups, mugs and glasses, food processors, and so on - all need a home if the kitchen is not to look cluttered and chaotic. This is especially true of small kitchens, where built-in storage space may be especially limited. While the main function of the kitchen is still somewhere to prepare and cook food, today's kitchen can also be used for dining, entertaining, storage, and doing the laundry. It is therefore very important that the best possible use is made of the space and that everything is aesthetically pleasing. Look to Celebrity chef's such as Jamie Oliver for some of the most up to date designs.
How to Make Extra Space
Making extra space can be difficult if storage options are limited. Fortunately, there are ways of clearing surfaces without adding an extension to the kitchen.
Hanging Racks
If trying to pack everything into a few small kitchen cupboards feels like trying to stuff a mattress into a pillowcase, it is time to get creative. Hanging racks of all shapes and sizes can be used to lift clutter from work surfaces, immediately creating that longed-for tidy look. A pan rack can free up cupboard space for items such as a food processor. Hanging racks do not have to be huge. A small magnetic knife holder, a spice rack, or a kitchen utensil holding-rail, for example, can free up much-needed drawer space by providing an instantly accessible wall-mounted home for knives and other utensils. If a wall-mounted rack will not suffice and drawer space is still too scarce, utensils can live tidily on the work surface provided that they are neatly ensconced in a cutlery holder pot. Hanging racks are available in many different materials, including stainless steel, chrome, plastic, wood, wrought iron, and enamel.
Use Kitchen Baskets
Neatly stack items such as cookery books, chopping boards, jars of tea bags, sugar, and coffee in kitchen baskets and bins. They can be placed on open shelves for ease of access or inside cupboards to organise the contents, especially in corner units, and they instantly prevent items from sprawling riotously over precious work or cupboard space. They are available in different sizes and materials, ranging from warm, natural wicker to plastic and chrome-plated steel.
Kitchen baskets and tins are also available in a number of different styles, including farmhouse, vintage/retro, traditional, and contemporary.
Think Island
Kitchen islands first became popular in the 1970s. At this time they were mainly made of wood but today kitchen islands are available in a range of materials, including stainless steel and tile. There are three main shapes - U, L and G - and many different size options.
If there is sufficient floor space, a kitchen island can be a highly effective storage solution, especially if it is of open design and has one or two open shelves beneath the top surface. Not only will it become the principal kitchen work station, where vegetables are chopped, pastry is rolled and meat is trimmed, but it will provide a central storage place for cumbersome kitchenware and even some foods, especially if it is neatly contained in baskets, bins, tubs, or jars as suggested above. It can also double as a table. Some kitchen islands can be very elaborate, while others are quite basic. Some are on one level, while others are on multi-levels and are best for multi-tasking; for example, the working portion could be at one height, with the eating portion at another.
Larder Units
Again, this will depend on available space; however, larder cupboards and units provide an especially effective and versatile solution for kitchen storage needs, holding not only non-perishable foodstuffs such as canned products, condiments, salt, pepper, sugar, and cereal boxes, but also bulkier items such as big pots and pans and casserole dishes right through to kitchen paper rolls, tin foil, and cling film. Larder cupboards and units come in all shapes and sizes, from units that fit beneath the work surface to full-length cupboards, and some even take the form of pull-out vertical drawers with integral shelving to organise the contents. Larder units are available in many different materials, including oak, chrome, vinyl, and pine.
Food Storage
Keep food such as rice, pasta, sugar, and flour free from those ubiquitous kitchen pests such as silver fish by placing them in stackable plastic containers. Some containers are especially suited for holding already cooked food, from sealable freezer bags to microwaveable airtight plastic boxes. Great care is taken in the manufacture of food storage items to make sure that no harmful chemical constituents in the plastics will leach out into the food. Food storage options are also available in other materials, such as glass, metal, and stainless steel.
Find Kitchen and Food Storage Solutions On eBay
Just about any kitchen storage for any size of kitchen can be found on eBay. From the Home Page, simply hold the cursor over the Categories heading and click on the Home & Garden category.
On the Browse by Room page, simply click the Kitchen image and select the Food & Kitchen Storage option that appears on the menu. Specific items can be hunted down by entering the product name or type in the search bar, such as 'pine larder unit' or 'stainless steel pan rack'.
It is possible to research sellers and products very thoroughly before parting with any money. Bidders may want more information about the product or the seller than the image on the site displays. If so, a simple click on the Ask a Question button lower down on the listings page will address any queries straight to the seller so that customers can make the most informed choice possible. Full details about the seller's ID can be found on the listing page. Alongside the seller's name is a number in parentheses: click on this, and eBay will immediately display feedback from previous customers on the service and products they have purchased from that particular vendor.
A constantly updated list of items will be available for auction. Customers simply make bids on
the items that they are interested in purchasing, or they can offer to buy at the advertised
Buy it Now price.
Conclusion
An enormous range of kitchen storage and food storage solutions will open up in an instant on eBay. Whether customers are searching for spice racks, fruit bowls, or ceiling-suspended pan racks and pull-out larder units, they are virtually certain to find something that fits the bill, and the budget, perfectly.