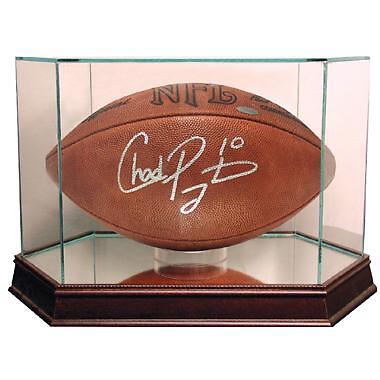 Football is a highly popular sport throughout the world, played in over 200 countries by over 250 million people. The attraction of football is due to the fact that it can be played on many levels. Matches can be intense professional affairs between teams representing their countries, or they can be impromptu matches in the street amongst neighbourhood friends. The appeal of football reaches young and old alike, and the combination of the simple nature of the game, combined with the finesse and skill needed to play using only one's feet and head attracts people from all walks of life.
For those individuals who love to follow the game of football, there are few greater thrills than collecting and showing off the various types of football memorabilia that they may have acquired. Football memorabilia gives fans a connection to their teams by being able to hold a small item that symbolises their loyalty. As one looks for football memorabilia to purchase, it is helpful to be aware of a few tips that can ensure a worthy purchase. For those searching for their favourite team's memorabilia, the selection available through eBay can help them find what they are looking for.
The Importance of Football Memorabilia
Sports memorabilia and football memorabilia in particular are important items that act as symbols of professional sports teams to their loyal fans. Football memorabilia encompass more than just trinkets that can be acquired and traded away; this is a tangible thing that can be held in the hand to remind sports fans of their love for the game and the team they follow. Individuals who collect football memorabilia do so mainly because their team and a sport are an important aspect of their lives. Football memorabilia allows fans to show their support and dedication to their teams, and collected items act as personal mementoes of their favourite players. Memorabilia is one of the great ways for fans to connect with their teams and be part of a larger family of individuals all bent on achieving the same thing: victory for their team.
Popular Memorabilia Items
There are many items that can be considered football memorabilia. The main criterion of memorabilia is that it must in some way relate to the team that it represents. There really is no set number of items that can be considered memorabilia. One of the more frequent elements seen in football memorabilia is the presence of a team member's autograph on the item itself. Autographed items are more valuable to collectors in terms of resale and collectability, because the item has actually been handled by the player and creates a stronger link to the team.
Jerseys
Jerseys are popular items that sports fans collect because they are a direct representation of the team that fans can wear in public to display their support. Jerseys are replicas of the same items worn by players on the field, so they are a natural item to select, especially when a jersey has the fan's favourite player's name and number on it. When in attendance at a football game, the many fans wearing their team jerseys is a significant show of support that can really help a team win the game.
Shirts
Much like jerseys, team shirts are designed after the teams colours and logos and allow fans to represent their team in a more low-key manner. Team shirts look more stylish and are designed to be worn with casual attire.
Tickets
Ticket stubs to various games can be desirable, especially if that game was special or resulted in a dramatic win. Many collectors place different ticket stubs into frames as mementos of the games they have attended or games that were memorable to them.
Programmes
Programmes are a popular memorabilia item because they are a direct link to the team and the particular game that was attended. Programmes are similar to tickets in popularity and are often used to acquire player autographs prior to or after the game.
Stickers
Stickers are a simple and fun item that can be placed nearly anywhere or on any personal item to show support for the team. Stickers are easy to collect and can even be signed by various team members to increase their value.
Newspapers
Newspapers that depict epic team victories or dramatic game endings are often collected by die-hard fans. Newspapers capture the moment of greatness and allow the fan to reminisce about the event by merely reading about it. Many collectors frame the headline from the newspaper to keep it intact.
Flags
Flags are one of the more coveted items of memorabilia because they are replicas of the team's logo and crest and are a direct representation of the team that a fan can display in his or her home. Nothing symbolises a team more dramatically than the team flag. The team's colours are an important element of a fan's loyalty, and many fans wear team colours frequently.
Photos and Prints
Photos and prints of players and team events are popular items with collectors. Photos of players in action during a game recreate the intensity of the moment for their fans. If a dramatic play occurs during a game that results in a victory and that event is caught on film, it becomes a highly collectible piece of memorabilia because it traps the moment in time. Prints and photos of players and teams that feature player autographs are even more desirable and are an excellent way for dedicated fans to show their loyalty by displaying them in a home or office.
Footballs
Many fans enjoy collecting footballs that are designed in their team's colours or with their crest. Team-specific footballs are a great way for fans to keep a piece of their team on hand all the time. Actual footballs that were used in game play are an even more important piece of football memorabilia and command much higher prices and prestige, especially if they are signed by one or more players of the team.
Trading Cards
Trading cards are one of the more common pieces of football memorabilia that are also among the more popular. Trading cards depict a photo of the player in action and detail all of the pertinent statistics for a particular year that the card represents. Fans who are dedicated to the career of a player collect a player card for every year they are in the league, and many fans trade and sell their cards amongst each other as a form of hobby. Again, an autographed player's card is much more rare and thus commands a higher value when buying or selling.
Conclusion
The market for football memorabilia is almost as important as the game itself. While many people throughout the world play football on different levels of competition, the professional levels of football may not exist if it were not for the adoration of supportive fans. People who purchase football memorabilia are the ones who buy the tickets and go to the games and keep money flowing into the teams they love. Without sports memorabilia, the connection that fans feel with their teams may be dramatically limited. Fans can take advantage of the variety of memorabilia available to display their loyalty. Items range from the affordable to the pricey, including tickets, programmes, trading cards, and autographed shirts, among many others.
Buyers in search of just the right items to show their support and loyalty to their football teams can take advantage of the huge selection of items and excellent deals available online at websites such as eBay. The website offers a multitude of items in different categories, and the constant flow of new items coming into eBay means a constant stream of valuable items available to devoted football fans all over the world.