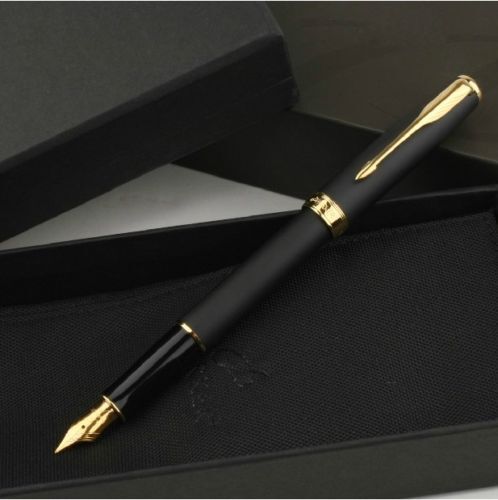 Collecting fountain pens is a pastime enjoyed by many people all over the world. Fountain pen prices can range from £10 to over £1000 with numerous brands to choose from. It is advised that buyers use eBay to search for these pens as the site offers affordable prices and a greater variety of fountain pens than those supplied in a specialist store.
The sheer amount of pens to choose from can make the searching process seem like an intimidating task. The information provided from this guide will help buyers understand what they are paying for in order to successfully find an adequate fountain pen on eBay.
What is a Fountain Pen?
A fountain pen is a type of nib pen that contains either an internal cartridge or filling system of water-based liquid ink. The cartridge is replaceable, giving the pen an indefinite lifespan, and the ink is drawn through a combination of gravitational pull and capillary action. If the pen contains a filling system, then the refilling of the ink is achieved by manual syringing or an internal suction mechanism found within the pen.
Benefits of Using a Fountain Pen
* Fountain pens do not ink-stick like ballpoint pens. It is possible to write for long periods of time without the writing hand becoming cramped.
* There are thousands of fountain pens available, all in different sizes and styles, and each pen can contain a different nib and drawing system for the ink.
* There are more than a thousand different ink colours for sale from various brands, allowing for a higher degree of personalisation when writing.
* Fountain pens start from very reasonable prices, meaning just about anyone can become a collector.
* Require little to no pressure to write.
* Ideal for use in calligraphy, artwork and professional design.
Components of a Fountain Pen
The fountain pen is made up of a number of different components:
Nib
* Majority of nibs are made from stainless steel or gold alloys, giving the nib more flexibility and making it resistant to corrosion.
* Most nibs have a slit down the centre, which draws the ink by way of capillary action.
* The most common found nib end is a round point. Round ends come in three sizes: fine, medium, and broad.
* Other nib shapes that can be bought include stub, italic, oblique, and reverse oblique.
* Nibs dating pre-World War II have a considerably greater amount of flexibility than nibs found today. Stiffer nibs are preferred, as they are more suitable for writing large volumes of copy.
* Well-made nibs that are used properly can last decades before becoming weak.
* 14k and 18k gold nibs can be bought.
Filling System
* A piston filler is similar to a cartridge but is instead built into the pen. Piston fillers can store large amounts of ink, meaning it does not have to be serviced very often. They are very durable and last a long time. Piston fillers are the most common form of filling system available today.
* An eyedropper fountain pen is refilled using a syringe or an eyedropper to squirt the ink into the pen's barrel. These also store large amounts of ink, but the ink flow can drip and blot when writing. Some pens are equipped with an air valve to deal with this, however, this can raise the price of the pen by a few hundred pounds.
* Lever fillers are mainly found in older and vintage pens. An internal sac made of latex stores the ink. These filling systems last a very long time, but can only hold a moderate amount of ink. If the pen has not been used for a few months, then the ink can dry out, destroying the sac in the process.
Cartridge
* Cartridges are mainly found in European fountain pens.
* This is the most common system for storing ink in modern pens.
* Available both in short or long cartridges.
* Short cartridges are 38mm in length and can store 0.75ml of ink.
* The long cartridges are 72mm in length and store 1.45ml of ink.
* Many fountain pens accept international and other brand cartridges.
* Very convenient to use as spare cartridges can be stored on the user at all times.
* Cartridges tend to be quite inexpensive and are available in a large variety of colours.
* Very easy to replace and will not cause a mess unlike other filling systems may do.
* Cartridges hold much less ink than piston or lever filler systems.
The Ink
* All inks used in fountain pens are water-based and are sold in bottles.
* The bottles come in various sizes.
* Buying ink in bottles tends to cost less than buying the same amount of ink in cartridges.
* The majority of fountain pen collectors prefer using bottled ink.
* Special care must be taken when choosing ink, as ink intended for other types of pen will clog a fountain pen's narrow passages. Only ever buy bottled ink intended for use in a fountain pen.
Weight and Size
Most fountain pens come in one of three weights. These are light, medium and heavy. First-time buyers and younger users are recommended, starting off with a light fountain pen, as the heavier ones can cause a slight strain in new hands. The same goes for the size of the pen as people new to using fountain pens may find the thicker versions too difficult to work with. If possible, try writing with a few different weights and sizes before deciding on a pen.
Vintage or Modern
Fountain pens are classified by the year in which they were manufactured. If a fountain pen is described as being vintage, then this means it was made in the 1970s or earlier. Buyers will find that vintage pens will often be more expensive than their modern counterparts, and this is especially true of the rare and more elusive models.
Vintage
* Vintage pens are more suitable for collecting and writing small amounts of copy.
* The nibs used in vintage pens are often more flexible than those found in the modern versions. This can allow for smoother writing, but also means that the nib is more fragile and can break if too much pressure is applied.
* Vintage pens are more sought after by collectors and are often more valuable than modern fountain pens.
* Vintage pens can often require servicing and repairing before they are able to fully function again.
* Very few vintage pens have cartridge systems meaning bottled ink must be bought.
Modern
* Modern fountain pens are very sturdy and reliable. The majority of them are made from tough, durable plastic that will not crack or break.
* Stronger and stiffer nibs make them more suitable for writing large amounts of copy.
* Available in all filling system types.
* Tend to be less expensive than vintage pens.
* If there is a defect or problem with the pen, most manufacturers are more than happy to replace or reimburse.
* Modern fountain pens need to be broken in, and do not write very well when used straight out of the box.
Searching for Fountain Pens on eBay
Before beginning a search, spend some time reading up the various brands available and what filling systems they have to offer. Depending on the buyer and what the pen will be used for, one type of filling system may be more suitable than another.
* Head to eBay.co.uk to begin the search.
* Click on the All Categories link that is found to the left of the search bar.
* Scroll down to Collectables and click on More.
* Click on the Pens & Writing Equipment title to be brought to the relevant listings page.
* Enter fountain pen into the search bar and press enter.
Adding in details such as the brand, style of nib, filling system used and year of manufacture will speed up the search and make it more precise.
Listings Page
* Use the listings page to browse through the various fountain pens for sale on the site.
* The Categories table on the left contains filters to help with the precision of the search.
* The Categories include the Brand of the pen, the Condition, the Price, and Location of the seller.
* Notable fountain pen brands include Parker, Montblanc,, Cross, and Waterman.
* Use the Sort By drop down menu to arrange the listings by Price, Time left in the auction and the distance of the seller.
* To change the amount of fountain pens shown on the listings page, scroll down to the bottom of the page and click on 25, 50, 100, or 200.
Item Page
* A photograph of the pen is found on the left, and information about the price, time left, and item condition is found on the right.
* The Description box contains any additional information from the seller to the buyer about the pen. Always check here for extra details about condition and so on.
* The Postage and Payment box contains details about postage costs and the estimated time for delivery.
* Use the Ask A Question function to request more information about the pen or additional photographs. This is found at the bottom of the page below the Description box.
Buying With Confidence
* Never purchase a fountain pen listing that is not accompanied by a photograph of the pen in its current state.
* Review the seller's past transactions with other eBay users. To do this, click on the Seller's Information link found at the top right hand corner of the item page.
* If the seller has received a considerable amount of negative feedback then it is advised to search for another listing.
* Check the bottom of the item page to see if the seller is a business or an individual. Individuals may offer better value for money, but it is advised that all first-time buyers use a business to make their purchase to ensure that the pen will be as described.
* Use eBay's Resolution Centre page to resolve any disputes encountered with sellers.
* Use eBay's Customer Support page if experiencing difficulty searching for a pen on the site.
Conclusion
* Collecting fountain pens is a rewarding and enjoyable pastime. Fountain pens are considered to be the best form of pen available, due to the ease of writing with them.
* There are hundreds of brands available, and thousands of models with different sizes, weights and filling systems.
* eBay is an ideal place to search for fountain pens as it offers a great selection at unbeatable prices. Remember to be both knowledgeable and vigilant on the subject matter of your intended purchase when searching for the desired item on eBay.