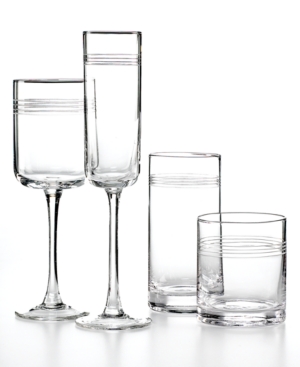 Glass as a substance has been manufactured for more than three thousand years; its production dates back to ancient Mesopotamia and the process of manufacture has been refined over centuries of development. This has led to the modern mass-production techniques found in use today. These coexist with the traditional glassblowing processes that are still used to make objects of great beauty and delicacy as well as practical functionality.
Types of Glassware
As a category name, glassware covers a multitude of disparate items; from individually inscribed commemorative tankards to utilitarian glass products for use in laboratories, the selection is seemingly endless. Drinkware, or drinking vessels, come in an almost bewildering range of styles; there are dedicated shapes for particular drinks that fall into a number of categories, including stemware, tumblers, hi ball glasses and the larger beer and lager glasses. This is not an exhaustive list, and there are many other shapes of drinking vessels available on eBay. Other types of glassware include tableware, such as dinner services and serving dishes, and decorative items – vases, bowls and candlesticks being just three examples.
Stemmed Glasses
Stemmed glasses are exactly as described – a glass container on a stem, the design of which may vary vastly from short and squat to long and slender. These glasses fall into a number of categories used for drinking specific beverages. Wine glasses, whose bowls differ in size and shape depending on whether they are for white wine or red; sherry glasses, smaller in size and with longer, narrower bowls; champagne flutes, tall and elegant, with long tapering bowls designed to keep in all that sparkle; and liqueur glasses, often tiny and delicate, and cocktail glasses, such as those used for margaritas or martinis. All these glasses can be purchased in clear glass or intricate cut-glass - unadorned or painted, etched or engraved. Coloured glasses are also available in all these styles.
Tumblers and Hi Balls
Solid bottomed and short, tumblers and hi balls are designed for serving short mixed drinks or for longer cocktails, and they are also perfect for soft drinks. They can be of simple and elegant clear glass, or decorated and fun; etched or engraved with a commemorative message, they make great gifts.
Lager and Beer
Beer and lager glasses are larger than tumblers and hi balls and are designed to hold a pint or half-pint measure of liquid, and can also be etched for presentations or commemorations.
Buying Glassware on eBay
First-time buyers on eBay are required to first register with the site before they can bid on items in online auctions. The process takes very little time and is quite straightforward; the link to the relevant page is located on the eBay home page and, when the process is complete, confidently browse the categories and place bids on selected items.
Carry Out Research
When searching within a category like 'glassware' that has such a broad definition, knowing in advance what particular type of glassware is required will save time and effort. Glassware as a category covers everything from first starter kits of tumblers and wine glasses right through to sophisticated laboratory equipment, and as a simple search criterion will result in more than 165,000 listings, so identifying the own needs first will simplify the task of finding a particular object. Having a rough idea of the current market value of the type of item that is required is a sensible idea, too, as this will enable to assess whether a specific auction lot is realistically priced and worthy of further interest.
Enquiries are Welcome
If having questions or concerns to be answered before buy goods through eBay, the site offers a range of tools to answer those questions and make the buying process easy and secure. When an individual item has been selected from the search results, the listing page for that item will include a number of links that are designed to offer reassurance and information; the links will lead to areas of the site that contain more detailed information about the product as well as the seller in question. Also, there will be particulars of the delivery charges and times and a Q&A link. The Q&A section contains queries and concerns that have been raised by previous purchasers and may already have the answer to a question. If the specific question is not there, or the answer fails to address the issue adequately, contact the seller to request further details or information before commencing with the bidding.
Feedback Ratings
If having had previous dealings with sellers through eBay, it is possible to leave feedback, scoring that seller on a range of factors, which results in an overall rating. This rating is generated by totalling the number of positive, negative and neutral scores left by previous customers, and can offer new buyers a valuable insight into the seller's reputation on the site.
Opt for Sellers with Top Rated Scores
Top rated feedback scores are only awarded to sellers who have received a high proportion of positive scores from prior customers; these will reflect the manner in which the seller conducts himself or herself in a number of areas, and can instil confidence, as sellers with a high rated feedback score are more likely to offer quality of service and a high standard of product. The areas rated by existing customers include the accuracy of description of the goods for sale, the speed and care with which goods are dispatched (particularly important when buying fragile glassware,) the way the seller communicates with the buyer and the way in which disputes or complaints are handled and resolved. All of these are important to ensure the buying experience through an eBay auction is satisfactory and results in a positive outcome for both seller and buyer.
Place Realistic Bids
Sellers will sometimes put a lower limit on the price of the items they are selling – this is known as the reserve. This minimum price must reflect the current market value of similar items, as too high a reserve may result in the item not selling. Researching the current market value will help to decide if the item is worth attention. Placing a bid that is higher than the reserve will not automatically guarantee winning the auction, though, as bids can be topped by other eBay users. The automatic highest bid facility offered by eBay can help with this, as prospective bidders can place a bid and also set an upper limit to the price they are prepared to pay. If the bid is topped, eBay will automatically increase it to counter the competitor's bid, until such time as the upper limit is reached. This can help to stick to a budget, especially if having taken the time to factor in all other costs and set the upper limit to include those costs. Delivery charges can increase the overall price payable by a considerable amount, so calculating the highest bid based on the additional charge can help avoid unnecessary or unexpected expense should the bid be successful. Bidding is not always necessary to purchase items on eBay, though; the facility to Buy It Now is offered by many sellers, and so it is possible to simply opt to pay the asking price for goods, without the need to participate in a bidding competition or wait for the auction to end. This is particularly useful if the goods are required in a hurry or if the listed price is especially competitive, and will result in getting a bargain.
Find Glassware on eBay
Two ways exist to find glassware on eBay - from the home page via the dynamic menu or through the search box. The first method requires bidders to click on the home and garden tab, then onto dining room and finally on to Glassware, which will appear in the dynamic window beside the dining room link. A more generic search in the search box on the homepage will result in a greater number of results; typing glassware into this box will produce listings for every category in which glasses of any kind can be found. Once the results page has loaded for this search, the listings can be narrowed down and the search refined by the use of the panel on the left hand side of the screen; this category list will enable to identify the specific type of glassware being looked for.
Conclusion
Glassware can be purchased as a single item or in packs, of a single style or in sets of differing glass types; eBay offers a wide range of all of these items, and anyone looking to equip a new kitchen or dining room, or who is looking for a perfect gift, is sure to find an appropriate item among the many listings on the site.