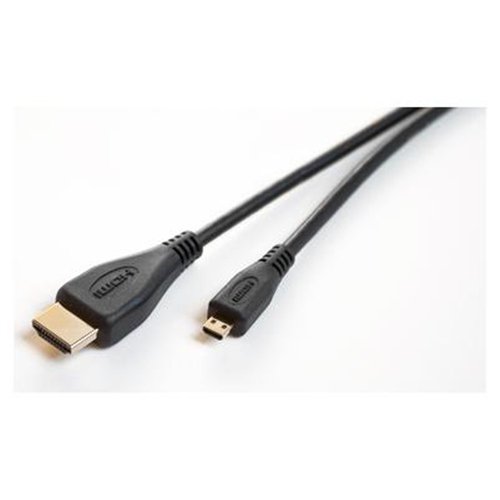 Choosing the right HD cable for use in connecting other HD electronic devices can be confusing, especially when there appears to be so much technological jargon that goes along with it. There are a few things that can help make choosing the right cable easier, and one of those things is to become familiar with what some of the technological mumbo jumbo really means. Understanding the lingo makes the process less frustrating because it is easier to sort out all of the other factors that go along with making a proper cable decision.
HD cable can be located at home improvement stores, stores that sell electronics, and on eBay as well. Understanding the cable specifications through technology terminology, how this factors into being able to use it with other electronic devices, and lastly what to look for in the selection process makes buying HD cable a no hassle shopping experience.
Understanding HD Terminology
Almost everyone knows that the letters "HD" stand for high definition as well as the fact that HD creates higher quality images versus standard television without that feature. HD cable comes in five different varieties. Each one of those varieties serves a special purpose in meeting a performance standard. Knowing what the information is behind the technology means being one step closer to finding the right HD cable.
Standard HDMI Cable
Standard HDMI cable is specifically aimed at meeting the needs of most home electronics. It is tested to ensure that 720p or 1080i video is transmitted efficiently to the receiving device. This is frequently the most used HD resolution by cable companies and satellite service providers. It is also used in DVD players that are upscaled as well as digital television (DTV).
Standard HDMI Cable with Ethernet
Standard HDMI cable with Ethernet capabilities performs the same function as a standard HDMI cable in that it also ensures that 720p or 1080i video. The difference is the fact that this type of cable also allows for networking with other devices because of the HDMI Ethernet channel, which is designed for dedicated data. This feature only works, however, if both devices have HDMI Ethernet channel capabilities.
Standard Automotive HDMI Cable
The standard automotive HDMI cable does not have HDMI Ethernet channel capabilities; however, it does still ensure 720p or 1080i video. This cable is designed to provide a more powerful signal than the previous cable types so that the internal relays in an automobile do not interfere with the signal strength. For this reason the performance testing standard are much more rigorous.
High Speed HDMI Cable
The high speed HDMI cable is an advanced cable system that is equipped to take on resolutions of 1080i or greater. In addition it has advanced features that allow it to successfully handle Deep colour, 4K, and 3D displays. This is the cable type that is recommended for people who use Blu-ray players or who use 1080p devices to interact with 1080p displays.
High Speed HDMI Cable with Ethernet
The performance standards for a high speed HDMI cable with Ethernet are the same ass a high speed HDMI cable in the fact that it also is equipped to handle resolutions of 1080i or greater. This type of cable offers the additional versatility of being equipped with device networking capabilities with the HDMI Ethernet channel feature. However, as with the standard HDMI cable with Ethernet, this feature is only functional if the other devices are also equipped with those same features.
Factors to Consider when Buying HD Cable
The two other factors that need to be considered when deciding which type of HD cable to buy. The first depends on whether or not Ethernet connectivity is desired. The second depends on the type of resolution that it needs to support. Making sure that each of these requirements are met by any device that shares the connection takes the guesswork out of finding the right HD cable for the job.
Formatting
One of the most common mistakes that people often make when choosing what type of HD cable to purchase is looking for cable according to the various versions that are offered. Instead, the decision on what type of HD cable to buy should be centred on the feature capability of the other electronic devices that the cable is going to be connected to and making sure that they are all compatible with one another.
Basically, what this means that if a person buys cable for the purposes of being able to view content in a 3D format, the electronic source device that it is being connected to is also capable of that feature. Connecting a 3D HDMI cable to a game console that does not support 3D is not going to give that game console 3D functionality. In addition, any AV receiver that routes a connection between the devices needs to be 3D compatible as well.
Cable Length
Before investing in HD cable, it is important to size up the amount of cable needed to complete the job. Since some electronic devices can be placed far apart from each other, it may be necessary to purchase additional cable length to make sure that there is enough on hand. HD cable lengths are sold in various lengths; however, it is most commonly packaged in lengths that run from 1.5 to 30 metres long.
One problem that often occurs when running long cable is that the signal quality can become degraded along the way. If more than 1.5 metres of cable is needed to transmit a 1080p signal, a signal booster can help alleviate this problem. The same is true if a 1080i signal needs to be transmitted from more than 15 metres away as well. One thing to note is that there is also the option of purchasing cable that already has the required circuitry built into the connectors. Regardless of what choice is made, an additional source of external power is required.
Important Handling Information
Although the wiring for cable is often enclosed in a protective sheath, it is important to handle cable carefully when installing it so that the sensitive wiring and other components do not suffer any damage that render the cable useless. Cable cleats should be used when attempting to mount cable to a wall instead of using staples which could puncture and damage the wiring.
By drilling a hole through a wall that is 2 centimetres in diameter, the majority of HDMI connectors pass easily without getting hung up. The same size hole also works for floors and ceilings as well. It is also important to take care when handling the HD cable. Pulling on the HD cable with excessive force, twisting it, or bending it can permanently damage the cable and may also damage the connectors if they are in the way. To ensure that you are purchasing top quality HD cable, look for the label on the product and make sure that it says it is a genuine HDMI product.
How To Buy HD Cable on eBay
Regardless of what type of cable you need, finding it on eBay is easy because of the wide variety of products that are available through various sellers. Searching for a particular HD cable type is just as easy. Simply type relevant keywords into the search query box located at the top of the eBay homepage.. For example, if you want to find Standard HDMI cable, type in "Standard HDMI cable" and click on the search button. All relevant items that have been tagged with those keywords will appear in the results.
There are many varieties of HD cable available, and each one differs in the functionality it provides so it is important to make sure that the right cable is purchased for the equipment that it is intended for. So be sure to read through the item's description to ensure it is what you need. Also, before completing a purchase with a seller on eBay, you may want to take a look at the return policy requirements of the seller. This information is listed with the full item description and also informs you how long it takes the seller to ship the item.
Conclusion
Technology in many areas is constantly advancing, and this includes changes in the world of electronics. Sometimes, being able to keep up with these advancements can be particularly difficult. When it comes to finding the right HD cable for a particular need, taking the time to become familiar with the technological terms involved can make the decision a lot easier.
Some types of cable can only transmit video signals up to a certain extent, while others come with advanced features that Ethernet connectivity possible. Understanding the formats that various cable types support makes it easier to pick out the proper one for electronics that are capable of 3D or other functions. It is also important to know how much length is required to complete the job, especially for complicated set-ups where electronic devices may be far away from each other. Proper handling of cable is essential as well to make sure that all the work involved in the process has not been all for naught. Taking the time to understand all of these elements helps people buy HD cable with confidence.