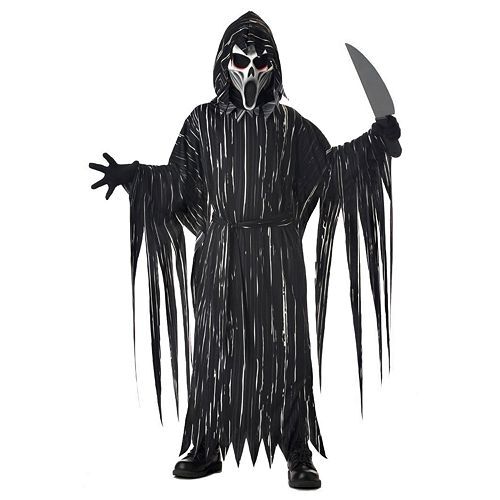 Horror costumes can be worn to a themed costume party, or to take the kids trick or treating. Finding the right horror costume is not always easy, and many people do not want to spend a large amount of money on a costume that they may wear only once or twice. eBay has a large range of both new and used costumes available to purchase. So, rather than traipsing round the shops searching for the perfect horror costume, simply browse through the hundreds that are available without having to leave home. Many people do not wish to wear the same costume to multiple events, so they wear it once and then list it for sale on eBay, meaning that it is still in good condition, making it easy for buyers to grab a bargain. This guide looks at some of the many different horror costumes available, and gives buyers instructions on how to shop for a high quality and inexpensive horror costume on eBay.
How to Find a Horror Costume on eBay
Searching for the words "horror costume", in the search bar on the eBay homepage can bring up a large number of results. Scrolling through hundreds of costumes is a great way for the buyer to get some inspiration, find a bargain, or spot that perfect horror costume. If the buyer knows exactly which horror costume they wish to buy, then they can, for example, search for the particular character that they wish to dress as. Searching for the words "Grim Reaper costume", will bring up all the relevant costumes that are available for sale.
Using the filters provided, the buyer may choose whether they wish to buy a new or used costume, which further narrows down the results. This is a great way for buyers to find the appropriate horror costume quickly and easily.
Ready Made Horror Costumes
One option for buyers is to choose a character who wears clothes that can be found in any wardrobe, and then buy a mask that makes them instantly recognisable. The character Chucky, from the "Child's Play" films, can be made by simply wearing a pair of dungarees and a stripy jumper. By purchasing a Chucky mask, the character is immediately brought to life. Horror costumes do not have to be based on fictitious film or television characters, they can be based on a true character, such as Jack the Ripper, and as he was unidentified, the wearer can use their imagination to create an effective look
Making Costumes at Home
Some horror costumes can be made easily at home, using items found on eBay. Making a costume at home can save money and put an individual spin on a classic costume, by creating an authentically gory and blood thirsty look.
Some costumes, such as the murderer from the film "Scream" require no makeup, so are quick and easy to prepare, and therefore best suited to people who have limited time. Those who would like a more dramatic look can apply gory makeup and fake blood to resemble other characters, such as a murderous zombie, newly risen from the grave and intent on finding some tasty brains. This look requires considerable time and effort, especially to achieve a convincing effect with makeup and prosthetics. A zombie costume can be created using any clothing, but old clothes are best as they need to be splattered in fake blood, which can be difficult to remove.
The sunken eyes of the zombie can be created by using dark grey face paint applied around the eyes, with a lighter shade of grey over the rest of the eyes. When using face paints or make-up it is important to check the ingredients to make sure that they can be used near the eyes. If this detail is not stated in the item description, then ask the seller for more information about the ingredients. Face paints should always be tested on a small patch of skin before being applied widely, and should not be used on open cuts or sores.
Horror Costume Accessories
eBay has a wide range of accessories which can be used to complete a horror costume. Accessories can often turn an average costume into a great costume. Accessories include plastic weapons, masks, and vampire teeth that can all be found on eBay at great prices.
Ready Made Accessories
When choosing an accessory such as a plastic weapon, try to make sure that it fits with the costume. Michael Myers, the character from the "Halloween" films, always used a knife to slaughter his victims, so do not pair your horror costume with an axe.
Making Accessories at Home
Many accessories can be made at home using items which can be bought on eBay. An item, such as a sword or a shield, can be made using cardboard and paints.
To make a sword, draw the outline on two pieces of cardboard and cut them out. The sword should be the correct shape and style to accompany the costume. A pirate would have a curved cutlass, whereas a ninja warrior would have a katana. Secure a dowel rod in between the two pieces of cardboard to make sure that the sword holds its shape. The cardboard should be glued together using a safe adhesive. Paint the sword using acrylic paint, or cover it in silver foil, and paint the handle black. Red paint can be added to the tip of the sword to resemble blood.
A shield can also be made using a large piece of cardboard, cut into a simple or an elaborate design. Use another strip of cardboard to attach to the back of the shield to use as a handle. A shield can be decorated either with a simple design, such as a cross painted on to the surface, or a more complicated design, such as dragon or a fleur de lis.
Sizing
When purchasing a costume on eBay, try to ensure that the costume is the correct size. Many manufacturers of horror costumes do not use standard measurements for sizing, but instead use general sizes such as small, medium, and large. Buyers should be aware of the sizing that they require before ordering a costume, and it may be advisable to contact the seller to check the measurements if they are not in the item description. .
Using the size guide below, buyers can use their waist and chest measurements to get an idea of the alternative sizing they may see in the eBay item descriptions for horror costumes.
| Sizing | X Small | Small | Medium | Large | X Large | XX Large | XXX Large |
| --- | --- | --- | --- | --- | --- | --- | --- |
| Chest (inches) | 33-35 | 36-38 | 39-41 | 42-44 | 45-47 | 48-50 | 51-53 |
| Waist (inches) | 25-27 | 28-30 | 31-33 | 34-36 | 37-39 | 40-42 | 43-45 |
This chart allows buyers to ensure that they choose the correct sizing before buying a horror costume on eBay. Sizing is important, as the wrong size changes the look of the whole costume, and could even make it unwearable.
Purchasing a Horror Costume on eBay
Buyers should read the description of the costume and look at the photo carefully. If the buyer has concerns about any areas of the costume, they can use the Ask the Seller feature to ask questions or to request additional photos. Many used costumes may have been worn only once, and these will be in good condition. Alternatively, buyers can purchase a brand new costume, which still has the original tags and packaging.
Choosing an eBay Seller
When choosing a seller on eBay, buyers should look at the feedback of the seller. Feedback is left by buyers, once the transaction has been completed. The feedback can be positive, negative, or neutral. Sellers who have a high percentage of positive feedback, or who are labelled as a "Top Rated Seller", are more likely to offer a fast, efficient service, than a seller who has a high percentage of negative feedback. Leaving feedback for a seller, allows them to look at the service that they offer and improve any areas if necessary.
Delivery
Buyers should ensure they allow plenty of time for their horror costume to arrive when purchasing from eBay. Sellers may not be able to post items over the weekend, so buyers should consider this when choosing a delivery option. If a buyer requires next day delivery, then they should contact the seller and see if they can arrange this. The seller may have to charge extra for this service. If the buyer needs the item quickly, it may be wise to find a local seller and arrange a collection, providing the seller is amenable to this.
eBay Stores
There are eBay stores that often specialise in a certain type of product, such as horror costumes. This allows buyers to purchase all their costumes and accessories from one store..
Conclusion
Purchasing a horror costume on eBay can save time and money. Whether dressing as a character from a film or just a traditional blood thirsty vampire, eBay has everything to make sure that the costume is first class. Buyers should purchase their horror costume and accessories allowing plenty of time for them to arrive. The costumes can be ordered in different sizes, and if a buyer is unsure of which size they require, they should ask the seller for measurements, or use the chart provided as a guide. When purchasing makeup and face paints, the ingredients should be checked to ensure that they are safe to use near the eyes. Purchasing a secondhand costume is a good way of saving money. These costumes may only have been worn once or twice, and, as long as they are in good condition, they are a great way to get an amazing horror costume on a tight budget.
eBay has such a large collection of horror costumes that there is bound to be something for everyone to use, to scare family, friends and neighbours.