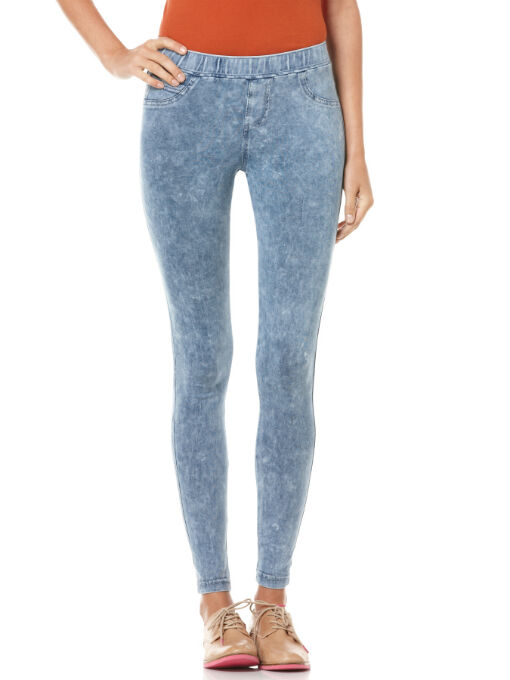 Jeans are stiff and unforgiving, leggings are tight and very revealing, but a combination of the two provides comfort, durability, and style. Jeggings can be worn by women of all body shapes, but they need to be a good fit for the wearer. This means no baggy wrinkles and gaping, which happens when the jeggings are too large. It also means no discomfort and unsightly bulges, which happens when the jeggings are too small. Full length jeggings can be worn with heels to give the appearance of long, shapely legs. Cropped jeggings can be worn with trainers or flat shoes to create a funky, fresh casual look.
When shopping for the right kind of jeggings it is important to consider the body shape. Apple, pear, inverted triangle, and hourglass shapes can all find that elusive pair of perfect jeggings when they understand how to style them. Finding the correct size and leg length is also a vital part of the process. To complete the look requires an appropriate top and a great pair of shoes. Jeggings can be found at women's clothing shops and department stores, as well as online at eBay.
What are Jeggings?
Jeggings are a cross between jeans and leggings, that look like skin tight jeans. Jeggings are made from a blend of lycra and either denim or nylon. Jeggings are heavily elasticated and fit closely against the body. They usually fit tightly from the waistband to the ankle, and are an extension of the trend for skinny jeans. The thickness of jeggings can vary from the equivalent of a thick pair of tights to a thin pair of jeans. Their stretchiness means that they are more comfortable than denim because they are not as rigid.
Length of Jeggings
Jeggings are either full length or capri length, that is cropped half way up the calf. Cropped jeggings can be flattering for long legs. They create a casual, sporty look when worn with trainers or flats, and can be paired with a brightly coloured top for a fresh spring or summer look. Full length jeggings elongate the legs, especially when worn with high heels, wedges, or platforms.
Jeggings for Each Body Shape
Jeggings can be worn by women of all body shapes, as long as they are properly accessorised and styled. Each body shape has certain styles, patterns, and colours that are complementary, and others that are less flattering.
Jeggings for Apple Shapes
Women with apple shapes have a broad bust, stomach, hips, and bottom, with no definition at the waist. This body shape benefits from accentuating the legs to draw the eye downward and away from the midsection. For apple shapes with short or broad legs, jeggings in dark tones are a good choice as they elongate and slim the appearance of the legs. Patterned and embellished jeggings, including those with vertical stripes also elongate and draw that focus towards the legs. For apple shapes with long or slim legs, jeggings can be bright colours, paired with a neutral or dark coloured top. Cropped jeggings are another option for tall or long legged apple shapes, but they should be avoided by short women as they cut the legs visually and make them look shorter.
Apple shapes can wear tunic tops with jeggings, or short dresses with empire lines. The tunic skims over the midsection and creates a smoother line, and the empire dress creates definition around the bust. Alternatively, dark jeggings with a top that flares slightly at the waist helps to give the illusion of waist definition.
Jeggings for Pear Shapes
Women with pear shapes have narrow shoulders, a small bust, a reasonably defined waist, a broad bottom, and large hips. To reduce the appearance of their hips and bottom and to emphasise the size of their bust, pear shapes can wear high waisted jeggings as opposed to hipsters. The high waist draws the eye upward and avoids the jeggings stretching tightly across the hips, potentially creating a muffin top. Dark, muted, or neutral jeggings both elongate the legs and makes the lower half of the body less of a focal point. This effect is emphasised by wearing heels. Pair jeggings with a printed tunic or a top with embellishments to draw the eye away from the hips and bottom.
Jeggings for Inverted Triangle Shapes
Inverted triangle shaped bodies have a narrow bottom and hips coupled with a disproportionately large bust and broad shoulders. To successfully dress a inverted triangle shaped figure, attention needs to be drawn away from the bust and shoulders, and help is needed to enhance and balance the appearance of the smaller lower half. High waisted or low cut hipster jeggings work well on women with narrow hips. Jeggings with horizontal stripes help to balance out the body by making the lower half more in proportion with the upper half. Tops with vertical prints are a good choice for inverted triangle shaped bodies as they minimising the size of the upper body.
Jeggings for Hourglass Shapes
Women with hourglass shapes have a well-defined waist, and large, but well-proportioned hips and bust. To make the most of an hourglass shape, wear low waisted jeggings such as hipsters. These help to draw attention to the waistline, which defines the curves in a flattering way without adding bulk. Higher waisted jeggings can be worn if they are shaped around the waist. For an hourglass shape, jeggings can be worn with tops that cinch in at the waist, have some tailoring, or that end at the waist.
Sizing for Jeggings
Getting the size right is important when buying jeggings. If the jeggings are too large, then they hang shapelessly in an unflattering way. If they are too small, they can be uncomfortable and create unsightly bulging that makes the body appear misshapen. When sizing jeggings, the waist and hip measurements can be used to find the perfect fit. Using the table below buyers can accurately gauge their proper jeggings size.
| UK Size | European Size | Waist Measurement (inches) | Hip Measurement (inches) |
| --- | --- | --- | --- |
| 6 | 32 | 24 | 34 |
| 8 | 34 | 25 | 35 |
| 10 | 36 | 27 | 37 |
| 12 | 38 | 29 | 39 |
| 14 | 40 | 31 | 41 |
| 16 | 42 | 32.5 | 43 |
The table above allows buyers to find the correct size of jeggings based on waist and hip measurements. Well fitting jeggings should be snug, but not so tight that they cause bulging, nor so loose that they create a baggy, wrinkled appearance.
How to Buy Jeggings on eBay
Buyers can search for jeggings from the eBay homepage. To find a wide range of jeggings to browse through then enter a general search phrase, like "jeggings". This gives a long list of results. To narrow down the search results, use the filters to choose the price range or colour. If you know exactly which colour and size of jeggings that you are looking for, then enter a more specific phase, like "blue jeggings size 12". This gives a smaller number of appropriate listings.
Before making a purchase read the description of the item carefully. The item description should contain details of the size, material and condition of the item, as well as good photos. Look at the photos closely for any signs of imperfections, especially if the jeggings are used. As well as details about the item, there should be information about the postage and packaging costs, payment methods, and the seller's returns policy. If you have questions that are not answered by the item description, then feel free to contact the seller using the "Ask a question" link.
Feedback
Feedback allows a buyer to evaluate the seller by reading what previous customers have said about the service that they received. Buyers leave feedback for a seller once the transaction has been completed and it can be positive, negative, or neutral. Sellers that have a large amount of positive feedback are more likely to offer a smooth service.
Conclusion
Jeggings are a cross between jeans and leggings and are favoured by some because they are softer, cling more attractively, and are more forgiving than jeans. They are thicker and closer in appearance to conventional trousers than leggings, and resemble ultra skinny jeans. Women's jeggings come in varied colours, including all the standard denim wash effects, along with bright colours and pastel shades. Before buying a pair of jeggings, understand the different lengths and their effect on the appearance of the legs. Next, use the knowledge of the styles suitable to each body shape to find the most flattering pair of jeggings. Jeggings should be styled to emphasise the bust, waist, hips, or legs, or a combination of features. Choosing the correct size of jeggings is important to creating a stylish, comfortable look. Jeggings that are too loose can make the legs look shapeless, and give an unbalanced appearance to the body. Jeggings that are too tight cling to all the wrong places and reveal unsightly bulges. eBay has a range of jeggings in different styles, lengths and colours that can make every woman look shapely.