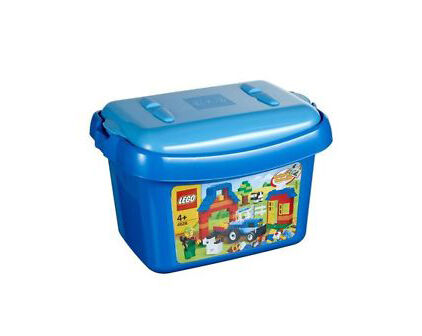 Lego Box Sets are not only popular with children of all ages - they are also a collector's item, with sealed mint condition sets selling for hundreds or even thousands of pounds on websites such as eBay. As Lego create and discontinue new ranges and Box Sets all the time, retired sets increase in value and become rare collector's items. Lego is one of the most popular toys of all time and today Lego produces around 19 billion elements each year, including bricks, Minifigures and Box Sets which often tie-in with films, cartoons and comic books.
How to Choose an Age-Appropriate Lego Box Set
Lego Box Sets are available in a variety of themes, covering everything from Star Wars and Batman to Castles, Pirates and Dinosaurs. Some Box Sets are more obviously aimed at girls, such as Olivia's House, whilst others are more generic and tie in with popular film releases or comic books. Some of the Box Set themes, which are available on websites such as eBay are:
* Space
* Spider-Man
* Thomas & Friends
* Trains
* Racers
* Duplo (for younger children)
* Vikings
* Disney
* Little Robots
* Lego Creator
Box Sets range from small kits containing a scene or vehicle with one or more Minifigures to larger, full-scale sets containing hundreds of Lego pieces that can take hours or days to assemble. Each Box Set has different age specifications, and with Duplo designed specifically for younger children aged 1-2 years, and more complex construction kits such as Lego Technic being aimed at older children and teenagers, Lego have created a variety of Box Sets to suit all ages.
Lego for Older Children
Lego Technic is one of Lego's most popular ranges, aimed at children aged 9-16. Focusing mostly on construction of mechanical toys and machines with gears, cogs and connectors, Technic was introduced to the market in 1977 and was originally called Expert Builder, but rebranded as Technic in 1984. Technic is one of the longest surviving Lego themes and unlike other Box Sets the range uses a different selection of parts that are not found in any other Lego themes. These can be seen below:
| | |
| --- | --- |
| Part | Function |
| | These are cylindrical pieces that are designed to fit into small connecting points in beams. The two most commonly used pegs are known as connector pegs, which effectively connect beams together. Black or blue pegs form a stiff connection between two beams, whereas grey and tan pegs ensure loose hinges. |
| Beams | These are long blocks with rows of round holes. Beams are one stud wide, but they can vary in length, and constitute the basic frame for the TECHNIC system. |
| Axles | These cross-shaped rods are frequently found in rotating parts. They can rotate freely when inserted into beam holes Black axles have even lengths and grey axles have odd lengths. Some kits have speciality axles, which are a different colour. |
| Gears | These flat cylinders with central holes generally have teeth fitted around the circumference. Most gears can fit tightly onto axles and when used with string or a rubber band, gears can form highly effective pulleys. Most Lego gears are a standard one stud in width and have corresponding peg holes. |
| Rubber Bands | These can connect pulley wheels, forming a pulley system, or a small rubber band can be used to form tyre treads by looping it around a single large wheel. |
| Springs | These are used for suspension and as shock absorbers. |
| Pneumatic Elements | These are special elements that rely on 'pulling' and 'pushing' to create slow movement or resistance of some type. |
Technic Box Sets also contain motors, although the type of motor can vary. Some run on mains electricity by the use of a transformer, although most sets nowadays use battery power. Minifigures can also be found in Technic sets, although they are known as Technic Figures and are larger than traditional Lego Minifigures, with more joints. Spare parts for Technic Box Sets can often be found online on websites such as eBay.
Lego for Younger Children
Duplo is Lego's theme for children aged 1- 5 years. Introduced in 1975, Duplo blocks are twice the height, width and length of the standard Lego blocks, making them more suitable for younger children. In 2001, Bob The Builder Duplo Box Sets were released and to date it is one of the longest running and most popular themes. Other popular themes that Duplo has released are listed below and you will find most of these online on sites such as eBay:
| | |
| --- | --- |
| Theme | Description |
| | Designed for schools to use |
| Town sets | Sets ranging from circus and racing to police and firemen |
| Playhouse sets | Scenes from houses or single rooms, also includes furniture for Duplo figures |
| Train sets | This includes Thomas and Friends; 3 train sets in all have been released to date. |
| Baby | Toys for babies, initially branded as Primo |
| Toolo | Sets where Lego pieces were joined with tools such as a screwdriver |
| | Including the Stack 'n' Learn sets |
| Western | Wild West theme |
| Dinosaurs | Dinosaurs and cavemen. |
| Little Forest Friends | 12 sets and a storybook following the lives of people who lived in a forest. |
| Winnie the Pooh | The first Lego and Duplo licensed theme based on the books by AA Milne |
| Farm | Sets based on farm life and animals |
Collector's Box Sets
Mint condition collector's Lego Box Sets can be found on sites such as eBay, where it is possible for serious collectors and enthusiasts to find a bargain. The most valuable Lego Box Sets are those that are mint in a sealed mint condition box, as these sell for the highest price. Film and comic book tie-ins are amongst the most sought after Lego Box Sets on eBay today, and as Lego regularly discontinue their ranges, Box Sets quickly become collector's items, being sold for large sums online.
For collectors in particular, losing an accessory from a Box Set or Minifigure can be particularly upsetting and can detract from the value of their set. Lego Accessories can be found on websites such as eBay, and range from gears and axles for Technic Box Sets to hats and hairstyles for Minifigures.
The Cost of Box Sets
When shopping for Lego Box Sets online on websites such as eBay, costs can vary greatly and depend on who else is bidding for the particular Lego set that the purchaser is interested in. Box Set prices can range from just a few pounds to several hundred pounds for complex or rare sets such as the Lego Sculpture range. If buying for investment or as a collector's item, popular ranges such as Pirates and Castles or film and comic book tie-ins might be costly but will retain their value if kept in mint condition. Buying Box Sets online is usually more cost effective than in retail stores and it is easier to find replacement parts or accessories if a gear, brick or Minifigure is lost.
Film and Comic Book Tie-in Box Sets
Many Lego Box Sets are released to tie in with a new film or comic book. Listed below are some of the film and comic book tie-in Box Sets found online, on sites such as eBay:
* Star Wars
* Avatar
* Batman
* Disney
* Lord of the Rings
* X-Men
These Box Sets are popular with children of all ages and due to their limited release, become collector's items very quickly. Shopping online is the easiest way to find a wide range of currently released themes and collectible sets from the 1960s to the 1980s, and eBay is one of the best places to find rare film and comic book tie-in Lego Box Sets.
Conclusion
Lego Box Sets are popular not only with children of all ages, but as a collector's item with enthusiasts. With mint condition Box Sets available to buy online on eBay, Lego enthusiasts can find the perfect addition to their expanding collection at a competitive price.
With so many different Box Sets available, it can be difficult to know which one to choose. There are Box Sets and accessories available to suit all budgets and each year film and comic book tie-ins are some of the most popular themes amongst children of all ages. With such a wide selection of Lego Box Sets available to peruse on eBay at affordable prices, there is sure to be something to suit everyone.