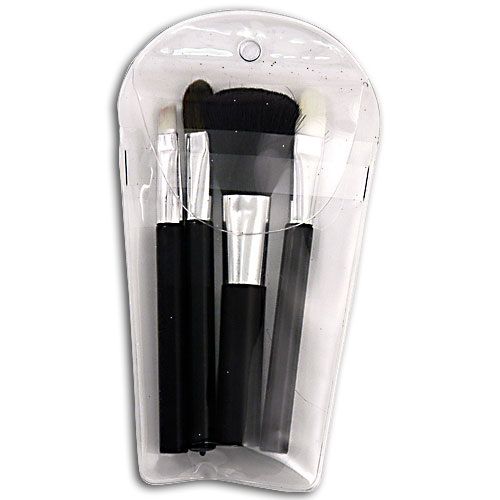 The cosmetics industry is one of the most profitable business markets in the world. The range of products available is almost infinite and different types of product have different uses. No one needs every product on the market, but most people have a pretty well stocked make-up bag with a huge range of different types of lotions that have different positive qualities.
Each different product needs to be applied in a different way and therefore users will need different applicators or brushes. Make-up brushes come in all different sizes and shapes and specific ones are needed for the application of different products. The amount needed by the individual will depend on the make-up products they use, and it can be hard to decide initially what to buy.
Buying make-up brushes online provides the buyer with widest range to browse and the opportunity to buy full kits with every type of brush imaginable. Using eBay to buy make-up brushes gives the buyer scope to find both high-end branded products, such as Mac or Bare Minerals, as well as those that appeal to the lower budget. Before making a purchase many factors need to be considered and are discussed below.
Different Types of Make-Up Brush
As mentioned there are a range of different make-up brushes on the market. Each type has its own job and is designed to provide the best possible coverage. Below is a closer look at the main types of brushes and their uses:
Foundation Brush – designed to provide the skin with flawless cover.
Concealer Brush – a soft, flat brush for applying concealer to cover blemishes and discolouration.
Powder Brush – soft, rounded brush for applying compact powders and bronzer.
Duo Fibre Brush – combining synthetic and natural fibres for blending and buffing colours.
Fan Powder Brush – for the application of loose powder in low quantities. Ideal for a light dusting effect.
Blusher Brush – with a rounded head and gentle fibres this brush type is ideal for applying blusher to the apple of the cheek.
Eye Shadow Brush – with dense, short, flattened bristles these brushes have a bevelled edge to apply colour to the eyelid. There are other alternatives within this brush type category, with different shaped tips.
Eye Liner Brush – for the application of liquid eye liner this brushes are extremely narrow and come in flat and fine point forms.
Eye Brow Brush – these spiral shaped brushes with stiff bristles are designed to tame unruly eyebrows and remove loose hairs.
Lip Brush – used for the application for lipsticks and glosses. Although these products come with applicators, better coverage can be achieved with a brush and this same brush can also be used for lip lining.
There are many other types of make-up brush, but these are the most common and the ones that most buyers will be regularly looking for.
Factors to consider when choosing Make-Up Brushes
There are many factors which may come into play when choosing and purchasing make-up brushes. Aside from deciding the actual type of brush you need, there are further factors to consider. You firstly need to think about the fibres of the brush and whether a natural or synthetic brush is better for the task in hand. As a general rule natural brushes are better for applying dry products such as powder, whilst synthetic brushes are ideal for creams and liquids.
Secondly, the size of the brush and whether its firmness is right for the skin type of the individual buyer. Buyers will also want to take into account the price of the make-up brushes being considered, whether they need a branded product or not and also whether a make-up kit would be preferred over individual brushes. These are all factors to keep in mind before choosing make-up brushes.
Keeping Make-Up Brushes Clean
The importance of keeping make-up brushes clean cannot be underestimated. There are brush cleaning products on the market as well as just cleaning with water and even shampoo. The dangers that come from not washing your brushes are threefold. Most importantly, unclean brushes harbour bacteria and can cause skin infections and allergies. Secondly the brushes become less effective if product remained clogged in their bristles and finally the brushes will not last as long and will need to be replaced more frequently if not cleaned. Here's a quick guide to cleaning make-up brushes properly:
| Step | Process |
| --- | --- |
| One | Place some washing up liquid or mild shampoo in the hand. |
| Two | Swirl and cover the brushes bristles in the solution. |
| Three | Rinse off the product completely. |
| Four | Swirl the brush on a clean tea towel to remove excess water. |
| Five | Whilst the brush is still wet ensure it is reshaped and placed to dry with the bristles not touching anything so on the edge of table. |
Keeping make-up brushes clean ensures that no ill-effects are caused by them and can also ensure they last the lifetime they're supposed to instead of becoming unusable quickly.
Buying Budget-Friendly Make-Up Brushes
Finding make-up brushes within budget is highly dependent upon how much an individual buyer wants to spend. Buyers looking for much sought after or limited edition products must be prepared to spend more than those who are willing to accept any product that does the job, but is not from a known or branded manufacturer.
Individuals who are buying make-up brushes for the first time should consider make-up brush kits to ensure every possible tool is included. In this way there is no need to worry about a crucial brush being missed out of the collection, or not knowing how to apply a particular product through not having the correct brush. A full make-up brush kit should ensure all bases are covered. A range of kits are available through eBay and this gives buyers a chance to compare prices and find the one which suits their personal budget best.
There are many products which have been discontinued in regular shops that can still be sourced on eBay and though they are often in demand buyers can still keep their eyes out for some great deals on affordable rarities.
Buying make-up brushes on eBay guarantees a great range to choose from as well as a competitive price range.
Conclusion
The cosmetics industry is hugely important to many people's everyday lives, with daily make-up application as important as eating or drinking to some. The application of make-up needs to be as flawless and perfect as possible, and using the right make-up brushes and applicators can make a huge difference to how well the product is applied.
Choosing the right make-up brushes and applicators depends on personal preference. Different types of brush are needed for different jobs but other aspects of the brush such as firmness and size are dependent on individual user preferences. Using eBay to buy make-up brushes guarantees a huge range of choice. Products which may not be available in the shops can be located easily and there are many different price ranges to ensure all budgets are catered for.
Products can be bought in bulk or in kit-form as well as individually and it really does give buyers the widest scope when choosing the products best for their circumstances.
Make-up brushes guarantee users with the best possible overall coverage of their chosen make-up product and specialised brushes can even be used for being more creative and trying out new styles. The range available through eBay is unparalleled and suits both complete beginners and people who have a very clear idea of the type of product they need.