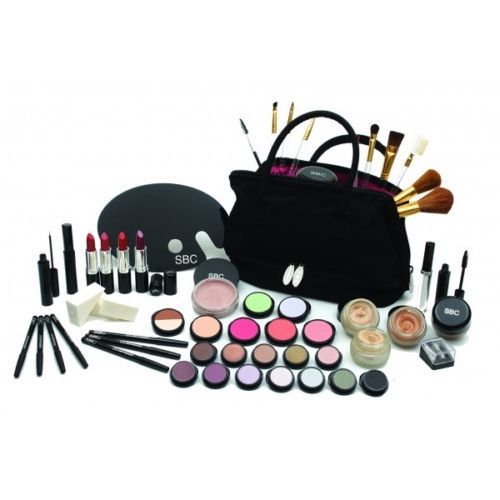 Make-up kits are a great choice for those looking for a complete range of cosmetics in one handy, travel sized kit. Larger palettes are available for use at home, whilst travel size kits are ideal for those on the go, and it is possible to find kits for eyes, lips, nails and face. Make-up kits usually come complete with all the tools needed to create the perfect look, and some kits have a handy guide to assist with creating specific looks using the kit.
Shopping for a make-up kit online is easy, and websites such as eBay have a great selection to choose from, from kits by designer brands such as Chanel and Dior to value for money eye shadow palettes containing every colour under the sun to create a stunning look. There is something available to suit all budgets, and buying a kit can often be much more affordable than buying single items of make-up.
What Type of Kits are Available?
There are many different type of make-up kit to choose from on websites such as eBay; here are some of the most popular types available:
| | | |
| --- | --- | --- |
| Type of Kit | Use | Popular brands/kits |
| | Create beautiful eyes - most kits contain shadow, liner and applicators. Some even include mini mascara and brow pencil. | Urban Decay, Benefit, Estee Lauder |
| | Designed to create perfectly defined eyebrows - kits usually contain brow shadow, pencils or gels for filling in brows, a comb, tweezers and brow gel. There is a wide selection of brow kits available on eBay. | Benefit Brows a Go Go , Revlon Brow Specialist Kit |
| Eye and cheek palette/kit | These usually contain a selection of complementary powder or cream shades for eyes and cheeks as well as applicators for each area. | Laura Mercier Eye and Cheek Palette, Bare Minerals Escentuals Get Started Kit, Benefit Feelin ' Dandy |
| | It is possible to find lip gloss sets, lip colour palettes and shaping sets which include a lip liner. | Urban Decay, Revlon, Elizabeth Arden, Benefit, Lancome Juicy Tubes |
| | Some kits include cream cheek colours and highlighters, others have powder colours or bronzer. | Too Faced Leopard Love Complexion Perfection Kit, Stila |
| | There are a variety of kits available for the face - some include base and concealer and a cream or powder highlighter. Others include coloured concealers to tackle specific problems such as under eye circles. | Benefit Confessions of a Concealaholic , Benefit Finding Mr Bright, Bare Minerals kits |
| Nails | There are many different types of kits available for nails, from basic kits containing polish and toe nail separators to full manicure kits and kits for gel nails. | Opi, Revlon, Urban Decay Summer Nail Kit |
Whichever type of kit chosen, it is possible to find kits on eBay for very reasonable prices, whether buying a whole kit or items from a kit. Buying a kit takes the guesswork out of choosing complementary shades and it is easier to know what shades to put together.
Choosing the Right Kit for You
Choosing the right kit is all about deciding what make-up look is required. For an everyday look, the following kits can create a soft, pretty natural look:
* Laura Mercier
* Benefit Feelin' Dandy
* Stila Love and Empower Palette
* Urban Decay Naked Basics Palette
It is a personal choice as to whether to select a kit that contains items for the whole face, or one which focuses on a specific area. Those who struggle to find colours that complement each other should select an eye and cheek or eye and lip palette. This way complementary colour will be easy to choose, and the rest of the make-up can be left subtle.
For those looking to emphasise a specific feature, for example the eyes, a kit focusing on this feature is the best choice. By choosing an eye palette that includes eye shadow, liner and mascara, the rest of the make-up can be neutral, making the eyes the emphasis of the look. It is possible to find complexion kits with brightening powders and highlighters (the Benefit range is great) on eBay, which add a soft, pretty natural glow to an otherwise make-up free face. These are great for days when no make-up is needed.
How to Use Your Make-up Kit
Every make-up kit is different, and depending on the type of kit purchased, there will often be brushes and instructions included, to help achieve a specific look. By shopping online, on websites such as eBay, it is possible to find designer branded kits and palettes at great prices, and these are usually in excellent condition.
If the make-up kit purchased has instructions, there will normally be two or three different looks to try out; for example, smoky eyes or the natural look. Whether or not to follow these instructions is up to the individual. If unsure how to use a make-up kit, it is possible to find instructional videos on YouTube and other websites. Most kits will contain brushes and applicators, although these are normally fairly small and designed for portability; so many people prefer to use their own make-up brushes to apply directly from the kit. Just because a kit contains lots of complementary colours, does not mean they all need to be used together. Try using a lip gloss from the kit and combining it with a different eyeshadow and cheek colour - it is a case of experimenting to see what looks good.
The Benefits of Buying a Make-up Kit
Make-up kits are an affordable way to buy branded and designer make-up, and eBay has a wide range to choose from, from kits by Elizabeth Arden and Estee Lauder to Laura Mercier and Bobbi Brown. Because these kits have been put together by make-up experts, all the colours in the kit complement each other perfectly, so they are great for those who are unsure of what make-up items or colours to use, and they help to create an easy, polished look.
Complete kits for eyes, cheeks and lips are quick and easy to use, and because of their portable size they are perfect for popping in a handbag and using on the go. There is no need to carry separate tubes of lip gloss and pots of eyeshadow, and the risk of leaking and spillage is minimised. Many women find one make-up kit that they love and then stick with it, and the most popular kits are probably those which contain a range of neutral shades to create a pretty, natural look. Kits such as Benefit Finding Mr Bright contains brightening, highlighting make-up for a naturally glowing complexion and can be found on eBay for an affordable price.
The Disadvantages of Make-up Kits
Whilst make-up kits are a great way to apply and touch up make-up on the go, it is easy to become lazy and lose the ability to choose complementary colours. Part of the fun of shopping for cosmetics is looking for shades which suit the individual and which look good together. When buying a kit or palette, much of the guesswork is removed, and it can be hard to find shades that suit when the choice of kits is limited. In addition, women with very fair or very dark skin may struggle to find kits that contain the right colours for them.
Using a kit also limits the individual to using one brand of make-up, particularly if they become accustomed to using a full kit, and they may stick to one tried-and-tested make-up look rather than being experimental. Make-up kits can also be less hygienic than using separate items of make-up. As they are often carried and used on the go, many women rush and do not use applicators or brushes, dipping their fingers in base, eyeshadow and blush and spreading bacteria on their face. Kits may not be a great choice for those who suffer from acne or other skin conditions for this reason.
Make-up Kits for Gifts
Make-up kits make a great gift for any woman, and many designer brands can be found on websites such as eBay. When choosing a kit, it helps to know the individual's skin tone and the colours that they like to wear. If this is not known, choosing a neutral palette is the best option, as these contain soft neutrals which look great on all skin tones, and intensity can be built to suit the individual.
Avoid choosing bright, garish colours in a palette if possible, as most people prefer subtle make-up and there is more chance the recipient will enjoy a natural make-up kit over one which contains colours they may never use.
Popular Brands of Make-up Kit
There are many popular brands of make-up kit available to buy online, but here are some of the most popular designer brands - their make-up is always high quality and the packaging is designed to be elegant and pretty:
* Stila
* Laura Mercier
* Benefit
* Urban Decay
* Chanel
* No 7
* Sephora
It is easy to find both designer brand make-up kits and non-branded kits online, but the cosmetics in non-branded kits may be of a lower quality. Designer palettes and kits can often be found for a very reasonable price on eBay, and buying a kit saves money over purchasing designer cosmetics individually.
How to Buy Make-up Kits on eBay
For the easiest way to buy make-up kits online, head to eBay for a wide selection. Just visit eBay and click on the drop-down menu of categories, which is located next to the main logo on the left-hand side of the page. Select Health and Beauty and this will open up a list of sub-categories. Go to Make-up and select Sets and Kits from the menu to bring up a list of available kits.
It is simple to search for specific items on eBay. Just type the words related to the search, such as ' Urban Decay Eyeshadow Kit ' into the main search box at the top of the page. For further tips on how to search eBay, go to the Search Tips page.
Conclusion
Make-up kits are a great option for those who struggle to create a polished make-up look and find colours that complement each other. Because they contain a selection of complementary shades, they are quick and easy to use, and many women rely on them to apply make-up on the go or for a natural daytime look.
Most cosmetics brands have their own range of kits available and eBay has a wide selection to choose from, whether looking for eye make-up kits, blusher kits or concealer palettes. Most kits contain all the brushes and tools necessary to apply the make-up, as well as instructions, making them a great choice for those new to wearing make-up or those who are looking to improve their application skills.