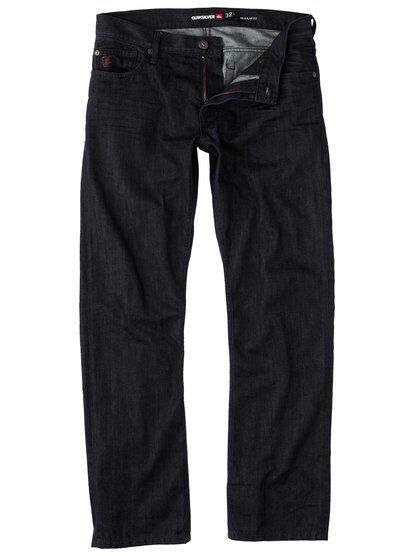 In the 20th century, jeans have become the most popular style of trousers, and manufacturers and designers have developed a wide range of styles over the years, from straight-leg to boot-cut and skinny jeans. Jeans are a staple in every man's wardrobe because they can be worn on almost any occasion, from casual to formal, depending on the choice of the shirts, shoes, and other accessories. Whether it is a night out with friends, an informal family gathering, or a stroll in the city, a comfortable and stylish pair of jeans can do the trick. There are different types of jeans for different people and for different occasions, making it difficult for many individuals to choose the pair of jeans that is right for them. To answer this problem, this article will discuss the different kinds of jeans along with which ones are more likely to look good on a given body type.
Types of Denim Rinses for Men's Jeans
Jeans are made from a special type of cotton-based fabric called denim. After weaving, denim is usually dyed to get its characteristically indigo colour. Next, the fabric is washed to remove the excess dye. The final colour of denim cloth depends on the kind of washing process used. Here are the most common denim rinses used in jeans today.
Regular Washed Denim
Regular washed denim is made through the traditional process of rinsing dyed denim in water, and is the most common wash used in jeans today. The jeans made from this denim are what most people wear.
Acid Washed Denim
Acid washed jeans are made from denim that was washed using pumice and chlorine to remove most of the indigo dye, making jeans of this kind almost white in appearance. Acid washed jeans were extremely popular in the '80s and '90s and were worn by members of heavy metal bands like the famous group Kiss. While generally considered as a risky fashion choice, acid washed jeans are experiencing a revival among the younger generation.
Distressed Denim
Distressed jeans are made to appear as if they have already been worn for a long time. This effect is achieved either by traditional hand sanding or by the use of special chemicals. Usually, distressed jeans are tinted with a small amount of yellow or brown dye to enhance the 'used' look. Distressed jeans are perfect to wear during informal occasions like a casual stroll in the park or at a friend's house party.
Raw or Unwashed Denim
Raw or unwashed men's jeans are produced by skipping the whole washing process altogether. Because of this, raw jeans in store shelves typically have a dark bluish colour.. Many men prefer to buy raw or unwashed jeans to achieve a more natural, faded look after wearing them several times. Word of caution: newly-bought raw jeans are best washed separately from other pieces of clothing because the unwashed dye bleeds a lot.
Styles of Cuts for Men's Jeans
Men's jeans are also available in different shapes or cuts. Some cuts may be better to wear than others, depending on one's body type. Before discussing which jeans are the best fit for each body type, here is a summary of the different types of styles for men's jeans:
Boot Cut
Boot-cut jeans are longer than most other kinds of jeans because of the flaring hem, which is supposed to be bunched up right at the part where the jeans meet the boots. Some men prefer wearing boot-cut jeans because they require less maintenance, others prefer them because they are very comfortable to wear for long periods. Boot-cut jeans are similar to those worn by cowboys in old western films.
Relaxed Fit
Relaxed fit is another popular type of men's jeans, and, as the name implies, they are the most comfortable to wear among all five types. This simple cut provides more room for wearer's hips and legs, making the jeans more forgiving for persons with fuller figures. Unless the buyer is into hip hop fashion, extra care should be taken when choosing a particular size of relaxed fit jeans because wearing ill-fitting trousers tends to suggest an untidy appearance. Needless to say, rappers and hip-hop singers are often seen wearing baggy relaxed-fit jeans.
Straight Leg
Straight-leg jeans, as the name suggests, are a particular type of cut where the legs of the jeans maintain a consistent circumference from top to bottom. This kind of cut makes the jeans closely fit around wearer's thighs and a little looser around the calves. This classic type of jeans looks great when worn with plain shirts or hoodies. They can be considered as the 'safest' type to wear, fashion-wise. Straight-leg jeans rival relaxed-fit jeans in terms of popularity.
Skinny or Skin-tight
Skinny jeans are the denim equivalent of medieval tights, as they are designed to fit closely the wearer's legs and thighs. Some men prefer to wear skinny jeans in order to make their legs look bigger, as wearing tight clothing helps create an optical illusion of fullness. That is why those with thin physiques usually look good in these jeans. These jeans have been the preferred style of rock stars for several decades.
Athletic Fit
Athletic fit jeans are a combination of three cuts: relaxed fit, boot cut, and straight leg. Like straight leg jeans, a well-fitting pair of athletic jeans wraps the leg snugly. Like boot-cut jeans, they also flare at the hem. Like straight-leg jeans, they also provide enough space for the rear. The athletic fit is a rather new cut of jeans, making it a relatively rare find compared to the other four types.
Body Type
When buying men's jeans, it is important to consider the style, size, and price of a product, but more important, one should consider the body type. Each main type of jeans will fit better to a certain type of body.
Fuller Figures
For men with fuller figures, relaxed-fit jeans are a great choice because they strike a balance between fashion and function. Relaxed-fit jeans provide enough wiggle room for the legs. Athletic fit jeans may also work because they improve the overall shape of the lower body, bringing out a sexier, more masculine look. Full-figured men are usually advised to stay away from skinny jeans because this particular style is quite unforgiving to the legs and thighs.
Muscular
Relaxed-fit jeans will look good on men with more athletic body types because these clothes will emphasise their impressive quadriceps. A pair of straight-leg jeans,, on the other hand, lets the wearer stay true to his physique. And of course, athletic jeans are designed for athletic builds. For taller persons, boot-cut jeans may also be a great choice. Generally speaking, skinny jeans may not fit well because they tend to be extremely tight on a muscular person's well-developed legs, making them look unattractive.
Thin to Toned
Skinny jeans are a good choice because the tight fit creates an illusion of bulkiness. A pair of straight-leg jeans is also another good pick as it makes the thighs and legs look fuller. Meanwhile, boot-cut jeans enhance the shape of the wearer's rear, making it yet another great choice. Thin or toned men may also choose low-rise designs to accentuate their flat abs. Leaner physiques, in general, do not mix well with boot-cut and relaxed-fit jeans because these jeans provide too much room, making the wearer look as if the clothes are trying to swallow him whole.
How to Buy Men's Jeans on eBay
You can find all kinds of men's jeans on the auction site eBay. To start looking for a pair of jeans, go to eBay's home page and type in "men's jeans" in the search bar. You will get a list of many items you can choose from. To make your search quicker, you can narrow down the search results by the style of cut, kind of rinse, size of waistline, length, or price, among other filters.
Moreover, if you have a specific cut or rinse in mind, just add the relevant keywords to refine to search results. For example, typing "stone wash men's jeans 32" will return a list of men's acid wash jeans with a 32-inch waistline (81 centimetres). Furthermore, if you prefer buying clothes with a bit of history, you can also choose from a wide array of rare vintage jeans for sale on eBay. Once you have narrowed the list of jeans you would like to purchase, look at the products' details and narrow your list even further. You should then be ready to select the pair of men's jeans you have been looking for. If you are satisfied with your selection, you can proceed to the payment.
Conclusion
Men's jeans are classified based on how their fabrics were rinsed and also by the styles of their cuts. Regular washed jeans are the most common type. Acid washed jeans are almost white in appearance. Distressed jeans mimic the look of vintage clothing through sanding by hand and the application of a small of amount of yellow and brown dyes. Lastly, raw or unwashed jeans are made from denim that was not rinsed after the dyeing process, letting the final product fade naturally after being worn several times.
Full-figured men tend to look good in jeans cuts that help contour their lower body, such as relaxed-fit and athletic-fit jeans. Athletic builds are suited for wearing jeans that help accentuate their physique, such as relaxed-fit, straight-leg, and boot-cut jeans. Thin to toned build types benefit the most from cuts that enhance their proportions, such as skinny, straight-leg, and boot-cut jeans.