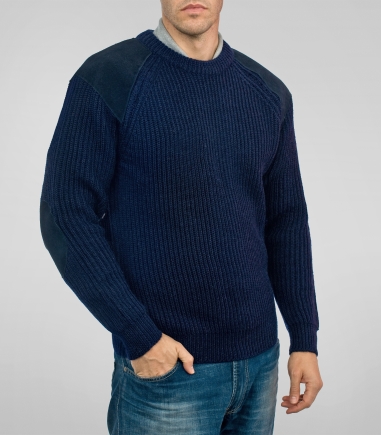 Jumpers are a broad class of upper garments whose main purpose is to keep the body warm. Also called sweaters, sweatshirts, and jerseys, jumpers are worn for various reasons such as keeping the body warm, protecting the wearer from rain, and also as a means to look more stylish.
This popular piece of clothing is available in every style, size, and colour. Depending on one's needs, however, some designs are more suitable than others. For example, some jumpers are better at keeping the body warm but they may not be as waterproof as other types. Some jumpers provide good insulation and water resistance, but they may not be stylish. Of course, nobody would want to look too uptight or too laid back just because they chose the wrong kind of jumper. Thus, choosing the right kind of jumper is not as simple as it seems. To address this, one should consider types of necklines and different fabrics used when choosing the right jumper for every situation.
Types of Necklines
The first feature that differentiates jumpers is the design of their necklines, which dictates their suitability for formal, semi-formal, or informal settings. There are four basic kinds of necklines: the V-neck, crew neck, roll neck, and boat neck. In line with this, each major type of neckline is discussed in detail in the next paragraphs.
V-Neck Jumper
V-neck jumpers are versatile pieces of clothing. As the name suggests, V-neck sweaters are called that way because of their V-shaped neckline. Depending on the pattern and material, V-neck jumpers may be worn in both formal and informal occasions. For semi-formal events, a V-neck jumper paired with a crisp dress shirt (with the collar sticking out of the jumper's neckline) and solid-coloured trousers will help the wearer exude a learned, dignified air. For informal wear, pairing a V-neck with a tank top will lend the wearer a relaxed but slick look.
Crew-Neck Jumper
Simply put, crew-neck jumpers feature a round neckline, and are generally considered as the most laid back among all the five types. More often than not, a crew-neck jumper is worn as a stand-alone upper garment or paired with a dress shirt or short-sleeved polo shirt. Unlike V-necks, the inner garment's collar should be inside the jumper. As stand-alone upper garments, crew-neck sweaters serve as the winter season counterparts of the ever-present summertime T-shirt, as the latter fails in providing ample protection from cold weather. Combined with khaki or denim shorts, the crew-neck jumper is a stylish and comfortable choice for walking around the city.
Roll-Neck Jumper
Roll-neck jumpers have necklines that rise above the collarbone, and may sometimes cover the entire neck. Roll-neck jumpers can be worn in both semi-formal and informal settings. Also called turtle or polo neck jumpers, they were very popular in the 1950s, and were often identified with radical academicians. However, this type of jumper is experiencing a revival in contemporary fashion after several well-known male public figures were seen wearing one. Russian Prime Minister Vladimir Putin, Greek economist Andreas Papandreou, and the late Apple founder Steve Job were seen wearing these jumpers frequently.
Boat-Neck Jumper
Boat-neck jumpers are similar to crew-neck jumpers except that the neckline is shaped like a boat's silhouette on water. Originally identified with female fashion, fashion-forward men have started to wear this type of jumper. While men wearing boat-neck jumpers are still a relatively rare sight, those who can pull off this look are often regarded as trendy and cool. Note, however, that the adventurous boat-neck jumper is more suitable for less formal occasions.
Fabrics Used for Men's Jumpers
Fabrics used for men's jumpers may either be woven or knitted. Woven fabrics are generally more durable than knitted fabrics because of their more compact structure. However, knitted fabrics are usually more comfortable to wear because of their soft and fluffy texture. Moreover, knitted fabrics are better at preventing heat from escaping the wearer's body and the cold air from getting in. To give the readers a better idea of which fabrics are best for their needs, here is a list of the most common materials for men's jumpers.
Natural Fabrics
Wool is the most popular type of naturally-occurring fibre used in making jumpers. These fibres are obtained by shearing the fine hairs of several types of animals such as sheep, alpacas, musk oxen, llamas, and angora rabbits. Depending on where the fibre was sourced, the texture of woollen jumpers range from coarse (alpaca) to fine (angora).
These fibres are spun into yarn and knitted into jumpers either by machine or by hand. Note, however, that high quality hand-knitted men's jumpers are relatively pricier than their machine-knitted counterparts. Moreover, woollen jumpers made from 100 percent natural fibres tend to cost more than those made from synthetic materials.
Synthetic Fabrics
Synthetic fibres like rayon, nylon, elastane, polyester, and Polartec Wind Pro are also used to make excellent jumpers. More often than not, natural fibres are mixed with one or more of these synthetic materials in order to impart special properties onto the resulting fabric. Here is a brief description of each of these fibres, along with how and why they are used:
Rayon or viscose is a cellulose-based fibre that mimics silk, so that jumpers containing this fibre are softer to touch and have a more lustrous appearance. Nylon is a petroleum-based fibre that boosts a fabric's strength, so jumpers that have a Nylon component are more resistant to pilling and are easier to wash. Small amounts of Lycra (around 2 percent) may also be present in some jumpers in order to improve their stretch ability and resistance to deformation. Polyester, the most popular synthetic fibre, is known for its relatively low cost and low absorbency. Cotton and wool yarns often contain a certain amount of polyester not only to lower production costs but also to make them more resistant to stains.
Some environmentally-conscious consumers prefer jumpers made from Polartec Wind Pro fibres, a relatively new invention. Polartec Wind Pro fibres are obtained by recycling used plastic bottles (PET), making these jumpers more environmentally friendly. The resulting fabric is lightweight, durable, smooth, and has excellent insulating properties.
Buying Vintage or Used Men's Jumpers on eBay
eBay also features vintage or used men's jumpers for those who love clothes with a bit of history and those who are on a tight budget. Used and vintage jumpers on eBay vary in quality, that is why it is important for the buyer to have a good set of standards to evaluate whether a particular item is worth the price or not. The following are some tips to help buyers make a wise choice when purchasing used jumpers.
Checking for extreme wear and tear
If a person wants to buy a used jumper on eBay, it is essential to inspect the product's image to quickly assess the item's condition. One should look for signs of extreme pilling, wear, and tear. However, a minor tear should not dissuade the shopper, as it can be easily fixed in just a few minutes with needle and thread.
Inspecting for parasitic insects
Parasitic insects, such as the nasty bedbug, may be present in used clothing. These bugs are very prolific, so much so that a single mating pair may be enough to launch a full-scale infestation of an otherwise lovely home. Thus, it is important to inspect for tell-tale signs of bedbugs and other parasitic insects in every used jumper on sale. The buyer should try to zoom in on the item's snapshots and look for small odd-coloured dots, which may actually be insect eggs. The buyer should also look for off-coloured streaks on the fabric, which can be stains caused by insect faeces.
How to Find Men's Jumpers on eBay
eBay offers a huge assortment of different designs of men's jumpers. Just type "men's jumpers" in the search box on eBay's home page and you will see many pages of choices. If you have a particular style or fabric in mind, just add related keywords into the search term to get more relevant results. For example, typing 'V-neck men's jumpers cashmere' will return a listing of V-neck men's jumpers made from luxurious cashmere wool.
If you are looking for second-hand or vintage clothing, you may also append 'second-hand', 'used', or 'vintage' to the search term. Adding these extra terms refines the search results by listing only those items whose descriptions contain these terms. You may also add the brand name to the search term to limit the results to jumpers made by a particular manufacturer. This is especially useful in cases of items that do not include the word 'jumper'. Before deciding on a final purchase, make sure to find more about the seller's reputation as well as read the seller's return policy so that you will be able to send back your purchased items should you need to.
Conclusion
A buyer can choose from eBay's rich selection of men's jumpers, with different necklines, fabrics, colours, brands, and prices. The most common necklines for jumpers are V-neck, crew neck, roll neck, or boat neck. V-neck jumpers may be worn in both formal and casual settings, depending on the inner layer of clothing worn such as a dress shirt or a tank top. Crew-neck jumpers are a good choice for casual wear such as a stroll in the park. Roll-neck jumpers, like V-neck jumpers, are great for both formal and informal occasions and they rarely require an inner layer of clothing. Boat-neck jumpers are for trendsetters or those who yearn for a fashion adventure.
With a wide range of choices, eBay is a good place to buy men's jumpers. Whether a buyer is looking for jumpers made of 100 percent natural fabrics or their synthetic alternatives, such as Lycra or Polar Wind Pro, a particular brand, or neckline, there's a jumper for sale that will satisfy their needs and meet their expectations.