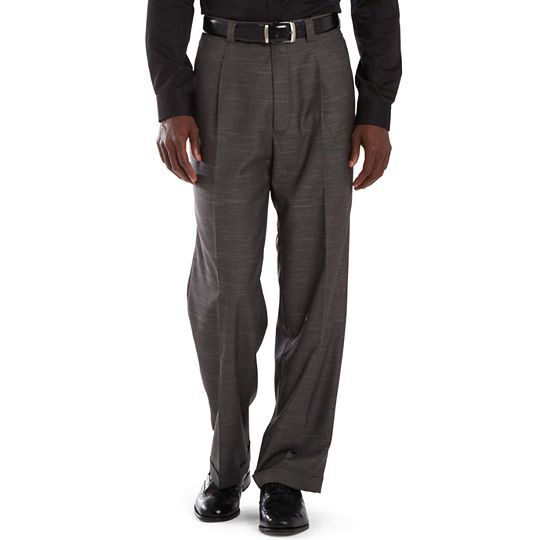 Fashions come and go, but an item that never goes completely out of fashion is the pleated trouser. Ever since their first appearances about 150 years ago, there have always been men who would swear by pleated trousers. Of course there have also been periods in which many people avoid pleated trousers and proclaim that flat-front trousers are the thing, and pleats belong to the past. The design of pleated pants may be old but it is obviously successful, as these trousers keep coming into fashion.
There are many places where a man can buy his pleated trousers. If he wants to do it all from the comfort of his home or convenience of his office, he is sure to find a great variety of men's pleated trousers on eBay.
A man who wishes to buy pleated trousers should be aware of the different types of pleated pants, how they fit, and sizing. But first, a bit on the background, history, and recent fashion trends of the style, as well as the modern-day, decade-long conflict between pleated and flat-front trousers.
Background
So, what are pleated trousers anyway? Well, trousers are, of course, amongst the oldest garments known to mankind. For thousands of years their main function has been to protect their wearer from weather conditions, cold, wind, heat, and rain. But today it's not just about protection; an equally vital issue is fashion.
And what is a pleat? A pleat is a fold in cloth created by doubling fabric back over itself and then securing it in place. The function of a pleat is to provide extra space and freedom of movement in certain critical places on clothes, but also to create a certain look, according to contemporary fashion. Pleats on trousers can be forward, which means they are facing toward the fly, or reverse, which means they are facing toward the pockets. Reverse pleats are more common while forward pleats are considered more elegant and are popular in the UK. Pleats on trousers often come in pairs, though there can be one, two, or even three pleats on a pair of trousers. The inside pleat is almost always deeper that the outside one. Trousers with triple pleats, or even more pleats than that, also were once fashionable but are now very difficult to find.
Materials
Traditionally, pleated pants were made of wool. Today wool is still used, often blended with some synthetic material to improve its performance, but cotton and cotton blend pleated pants are also popular, as are polyester. Pleats have, in different periods, been incorporated into many sorts of trousers of many different materials.
History
Pleats have been used in clothing for thousands of years. On ancient Egyptian wall paintings there are figures wearing a kind of pleated skirt, the Vikings used pleats, and the Scottish still wear pleated kilts, to name but a few examples. The first pleated trousers, however, are probably less than 200 years old. Invented around the end of the 19th century, pleats were initially used in sportswear to increase the wearer's freedom of movement.After WWII and the rationing of fabric in the USA as a consequence of the scarcity, pleats were regarded as both formal and a luxury, and they have gone in and out of fashion ever since.
Fashion
Flat-front trousers were the standard trousers of the 1950s and 1960s. In the 70s and 80s, pleated trousers became more popular, following the general trend of more loose clothes in fashion. By the 1990s many people had gotten tired of pleated trousers, and flat-fronts took over once again. At the moment, pleats seem to be making yet another comeback.
Regardless of the specific trends, it must be said that, even when out of fashion, pleated trousers remain in the background as they are the preferred trouser of many men because of the extra space and comfort they afford. That said, it is very important to choose a pair of trousers well suited to one's specific body type. It's also important to have a sense of proportion, for although pleated trousers are back in fashion, triple pairs of wide pleats remain distinctly unfashionable.
When to Wear Pleated Trousers
Pleated trousers are very versatile, and can be worn for almost any occasion. Considered formal and dressy in many parts of the world, a man can certainly wear pleated trousers under a jacket or as part of a suit. A more casual variant of pleated trousers may be something like a pleated pair of chinos, which became popular a couple of decades ago but are now considered passé. Golf trousers and other specific sports trousers are usually also pleated, to improve freedom of movement. It is also perfectly acceptable to wear pleated trousers to work, and has become one of the main uses for pleated trousers.
Pleated vs. Flat-Front
There seems to be a never-ending argument going on in the world of fashion: What is better, pleated trousers or flat-front trousers? In contrast to pleated trousers, and as their name suggests, flat-front trousers have no pleats but a contouring feature that helps the fabric to lie flat against the body. Below is a comparison of the differences between pleated and flat-front trousers.
How Are Trousers Worn?
A very important step in comparing those trousers is knowing how one should wear them. Pleated trousers are worn on the natural waist, above the hipbones. And this is exactly why they have pleats. The natural waist, in men of average proportion, is the narrowest part of their torso; thus, trousers must widen to cover the hips and then narrow toward the legs. The pleats allow for more space under the waistband so as to serve their purpose of covering and flattering the body. Flat-fronted trousers, on the other hand, are worn lower, resting on the hips. This means that their fit gets narrower toward the crotch and the legs.
It is important to wear each kind of trouser in the proper way. A pair of pleated trousers worn low will have excess fabric flapping under the waistband, and a flat-front stretched upwards will feel very uncomfortable.
Comfort and Looks
As indicated above, pleated trousers offer more room under the waistband, while flat-front trousers offer a snugger fit. In many respects, the choice between flat-front and pleated is a trade-off between comfort and looks, although a good choice according to one's body type will combine them both. Slim and tall men are generally well suited for flat-front trousers, as the trousers accentuate their slim and straight silhouette from the waistband down. Larger men may have difficulty with flat-fronts feeling tight and uncomfortable around the waist and hips. A belly also makes it difficult to wear flat-front trousers, as the trousers will go inward below the waist, drawing extra attention to the belly.
Larger men can use the pleats and the room they offer as, especially when sitting down, pleated trousers help accommodate a wider build around the middle. Athletes and men with developed thighs and backsides may prefer pleated pants for the extra space, as do men with a physically active job, who appreciate the looser fit. Thin people, on the other hand, are advised to avoid too many pleats, as all the extra fabric appears loose and empty, creating a rather unflattering effect.
Size
Size is, of course, a key consideration when buying a pair of pleated trousers. Trousers that do not fit well cause discomfort and irritation to the person wearing them and can be an eyesore for the people around him. Size scales differ largely, not only between different countries and continents but also between different brands, designers, and even models.
So when a man wishes to get a perfect fit in a pair of trousers, the safest solution is to take his measurements. The most commonly used measurements in trousers are the waist and the inseam. The waist is measured above the hip bones and around the belly button, and the waist measurement corresponds to the circumference of the waistband of the trousers. The inseam is the distance from the crotch to the end of the trousers. Often the more expensive brands offer a choice between different combinations of waist and inseam. On eBay it's also possible to search by length to find a pair of pleated trousers with a long, short, or regular length.
Below is a sizing chart to give an approximate correspondence between sizes and measurements:
| Size | Waist Measurement (in) | Waist Measurement (cm) |
| --- | --- | --- |
| XXS | 26-28 | 66-71 |
| XS | 28-30 | 71-76 |
| S | 30-32 | 76-81 |
| M | 32-34 | 81-86 |
| L | 34-36 | 86-91 |
| XL | 36-38 | 91-96 |
| XXL | 38-40 | 96-101 |
As mentioned earlier, it is always advisable to consult the specific brand's sizing chart. Of course, should a man purchase a pair of pleated trousers that does not fit perfectly, the trousers can always be adjusted by a professional tailor. This is the best way to ensure that his pleated trousers will be as comfortable and flattering as possible.
How to Buy Men's Pleated Trousers on eBay
Buying men's pleated trousers on eBay is easy and enjoyable. Just go to the eBay homepage, type 'men's pleated trousers' in the search box, and begin the search. You can then further refine your search by using criteria such as size, length, style, material, brand, and more. Alternatively, if you know exactly what you are looking for you can start off with a more specific search, such as 'brown men's cotton pleated trousers'.
When you have found a pair of trousers you like, make sure to have a good look at the photos provided by the seller. If you so choose, you can ask the seller to send you more photos in order to examine the item from another angle. In general, when shopping on eBay it's advisable to communicate well with the seller. To send the seller an email, just go to their profile page and click on the contact link. Once you have also checked the postage and payment conditions, you can go ahead and make the payment in the safety and security of eBay.
Conclusion
Pleated trousers have been around for well over a century and they are obviously here to stay. The big discussion between fans of pleated trousers and those who prefer flat-front trousers is not about to end. There will always be people who swear by flat-fronts, as well as people who definitely only wear pleated trousers. Undoubtedly, pleated trousers with the extra space they offer are more comfortable, especially if the wearer has some extra meat on his legs, backside, or belly. It's important to remember that pleated trousers should be worn at the natural waistline, higher on the hips than flat-fronts. When buying trousers, regardless of whether they are pleated or flat-front, getting the size right is the most important factor in order to ensure both comfort and looks. While a professional tailor is the only one who can make sure the fit of the trousers will be absolutely perfect, a man can achieve a reasonably good fit in a pair of pleated trousers by consulting the designer's sizing chart.