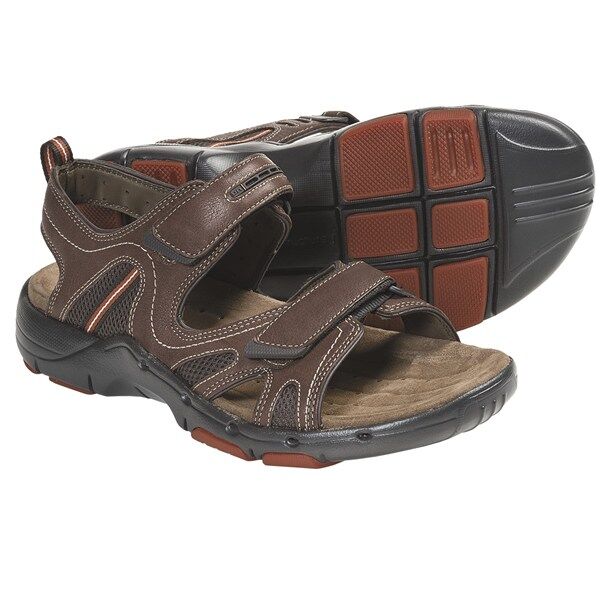 Men's sandals come in a wide variety of styles. In fact, even defining what is a sandal and what is not is becoming ever more difficult due to the range of different models. Generally speaking, sandals are shoes that consist of a sole attached to the foot with straps. They can be made of different materials and offer varying degrees of coverage, but sandals basically leave most of the upper part of the foot exposed. Sandals, just like other shoes, can be bought in a host of brick-and-mortar shops but online shoe shops are also very popular. eBay has a great variety of men's sandals from which to choose.
When a man is shopping for sandals, there are several things he must take into account. First is the issue of what kind of sandal to choose, then he should consider the choice of material and fastening, the style of the sandals and of course the size. This guide gives an overview of all the different factors that influence one's decision when purchasing men's sandals, along with a brief history of this type of footwear.
History of Men's Sandals
The first sandals known to man are in fact are also the oldest shoe style in existence. Sandals were discovered in Fort Rock Cave in the US state of Oregon that are made of sagebrush bark and estimated to be more than 10,000 years old. Sandals are still worn around the world, and are the preferred footwear in many countries where the weather is warm.
Style
There are many different styles of men's sandals. For the beach, there are the all-time classic thongs and flip flops. Greek and Roman gladiator style sandals offer a unique look with their thin sole and leather straps. Additionally, there are different varieties of comfort sandals and other kinds of casual sandals, as well as all kinds of modern walking, trekking, hiking, and athletic sandals for different sports.
Men's Sandals for Every Occasion
Men's sandals are very versatile and can be worn in almost any occasion. Exceptions are business and formal occasions when sandals are considered inappropriate. Sandals also offer comfort, especially in the warmer seasons. Men's sandals fall into three basic categories, according to the occasion: Beach sandals, casual sandals and athletic sandals. While these categories are not strictly defined (one man's beach sandal may be another man's sport sandal), they provide a helpful guideline.
Beach Sandals
Beach sandals should dry quickly and offer basic support. They are worn on and around the beach and are usually made of waterproof, synthetic materials such as rubber, nylon, and mesh. Beach sandals are worn to walk on the beach but also to protect the feet from sharp rocks when walking in the water. They can also be a stylish choice of footwear in a beach club. The all-time classic beach sandal is the rubber sole flip flop, which nowadays can be found in hundreds of variants.
Casual Sandals
Casual sandals are very popular in hot countries and in hot seasons. They keep the foot cool and minimise perspiration. They can be combined with all sorts of clothing and can be made from many different materials. Leather is a favourite for casual sandals, giving a rugged yet carefree look. It is very important that the sandals have a sole made of a material that can reduce perspiration. This helps the foot get a better grip and avoid blisters, but it also helps prevent unpleasant odours.
Athletic Sandals
Athletic sandals are used for all kinds of physical activity. Very popular are walking or trekking sandals which are used for walking on even or rugged terrain. Athletic sandals offer better support and cushioning than the other two types of sandals. As they are used for walking or running, they sometimes bear more resemblance to running shoes than to sandals. Some of the high end athletic sandals are used for extreme sports, such as rafting, paragliding, and skydiving. Those sandals are considerably more resilient and, correspondingly, more expensive.
Support and Comfort
A sandal, just like any other shoe, should offer support and comfort. When walking, and especially when running, vibrations move through the foot up the leg and into the lower back. A cheap pair of sandals can cause injuries and problems in the long run. An anatomic design offers much better support and protection of the foot and leg against injuries than does a flat sole. The fastener is also important. Straps or laces should fit snugly around the foot. A strap that rubs along the heel or the top of the foot is bound to cause blisters and discomfort. Of course, the issues of comfort, support, and cushioning are much more important in athletic sandals than in beach or casual sandals. Athletic sandals must support and cushion the foot during strenuous physical exercise such as running or climbing.
Material
Sandals nowadays are constructed from all kinds of materials. As far as the sole is concerned, materials include rubber, leather, cork, and many synthetic materials. Rubber is often the material of choice for the soles of casual beach sandals. Cork is preferable to rubber in casual sandals as it looks good and it also offers a good grip and cushioning for sweating feet. The soles of athletic sandals are usually made of modern, high-tech synthetic materials.
The straps or laces of the sandal can also be made of an array of materials. One of the oldest and still one of the most popular ones is leather, both real and synthetic. But suede, textile, and canvas straps are also common on sandals. Those natural materials offer both comfort and a natural look. Sandals that need to be waterproof are fitted with straps made of synthetic materials such as mesh, nylon, and polyester. Especially the straps of athletic sandals for trekking and extreme sports are usually made of synthetic materials. These materials ensure that the sandal offers proper support, dries fast, and fits well around the foot, no matter how hard the conditions are. Of course there are also casual sandals made from synthetic materials.
Fasteners
A lot of sandals do not have any form of fastening and are just slipped on the foot. Under this category fall most beach sandals but also a lot of the casual sandals. Other sandals, especially the ones with straps around the heel, do use a fastening solution. Velcro is a very easy and convenient solution, while a buckle always adds style. There are also sandals with laces and even with a zip.
Colour
Men's sandals come in many colours. Classic leather models usually come in black and
different shades of brown. Natural materials such as canvas and cork usually keep their natural colour. Sandals made of synthetic materials and textiles are available in a wide array of colours.
Size
Size is one of the most important considerations when buying a pair of sandals. Especially when buying online, size is always a risk factor. When a man wants to buy some sandals online, he may wish to visit a bricks and mortar shop first to try on different models of sandals in order to discover what models and sizes fit him best. Below is a conversion chart between different international sizes.
| | | | | | | | | | | |
| --- | --- | --- | --- | --- | --- | --- | --- | --- | --- | --- |
| UK & Australia | 6 | 6 1/2 | 7 | 7 1/2 | 8 | 8 1/2 | 10 | 11 | 12 | 13 1/2 |
| Europe | 38 1/2 | 39 | 40 | 41 | 42 | 43 | 44 | 45 | 46 1/2 | 48 1/2 |
| US & Canada | 6 1/2 | 7 | 7 1/2 | 8 | 8 1/2 | 9 | 10 1/2 | 11 1/2 | 12 1/2 | 14 |
| Centimetres | 24.8 | 25.1 | 25.4 | 25.7 | 26 | 26.7 | 27.3 | 27.9 | 28.6 | 29.2 |
As the chart shows, it is very important to understand what a man's proper foot measurements are when purchasing sandals depending on where he is located.
Price and Quality
Price is, of course, a major point to consider. Although a cheap pair of sandals may seem like a bargain, it is important to keep in mind that these are still shoes that will be used for walking. Walking on the wrong kind of shoes may cause long-term damage to the foot. In addition to offering better support and comfort, a well-designed and well-made sandal made of high-quality materials will also last longer, making it better value for money.
How to Buy Men's Sandals on eBay
eBay has a wide variety of men's sandals to choose from. Go to the homepage of eBay and type in the search box "men's sandals". You can then refine your search using criteria such as shoe size, preferred style, condition, price range, brand, colour, material, fastening and others. If you know from the outset exactly what you are looking for, you can start with a more specific search term such as "leather men's sandals size 8". Alternatively, you can also browse the sandals by category until you find the one that rings your bell.
Before completing the purchase, carefully read the full description and ask the seller about anything that is unclear to you. Good communication with the seller helps prevent wasted time and money on returns.
Conclusion
A man buying a pair of sandals has several things to consider. He must choose from a vast array of different styles of sandals, broadly categorized according to the occasion in beach sandals, casual sandals, and athletic sandals. The support and comfort offered by the sandals should be a major consideration in the purchase. An anatomic sole and tightly fitting straps will help protect the feet and legs against injuries. When buying athletic sandals to be used in strenuous activities, this aspect becomes especially important.
Another major choice to be made is the preferred material. Natural materials such as leather, cork, and canvas are more often used in casual sandals, while athletic sandals are often constructed of high-tech synthetic materials. The mechanism used for fastening the sandals also can vary, as can colour. Of vital importance is that the sandals are the correct size. Finally, as far as price is concerned, it is advisable to invest in quality: cheap, lesser-quality sandals can lead to discomfort and even injury.