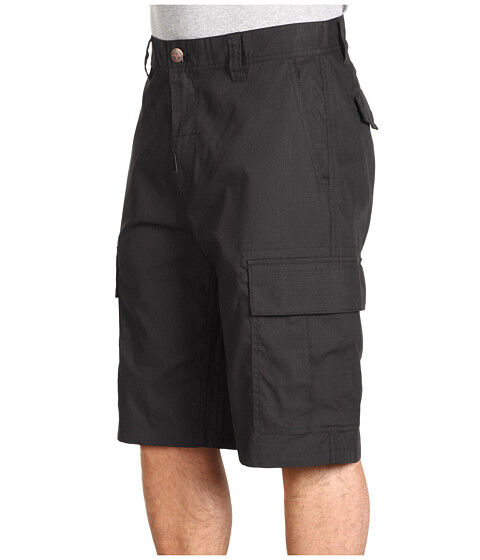 Shorts are to clothing what a short story is to literature. Both serve their purpose without going into unnecessary length. Still, men's shorts seem to be one of the most controversial pieces of clothing worn today. Part of this is probably due to their history, because in Western societies, shorts were almost exclusively worn by children until the second half of the 20th century. Since then, shorts have become more popular amongst men, especially in warmer climates, and they are now available in all sorts of different styles, sizes, and colours. There is a huge variety of men's shorts that can be found on eBay, frequently at lower prices than are found elsewhere.
Prior to purchasing men's shorts on eBay, the consumer should learn about their history, materials, various fits, and appropriate sizing. Men should also understand the different styles available as well as when to wear and when not to wear different styles of men's shorts.
History of Men's Shorts
Up until the first half of the 20th century, shorts such as, knickerbockers and knee pants were exclusively worn by boys. Grown men wearing shorts were considered, and are still considered by many people, taboo. During the Second World War, soldiers fighting in tropical regions wore short trousers,, both to keep them cool and to save on fabric used for uniforms. After the war, shorts became popular as part of a uniform for certain sports, such as tennis. Most sports uniforms up to this day include some type of shorts.
Shorts started becoming popular for use outside of the sports court in the 1950s. Since then, many different styles of shorts have been worn by men. They are, of course, most popular and accepted as beachwear but also as a casual piece of clothing. Shorts are almost never reconcilable with any type of formal clothing, with the recent exception of smart shorts for some occasions.
Men's Shorts Length
The length of men's shorts is measured by the inseam length, which is the distance from the crotch to the end of the shorts. The inseam length of shorts can vary widely. In volleyball, for example, shorts are very short, sometimes reaching just below the border between thigh and hip. In other cases, like basketball, shorts are baggy and reach to well under the knee. Shorts can be found in all lengths in between those two extremes. So, as far as sports shorts are concerned, the specific sport's rules and comfort define what is worn.
On the other hand, shorts worn outside the sports field are more sensitive to fashion and its rules. According to many fashion and clothing gurus, the safe length for a pair of shorts is around the knee. Anything shorter than mid-thigh is usually considered inappropriate, while anything longer than mid-calf is more like a high-cut pair of trousers than a pair of shorts.
Men's Shorts Material
Men's shorts are made of light and airy materials. Cotton is an all-time favourite, usually with the addition of some synthetic fibre, such as polyester or lycra, to increase elasticity. Different weaves are used, such as seersucker, Madras, gauze, twill, and drill. Casual shorts are also made of linen, plaid, and denim.
Synthetic materials are also very popular with men's shorts, especially sports shorts. Polyester, lycra, and nylon are all used in shorts, either by themselves or mixed with cotton. High-end sports shorts are made of high-tech materials with wicking action, meaning that the fibres in the material transport perspiration to the outside of the shorts where it can evaporate, keeping the leg dry and cool.
Fit of Men's Shorts
There are basically four types of fit when it comes to shorts: loose, regular, slim, and stretch. Surf shorts are almost always loose fit, while cycling shorts stretch tight over the leg. For casual shorts, a slim or regular fit is usually preferred.
Men's Shorts Sizes
Size is always an important issue when buying clothes, and especially when buying clothes online. As it is not possible to try the garment on for size, the buyer must rely on sizes and measurements. Below is a sizing chart for men's shorts correlating waist measurement with size.
| | | | | | | | |
| --- | --- | --- | --- | --- | --- | --- | --- |
| Size | S | M | L | XL | XXL | 3XL | 4XL |
| Waist (cm) | 71-76 | 79-86 | 89-96 | 99-107 | 109-117 | 119-127 | 129-137 |
The sizes listed above may not incorporate everyone's measurements, but are intended to be a general sampling of a population. If someone's measurement falls in between sizes it is best to buy the bigger size.
Men's Shorts Styles
There are many different styles of men's shorts, some are more casual than others, and some may highlight men's bodies in different ways. Here is a brief overview of some of them.
Pleated Shorts
Single-pleated shorts have pleats just under the waistline. A pleat is a fold of fabric doubling back upon itself. Shorts can either be pleated or contain a flat front. Pleats are more often found on trousers than on shorts, and generally make the garment more formal and more fluffy. Pleated shorts are common on the golf course but have fallen out of fashion in most other cases.
Flat Front Shorts
Flat front shorts are quite simply shorts that do not have pleats. Most shorts nowadays fall under this broad category. Flat front shorts can be very elegant.
Cargo Shorts
Cargo shorts have a loose fit and big, usually pleated, pockets with flaps on the thighs. They are usually also fitted with belt loops. They are basically used for hiking and travelling, but they have been very popular the past few decades and can be seen almost anywhere. They are made of sturdy materials and are ruggedly stitched.
Cargo shorts are very convenient with their loose fit and big pockets but they are not considered elegant. In fact, many high-end establishments, such as restaurants, clubs, and golf courses, explicitly prohibit people wearing cargo shorts.
Chino Shorts
Chino shorts are flat front shorts made of chino, an airy type of fabric made from cotton. Most of the casual and more formal shorts can be classified as chinos. They have quarter top pockets with one or two back pockets, and their length falls slightly above or below the knee. They can be combined with all kinds of shirts, and can, in some cases, even be worn to work or social occasions.
Sports Shorts
This is a very large category of shorts, ranging from tight to loose fit and from very short to very long, according to the particular sport. Running shorts,, for example, are very short so as to allow free movement of the legs. Cycling shorts, on the other hand, are tight and considerably longer, falling above the knee. They reduce wind resistance and transport sweat to the outside of the shorts where it evaporates. Basketball shorts used to be short, with an inseam of about 10 cm. Word has it that it was Michael "Air" Jordan who ordered his shorts longer in the 1980s. Basketball shorts have been growing longer and wider ever since, and now fall below knee length.
Most sports shorts are made from synthetic materials, are lightweight, and offer comfort, support, and cooling during exercise. According to the fashion police, sports shorts should only be worn on the field. Wearing sports shorts to any other occasion is considered inappropriate.
Board Shorts or Surf Shorts
Board shorts or surf shorts are usually made out of smooth nylon or lycra so that they are quick-drying. They were first used by surfers, but are nowadays standard beachwear in many places of the world. They are long and wide, typically extending to under the knee and with an extremely loose fit. Patterns are usually in bright colours and floral designs.
Smart Shorts
Wearing shorts to the office in the hot summer months has become commonplace. The shorts that are fit to wear in some offices are called smart shorts. Smart shorts are invariably flat front shorts, elegantly sewn, plain-coloured, and worn in combination with a button down or polo shirt, and boat shoes or loafers.
Buying Men's Shorts on eBay
To browse through eBay's great variety of men's shorts, just go to any eBay page and type "men's shorts" directly into the search box. You can filter the search results by size, brand, condition, price range, style, colour, length, material, fit, and more. If you see something you like, you can click on the item to see several, usually high-resolution, images of the pair of shorts in which you are interested. You can also read a description of the item, as well as view the payment and postage conditions.
When buying men's shorts, or any other item, online, it is always advisable to have good communication with the seller before completing the transaction. This way you can ask all the questions you want beforehand and avoid any misunderstandings and unpleasant surprises. To contact a seller directly by email, just go to their profile page and click on the contact link.
Conclusion
Men's shorts are a fairly recent addition to a man's wardrobe, as up to 60 years ago they were almost exclusively worn by children. After World War II, shorts started becoming more popular and even now they are beginning to be accepted as office wear in some countries. The length of men's shorts can vary widely, but other than sports shorts, the usual length is a little above or below the knee. Men's shorts are mostly made of cotton and synthetic materials, such as polyester and lycra. They can be loose-fitting, regular, or slim fit or even stretch. Size is a very important aspect and correct measurements are very helpful.
There are many different types of men's shorts. First, there is the major distinction between pleated and flat front shorts, and then there are informal sports shorts, board shorts, and cargo shorts, but also more elegant chino and smart shorts. All types of men's shorts can be purchased online at eBay.