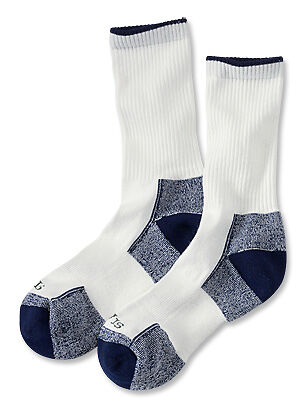 Socks are one of the articles of clothing to which men pay scant attention, despite the fact that socks contribute a great deal to a comfortable outfit. Using the wrong socks can be a major source of discomfort and even medical problems. Whether for a formal occasion or a casual one, for work or for sports, the right pair of socks offers comfort, support, and protection. A good sock will support the foot, keep it warm yet dry, and protect it from friction and blisters. eBay is one of the biggest online stores offering men's socks. The wide range of socks offered and the intuitive search functions make eBay the website of choice when buying men's socks online.
This guide will give some background information on socks in general and will outline the most important aspects to consider when buying men's socks. Those aspects include the length, material, different types, and size of socks, as well as some special types of socks.
History
Socks are a very old piece of clothing. Thousands of years ago people started wearing animal skins around their legs to keep their calves and feet warm. The Greeks and Romans are also known to have used socks made of matted animal hair, leather, and woven fabrics. The oldest cloth socks in existence were found in Egypt and date back to 300-500 AD. Socks were made by hand for many hundreds of years, but the industrial revolution brought with it the rise of knitting machines. In modern times, socks are produced almost exclusively by machines.
Function of Socks
A sock has three main functions. First of all, socks are used in cold climates to keep feet warm. Protection from the cold was the function of the first socks, and it remains the main function of most socks today. A second function of socks is to keep feet dry from perspiration. It is a fact that feet are one of the sweatiest parts of the human body. A sock absorbs the sweat produced by the foot when walking or running and transports, or wicks, the sweat to the outside of the sock where it can evaporate. The third function of socks, especially during hiking or other sports, is to prevent abrasion of the foot. A good sock clings to the foot and protects it from rubbing against the shoe, thereby preventing blisters.
Important Aspects of Men's Socks
There are several different things a man should consider when shopping for a pair of socks. Some aspects to look into are the length of the socks, the material they are made of, the different types of socks, and, of course, the size.
Length
Socks are categorised according to their length, with the choice for a specific length of sock influenced by many factors such as temperature, occasion, and condition of the foot and leg.
The shortest socks are called no-show or below-ankle socks. As the name suggests, they come to under the ankle and are used in occasions where it is not desirable to have a visible sock or it is too hot to wear longer socks.
Ankle-length socks are a little longer and cover the ankle. One can also wear these when the weather is hot.
Crew-length socks come up to the lower part of the calf muscle. This is one of the most common lengths, as they cover enough of the leg to keep skin covered when wearing long trousers but are still made with relatively little fabric.
Calf-length socks cover the calf and come to just under the knee. They offer better support than do the shorter lengths and are used in many sports.
Knee-length and above-the-knee men's socks are uncommon, usually only worn on either special occasions with traditional dress or when one requires special support and protection is for the ankle or leg.
Material
Socks can be made from a wide variety of materials. In the past, socks were made exclusively of natural materials such as cotton, wool, and silk. The development of synthetic materials added nylon, acrylic, polyester, olefin, Lycra, and other materials to increase the elasticity and support of socks. In addition, high-end formal socks often include finer, more expensive materials such as linen, mohair, and cashmere.
Wool socks absorb a lot of moisture and evaporate it. They are also quite warm, provided they remain dry. When wet, the wool will feel cold and cannot provide its usual protective features.
Cotton is also very absorbent but pure 100 per cent cotton is rarely used in socks. Usually the yarn is largely (around 60 per cent) made of cotton, with materials such as nylon and Lycra added to improve support and durability.
Stretch fibres such as rubber, elastic, and Lycra add elasticity to a sock and to help it keep its shape. Such materials, especially Lycra, are extensively used in sports socks to support the ankle, calf, and arch areas.
Some synthetic materials such as acrylic and olefin fibres do not absorb moisture themselves, but do have wicking ability. Wicking describes the sock's ability to absorb moisture that travels along those fibres away from the skin. Combining those materials with a natural, absorbent material such as wool or cotton creates an ideal combination for fast-drying socks.
Types
There are four basic types of socks, roughly classified by occasion: Formal socks, everyday or casual socks, work socks, and sports socks.
Formal socks are generally worn with a suit or other formal dress. They are made from a combination of fine, natural materials such as cotton, linen, mohair, and silk and reinforced with synthetic fibres to ensure a perfect fit. They tend to be lightweight, with length varying from crew to knee length.
One wears everyday or casual socks with casual clothing. They are generally thicker and heavier than formal socks, and can be made from a wide range of materials. The length of casual socks varies from below ankle length to knee length, but are usually crew length.
Work sock must be durable and resistant to hard wear. They are made of cotton fibre for absorbency combined with Lycra for elasticity and often have the heel and toe reinforced by nylon. Winter work socks have added wool or acrylic yarns for warmth.
Sports socks are the most high-tech type of socks, using many combinations of natural and synthetic fibres to provide the best comfort, cushioning, and support, according to the kind of activity in which they will be used. These socks come in different lengths for different sports, ranging from knee length for football to below the ankle for track running. Sports socks often are reinforced at the toe and heel for increased durability and are reinforced at the ankle, arch, and calf area with elastic fibres to improve support and blood circulation. Additionally, they generally combine materials with wicking action and absorbent materials to optimise moisture evaporation and keep the foot dry.
Size
Size is an important factor in socks. A sock that is too large or too small creates discomfort and inconvenience, or even blisters and injuries.
Generally speaking, the more expensive a pair of socks is, the more choice there will be regarding the size. For example, the sizing of cheap socks is usually a range, such as 6-10 or 10-14, whereas more expensive socks come in almost as many sizes as shoes. Below is a conversion chart for easy conversion between UK, European, and US sock sizes.
| | | | | | | | | | | | | |
| --- | --- | --- | --- | --- | --- | --- | --- | --- | --- | --- | --- | --- |
| UK | 6 | 6 1/2 | 7 | 8 | 8 1/2 | 9 1/2 | 10 | 11 | 11 1/2 | 12 1/2 | 13 | 14 |
| Europe | 39 | 40 | 41 | 42 | 43 | 44 | 45 | 46 | 47 | 48 | 49 | 50 |
| US | 7 | 7 1/2 | 8 | 9 | 9 1/2 | 10 1/2 | 11 | 12 | 12 1/2 | 13 1/2 | 14 | 15 |
Special Socks
There are a number of special socks that fall outside the main categories that deserve mention. These include toe socks, which are socks that cover each toe individually, just as gloves do with fingers. A variation on this is mitten socks, which has one compartment for the big toe and one larger compartment for the rest. Both of the above categories can be worn with flip-flops.
Slipper socks, despite their name, are not really socks, as they are never worn with shoes. Thicker than normal socks, they sometimes have a material that improve traction on their soles and are used as slippers when inside the house.
Thermal socks also make up their own category. Used for mountain climbing or for other activities that involve walking in extremely low temperatures, thermal socks use the newest advances in material technology to thermally insulate the foot while still providing mechanisms for the evaporation of perspiration.
How to Buy Men's Socks on eBay
You can find a wide variety of men's socks on eBay, allowing a choice from hundreds or even thousands of socks from all around the globe. Photos and descriptions of the offered products and read a description provide an accurate sense for what you are buying, and aid in the decision-making process.
To see what men's socks are available, just go to the eBay homepage and type in a search for "men's socks". This will result in a list of available socks that can be sorted in many different ways. Alternatively, you can also navigate to the men's clothing section and choose the socks category, then filter the results by material, style, length, price range, colour, and more.
When buying on eBay, make sure you have a good communication with the seller. Contacting the seller is convenient and easy, and enables you to ask all questions you have about the socks before purchasing them, to avoid inconvenience and misunderstandings on both sides.
Conclusion
The sock is not a modern invention, but is thousands of years old. A good sock should protect the foot and keep it warm and drive. When buying socks, one should consider several things, including length, material, the occasion on which the sock will be worn, and size. Regarding length, socks range from under the ankle to above the knee, with ankle-length, crew-length, and calf-length being the most popular options. Most socks are made of a combination of materials. Natural absorbent materials such as wool and cotton insulate and evaporate perspiration from the foot, while synthetic materials reinforce the sock and make it more elastic and supportive.
The basic types of socks are formal, casual, work, and sports socks, with the names of the categories describing the occasion or use for the socks. A good sock should fit the foot snugly. More expensive socks tend to come in many sizes, while cheaper ones have fewer sizes that cover a range of foot sizes, and use their stretching capabilities to accommodate feet of different sizes. In addition to these, special socks available. All these socks are available for purchase on eBay, which provides wide variety and an easy and safe transaction.