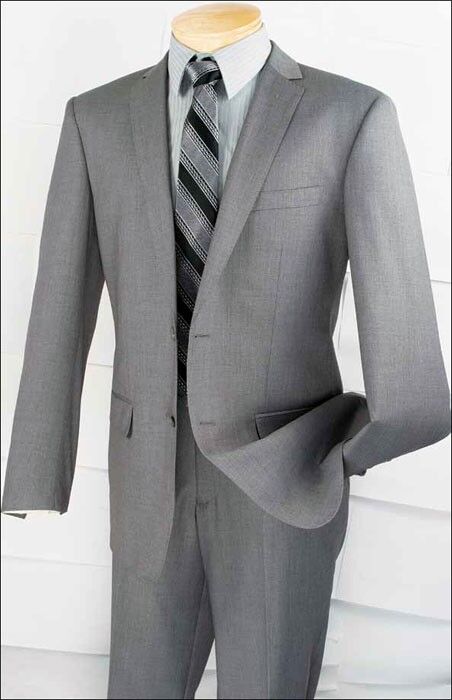 A suit is the ultimate male uniform. It is the pinnacle of men's clothing. Some men only have one or two suits for special occasions, while others may have a whole wardrobe full of suits, for every occasion. A suit is considered proper business attire in many jobs and a suit is certainly the most common dress for formal dinners, parties, and weddings. While the details of men's suits go in and out of fashion every so many years, the basic characteristics of a good suit remain the same.
Buying a suit is a purchase that requires a decent amount of research. A man should know at least something about the different styles of suits, fabrics used, common colours and patterns, as well as specific considerations regarding the jacket and trousers and the secrets of getting a correct fit. Men often hit their local high street for a new suit, but shoppers will find the widest selection of men's suits online, at eBay.
The Parts of a Suit
First of all, what does a suit consist of? Well, the basic suit consists of a jacket and a pair of trousers. However, jackets can vary in terms of design, as do trousers.
The Jacket
The suit jacket can be single or double breasted. A double breasted jacket has a wide overlap of fabric and two parallel series of buttons. A single breasted jacket is the most common type these days, and has a narrow overlap with just one column of buttons. A suit jacket usually has two or three buttons or pairs of buttons. There are jackets with four buttons, but these jackets are rare. Many jackets also have one or two vents. Vents are slits at the bottom of the jacket to accommodate easier movement. Double vented jackets are typically English, while ventless jackets are associated with Italian tailoring.
A suit jacket usually has at least one inner pocket and two outer pockets. Patch pockets are made of a separate piece of fabric stitched onto the jacket. Jetted pockets are considered more elegant and are inside the jacket while flap pockets are essentially jetted pockets with a flap covering the pocket. Hacking pockets are just like normal pockets but slanted. The jacket lapels can be notched, peaked or shawl-shaped according to fashion and occasion. Peaked lapels are generally considered more formal.
The Trousers
Suit trousers fall into two big categories: pleated trousers and flat front trousers. Pleated trousers are worn higher, around the natural waistline, while flat front trousers are worn at the hips. There are trousers with one, two, or even three pairs of pleats. Pleats help the trousers widen just under the waistline at the hips, and tend to allow for more movement. Men who are heavily built around the waist and hips tend to prefer pleated trousers. Flat fronts on the other hand look very elegant and accentuate the figure of tall and slim men.
Pleated or not, suit trousers should never be worn too tight, and two fingers should always fit around the waistline with no great effort. As far as length is concerned, the trousers should reach down to the wearer's shoes, but they should not create too many wrinkles. Trousers can be cuffed or uncuffed.
Formal Occasions
Most suits fall under the category of lounge suits. They come and many cuts, colours and fabrics. There are however occasions when a man may have to attend a formal event, in which case, he will have to conform to the rules of white tie or black tie. White tie is reserved for meetings between heads of state and tea with the Queen. A suit for a black tie occasion usually consists of a black jacket, black trousers, black bowtie, and various other accessories. Suits for such occasions are usually bespoke, which means that they are made to measure for a specific wearer.
Men's Suit Fabric
The vast majority of suits are made of wool. The main distinction is between worsted fabrics and woollen fabrics. Worsted yarns are combed before spinning, while woollen fabrics are not. Those yarns can be woven into many different weaves, such as merino, cashmere, angora, tweed, and gabardine. One measure of the quality of a fabric is the thread count. The general rule is that the higher the thread count, the better the fabric, but a thread count around 200 is usually good enough.
Flannel is another fabric for suits and can be made of wool, cotton or polyester. It's a very warm fabric, suitable for the winter but heavy and not very breathable, so it is not suited for hot climates and outdoor occasions under the sun.
Linen and cotton are popular materials for spring and summer suits providing coolness, although finely woven woollen fabrics can also be quite cool. The big disadvantage of linen is that it crinkles very easily.
Cashmere and silk are a couple of the more exotic and luxurious materials used to make men's suits.
Colours and Patterns
As far as colours are concerned, grey is the most versatile colour and can be worn on most occasions. If a man only owns one suit, then it had better be grey. Other all-time classics are black and navy blue, although black is probably better reserved for more formal occasions. Brown and olive suits are also getting more popular, while tan or cream are summer colours.
There is a great variety of patterns in suit fabrics. A popular pattern are pinstripes, which are thin vertical lines of a colour lighter than the fabric. There are different kinds of checks such as Glenurquhart and windowpane and then there is twill which is woven into diagonal lines, houndstooth consisting of jagged broken checks, and herringbone that consists of alternating diagonal lines creating a V-pattern.
The Right Suit for the Right Build
A man should choose his suit to fit his body type. Tall men look better in a single breasted jacket with three buttons. Side vents create a fuller silhouette, while pockets with flaps create horizontal lines which make the man look less tall. Cuffs on trousers also tend to minimise the impression of height.
Short men on the other side should stick to a one or two button jacket with long V to make them look taller. Rounder men should also stick to one or two buttons, while double or at least single vents help accommodate more volume and ensure comfort. They should also avoid flap pockets, cuffed trousers, and horizontal lines in general.
Size and Fit
Size and fit are of paramount importance. Even the most expensive suit will look ridiculous if it does not fit correctly. For this reason it is always advisable to have a suit adjusted to one's own body by a professional tailor. That said, when choosing a suit, the most important aspect is that it fits at the shoulders. This is one of the most difficult parts of the jacket to adjust.
Before a man buys a suit online, he should get his measurements taken, preferably by a professional tailor, but at the very least with the help of a friend and possibly a couple of online videos. Here follows a sizing chart with measurements for short, regular and long fit:
Fit

Chest (cm)

96.5

101.5

106.5

111.5

117

122

127

Short

Sleeve Length (cm)

61

62

62.5

63

63.5

64

64.5

Jacket Length (cm)

76

77

78

79

80

81

81.5

Regular

Sleeve Length (cm)

63.5

64.5

65

65.5

66

66.5

67

Jacket Length (cm)

78.5

79.5

80.5

81.5

82.5

83.5

84

Long

Sleeve Length (cm)

66

67

67.5

68

68.5

69

69.5

Jacket Length (cm)

81.5

82.5

83.5

84.5

85.5

86.5

87
Sleeves should come down to base of thumb, leaving one or two centimeters of shirt cuff visible. The waist of the jacket should fit tightly across the stomach as a fitted waistline enhances the shape of one's body.
How to Buy Men's Suits on eBay
There is a wide variety of men's suits available on eBay. To find them, just go to the eBay homepage and type 'men's suits' in the search box and press 'Search'. If you then go to the category 'Men's Clothing', you can further refine your search with filters by sorting the listings based on size, brand, price range, style, length, colour, and much more. Of course, if you already know what you are looking for, you can start off with a more specific search such as 'single breasted grey men's suit' or 'men's Ted Baker suit'.
When you have found a suit you like, you can click on it to see more pictures and read a description of the item. Make sure you also read the information related to buying method, payment, and postage options. When buying online it's very important to communicate clearly with the seller. To contact a seller directly, go to their profile page and click on the contact link to send them an email.
Conclusion
There is a suit for every man on eBay. Jackets come in many designs and different combinations of buttons, vents, pockets, and lapels. Check out Massimo Dutti for a great range of mens suits. Suit trousers are either pleated or flat fronted. There are arguments for and against each kind, but in the end it's a matter of taste. Formal occasions call for formal suits, be it white or black tie. Winter suits are usually made of some kind of worsted or woollen fabric, but can also be made of flannel. Spring and autumn suits can be made of either wool or cotton fabric, while linen is a very fashionable choice for the summer. A grey suit is almost always appropriate, but if a man has many suits there are many other colours and patterns to choose from. There are a couple of rules of thumb to help someone choose a suit according to his body type but at the end of the day, to get the best out of a suit it is necessary to have it fitted by a professional tailor.