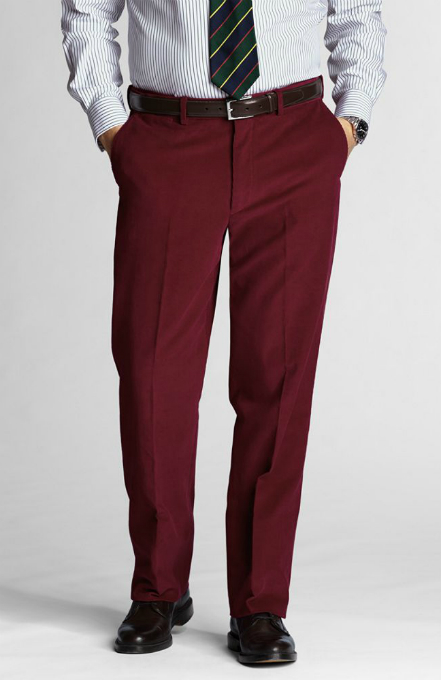 Trousers are among the oldest garments known to humankind. Though women also wear them, trousers are still strongly associated with men. Especially men in colder climates, men wear trousers for much of the day, every day. While their function is to protect their wearer from cold, rain, and other harsh elements, in this day and age trousers are not just about protection; they are also about fashion.
When looking for a pair of trousers, a man should always consider the occasion. One man may be looking for an elegant pair of trousers for a formal occasion, while another is looking for motorcycle trousers and still another is looking for the perfect sports trousers.
There are literally millions of trousers to choose from when shopping online. eBay offers a wide selection of men's trousers and a platform from which to buy them safely, securely, and easily. Equipped with information about sizing and the different kinds of trousers, such as formal, casual, jeans, sports, and motorcycle trousers, a man can make the right decision with confidence.
Trousers for Every Occasion
At its most basic, the category of men's trousers includes any garment worn on the lower part of the body that has two 'pipes', one going down each leg. Whether one's chief requirement is function, fashion, or a bit of both, there is a pair of trousers for every occasion.
Formal Trousers
Trousers worn on special occasions can be either a separate wardrobe piece or a part of a suit or uniform. Whether the occasion is a wedding or a formal dinner, formal trousers are what to wear. The main style distinction amongst formal trousers is whether they are flat-front or pleated. Pleats, or folds of fabric doubled back upon themselves, offer more room under the waistband, while flat-front trousers offer a snugger fit. Slim and tall people are generally well suited for flat-front trousers, while larger men may prefer the pleats for the room they offer.
Formal trousers are usually made of wool, a wool blend, or cotton blend, but can also include silk, cashmere, and other exotic materials. Formal trousers are usually held up with the help of braces, which are fabric or leather straps worn over the shoulders and fastened by buttons or clips to the waistband.
Casual Trousers
The vast majority of men's trousers fall into the category of casual trousers, which itself includes a variety of types and styles. While casual trousers also offer the choice between flat-front and pleated trousers, the further choices among casual trousers offer many different styles, including cargo-style trousers and chinos/khakis.
Cargo Trousers
Cargo trousers are wide-fitting trousers made of rugged materials for use outdoors. Their style origin is military trousers, but cargos have been popular for years as working and hiking trousers. The typical characteristic of cargo trousers are the large, usually pleated pockets along the legs, which usually feature a buttoned flap to keep items inside the pocket under rugged conditions.
Chinos and Khakis
The category of chinos and khakis can create confusion, as many people do not know the difference between the two. This is understandable, since the two terms are often used interchangeably. While 'chino' is the more widely used term in the UK, both refer to casual, light trousers made of twill, cotton, or cotton-synthetic fabric. The category of chinos and khakis includes a wide variety of styles, both pleated and flat-front, and usually in earthy shades.
Jeans
As trousers go, jeans are a category unto themselves. For many, in fact, they are not even considered a trouser. Jeans were invented as rugged, reinforced trousers for workers out in the American West. The first jeans used copper rivets to reinforce the most vulnerable parts of working trousers and to make them more durable. Jeans are available in many different colours, but the classic blue jeans remain the most popular. There are also a variety of fits, such as loose, regular, and slim fit, as well as innumerable different designs and models. Stone wash or dark wash, boot cut or straight leg, jeans appeal to nearly everyone, from schoolchildren to rock stars, from factory workers to royalty.
Motorcycle Trousers
Motorcycle trousers are trousers worn as part of a motorcycle rider's uniform. Their function is first and foremost to offer protection to the wearer against the elements and, more importantly, against the rough surface of the road in the event of a fall. A good pair of motorcycle trousers protects against both impact and abrasion: absorbing part of the shock when landing and staying intact when the rider has taken a tumble. These protective features are generally called armour. Armour mainly consists of padding and reinforcement in the major impact points, namely, buttocks, upper thighs, and knees.
Motorcycle trousers are traditionally made of leather, which offers superior abrasion protection and, together with padding, also protects against impact. While leather remains a popular, though relatively expensive, choice, modern motorcycle trousers are made of different synthetic fabric including Kevlar, known for its use in bulletproof vests. Fabric motorcycle trousers tend to be lighter and more comfortable than leather ones, but do not offer the same level of protection as is offered by a good pair of leather motorcycle trousers.
Sports Trousers
Special trousers are available for a number of different sports. For example, jogging trousers are casual sports trousers that are also known as sweatpants. Usually made of cotton, these trousers have an elastic band around the waist for support and a wide and loose fit that helps keep the legs cool while offering unrestricted movement.
Another variety of sports trousers is windpants, which are made of windproof polyester or nylon with a cotton lining. They protect against the wind and, though they are usually quite thin, provide decent insulation.
There are also many other types of sophisticated sports trousers made of synthetic materials, which give the trousers special properties. Such trousers can be waterproof or water-resistant, insulating or breathable.
Size
Size is a key consideration when buying a pair of trousers. Ill-fitting trousers are a nuisance for the wearer and can be an eyesore for the people around him. Size scales differ largely, not only between different countries and continents but also between different brands and designers, and even different models within one brand. Thus, to get a perfect fit in a pair of trousers, a man's best solution is to take his measurements, the most common of which are the waist and the inseam. The inseam is the distance from the crotch to the end of the trousers, while the waist measurement corresponds to the circumference of the waistband of the trousers and is measured above the hip bones and around the belly button.
Often the more expensive brands offer a choice amongst different combinations of waist and inseam. On eBay it is also possible to search by length in order to find a pair of trousers with a long, short, or regular length. Below is a sizing chart to give an approximate correspondence between sizes and measurements:
| Size | Waist measurement (cm) | Waist Measurement (in) |
| --- | --- | --- |
| XXS | 66-71 | 26-28 |
| XS | 71-76 | 28-30 |
| S | 76-81 | 30-32 |
| M | 81-86 | 32-34 |
| L | 86-91 | 34-36 |
| XL | 91-96 | 36-38 |
| XXL | 96-101 | 38-40 |
As mentioned earlier, it is always advisable to consult the specific brand's sizing chart. Of course, a pair of trousers that is too long can be shortened but the reverse is not possible, so one should always double-check size.
How to Buy Men's Trousers on eBay
Buying men's trousers on eBay is very easy and payment can be done in a number of safe, secure ways. To find trousers, just go to the eBay homepage, type 'men's trousers' into the search box, and begin the search. You will receive results from a wide range of different categories: from men's clothing to sporting goods to vehicle accessories. Digging down into each category, you can use different criteria to narrow down your search, such as material, style, and length, but also armour and special features. Of course, if you already have a more precise idea you can start off with a specific search, for example, for 'men's leather motorcycle trousers'. When buying trousers online, make sure to get the correct size based on your measurements. Check out Massimo Dutti for a wide range of men's trousers!
After finding the pair of trousers you wish to buy, carefully examine all pictures to be 100 per cent sure what you are getting. If a seller has stock photos on the listing, you can ask for photos of the actual trousers. To contact a seller, just go to his or her profile page and find the contact link.
Conclusion
There is a pair of trousers for every occasion. A formal flat-front woollen pair for that formal occasion, a pair of rugged cargos to go fishing by the river or hiking up the mountain, a simple corduroy for the office. Some people swear by jeans, whether loose, regular, or tight fit; others live in their chinos. Tastes differ, but there is a pair of trousers for everyone's liking. When shopping for protective trousers such as motorcycle trousers, it is vital to pay much attention to the level of protection it offers against abrasion and impact. Sports trousers make up their own category, with varieties of the trouser dependent upon the sport for which they are needed.
Sizing is of great importance when buying trousers. The best way for a buyer to be certain of getting the correct size is to take his own measurements and refer to the manufacturer's sizing chart. If measurements are not provided, ask the seller to measure the clothes before the purchase.
When a man wants to buy trousers, eBay allows him to do it easily and safely from the comfort of his house. Whether he is looking for a pair of formal trousers or a casual pair of chinos, heavy-duty motorcycle trousers, or just a pair of sweatpants, eBay has him covered.