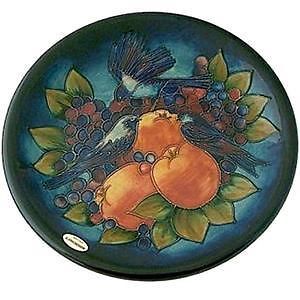 "Chargeour" is an English word that means "to load" or "that which is loaded". It is said that the word charger, as in charger plates was derived from the aforementioned English word. There is also a similar French word, "chargoir" that falls into the same category. Historians believe that charger plates became popular in the 19th Century, and have become a symbol of sophistication ever since. Some charger plates are plain with gold or silver finishes, while more contemporary chargers seem to have adopted a more decorative approach.
Moorcroft Chargers are amongst the more decorative types, and they amply represent the various beautiful designs that the Moorcroft family is known for. There decorative designs allow them to be versatile in their usage. In essence, they can be used in table settings as a standard charger plate or simply be placed on a rack and displayed as an ornament in any living room or gallery. Buyers who are interested in Moorcroft chargers should learn more about the Moorcroft family and their designers, as well as the correct way to use a charger plate, and the various alternate uses.
Moorcroft Designer Family
The tradition of Moorcroft designs started in the early 1900s. Between the company's founding and 1993, there were only four designers. William Moorcroft was the founder, and was also the main designer when the company began. He was an accomplished designer who had won many awards for his designs in pottery . His son, Walter Moorcroft, joined the company at age 17, where he benefitted from his father's knowledge and experience. Soon he became a skilled designer himself, and he took over the company when his father died, 10 years later.
In 1987, Sally Dennis became one of the company's designers, but she was already with the company for three years learning the Moorcroft way. Sally and her husband Richard Dennis left the company in 1993, but the 24-year-old Rachael Bishop joined shortly afterwards, and is still with the company. Many of the Moorcroft chargers found on eBay may be credited as being designed by "Sally Tuffin", which is the design name Sally Dennis used before she adopted her husband's last name.
Even though the founding fathers are no longer around, the traditional Moorcroft design techniques have been passed down through the small group of dedicated designers. This ensures quality and creativity in each design. The decorative designs of yesteryear are still elegantly applied to their chargers , lamps, jugs , vases , and other forms of Moorcroft pottery.
What are Moorcroft Chargers
A Moorcroft Charger is a plate charger made by the Moorcroft company, featuring their unique designs. A plate charger is an accessory that is used in the setting of a table. It resembles a plate, but is generally more elegant. Moreover, instead of being used to serve the food, it simply holds the plate that the food is served in. It can be thought of as a plate coaster. Some people may wonder about the need for a "plate coaster", and might consider it superfluous. But the truth is that a charger plate is used more for its decorative properties than for any functional purpose.
The first set of widely used charger plates were often made with a shiny, metallic finish. The shiny surface allowed the charger to reflect and complement other aspects of the table decorations, thus adding to the overall decor. However, as the popularity of chargers grew, more colourful versions began to emerge. This allowed decorator to easily blend them into a theme or colour scheme for an event.
Plate Chargers for Decorations
In recent times, charger plates are mostly employed at wedding receptions and other formal dinner engagements. They are primarily used for decoration, and are often selected in styles that are metallic or coloured, to match the wedding theme. They simply add a bit of flair to the overall decor. Aside from food, the bulk of most wedding budgets go into decorations. Charger plates as part of the table settings can be an economical way to add glamour. Additionally, some dinnerware sets are now being sold along with the plate chargers; this makes it easier to keep everything uniform.
Round chargers are probably the most popular, but some chargers are actually made square, while others have a flared edge. Moorcroft chargers are usually round, but their vivid colours and artistic designs fit well with any decor.
Ways to Use Moorcroft Chargers in a Dinner Setting
Before buyers seek to purchase Moorcroft chargers, they may want to decide how they plan to use them in a dinner setting. There is some debate as to which procedure is considered "proper", but the decision is really left up to the host.
Replacement Method
One point of view is that the chargers should be placed at each setting at the dinner table. However, they are only meant to serve as placeholders until the main course is served. The main course is generally served on plates that are almost the same size as the chargers themselves, so the chargers are generally removed at that point and replaced by the entree plates. The charger is not brought back to the table at any point in time, until, of course, the next dinner party.
Decorative Method
The decorative method is the same as the replacement method with one major difference. Instead of being removed before the entree, the charger is allowed to remain until dessert is served. For some reason, charger etiquette dictates that the charger may or may not be removed before the entree, but it should never stay through the dessert course. In the case of the decorative method, plate chargers are not meant to be mere placeholders, but rather are meant to act as a decorative enhancement for the table. Therefore, they are left there throughout most of the meal.
Other Ways to Use Moorcroft Chargers
Chargers can be used as a tray for a single or group candle display. This can then be placed on a mantle or at the centre of a table, depending on the setting.
Metallic chargers can be used the same way mirrors are used in the middle of a table. They can be placed beneath the centrepiece to reflect the lights and colours that are already a part of the decor. This display tends to add an extra bout of elegance and charm to any setting.
Colourful and decorative chargers can often be used as a candy dish or serving dish for finger foods and hors d'oeuvres. Some buyer simply collect Moorcroft chargers and display them on racks in their living room or study. They are not "used", but are meant to simply add to the decor of the room.
How to Buy Moorcroft Chargers on eBay
Buying Moorcroft chargers online can be tedious, but eBay simplifies the process. Start by performing a search for Moorcroft chargers from the eBay home page. When the results are loaded, you can opt to browse the displayed collection, or use one of several filters to narrow down your results and make the browsing process easier. Such filters let you search by material type, manufacture date, or the choice of "boxed" or "unboxed" chargers. When you have applied your desired filters, simply browse the results to find the Moorcroft charger that appeals to you, and then add it to your cart.
If you have a specific charger in mind, whether by year or designer, you can enter more specific search terms to further narrow down the search results to only those that are most appropriate to your needs. For instance, you could type " Moorcroft 1991 chargers" or " Moorcroft Sally Tuffin Chargers ". The first search term filters by the date of manufacture, while the second one filters by the designer. You can choose to combine multiple keywords in your search term, but that may narrow down the results too much, and thereby severely diminish your choices. Once you have made a decision and add the desired item or items to your cart, you can proceed to the checkout and make your payment.
Conclusion
Along with table centrepieces, chargers have become the focal point of many dinner table decorations. Moorcroft plate chargers are often chosen for their beauty, quality, and decorative element. Some people choose Moorcroft because they were recommended to them, while others choose them because they have seen their work in a luxurious setting before. Either way, buyers who are looking to source Moorcroft chargers can find great deals on eBay. Besides the "great deal" possibilities, the eBay website is also equipped with a powerful search engine and creative filters to make the buying process easier.
It is also a good idea for buyers to become familiar with the Moorcroft designer family, especially if they have a preference for a particular design. It also cannot hurt to learn more about the various types of chargers and how they are generally used. Buyers should learn about the basics of "charger etiquette", and the alternate purposes that they may serve; this knowledge may affect the final selection process on a Moorcroft charger design. With the different styles and designs available, buyers can now easily find Moorcroft chargers to suit their style, setting, and budget.