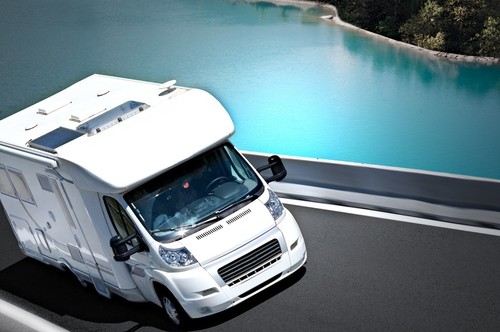 Although travelling by motorhome holds great appeal amongst people throughout the world, it is an especially popular pastime in Great Britain. Whether touring Lake District National Park or taking a cross-continental sojourn through Europe, the right motorhome makes the trip that much more special. One of the great features of motorhomes is that they are highly customisable, so the right motorhome depends on the owner's tastes and integration of the right motorhome parts.
There are different types of motorhome parts that serve many purposes. It is important for motorhome owners to have a good idea of the different parts available in order to get more out of their motorhomes. An overview of motorhome parts includes familiarity with the different motorhome types, parts for functionality, and parts for living on the road. eBay is a great source from which to buy motorhome parts. Consumers can shop successfully through this website if they are knowledgeable and informed about these parts.
Motorhome Types
There are different types of motorhomes based on how integrated the sleeping and living quarters are with the rest of the vehicle. Some parts are suitable for all types of motorhomes, while other parts are designed for only particular types. Consumers should therefore know the differences between motorhome types in order to understand which parts they need to purchase.
Standard Motorhome
Standard motorhomes feature sleeping and living quarters that are at least semi-integrated, if not fully integrated, with the driver's cab. There are three categories of standard motorhomes: alcove, semi-integrated, and integrated. In all cases, the motorhome itself includes an engine, so consumers may find that they need to purchase engine parts in order to keep the motorhomes running optimally.
Alcove Motorhome
An alcove motorhome has a distinct driver's cab with sleeping and living quarters mounted to the chassis behind it. The "alcove" name comes from the placement of sleeping quarters in a narrow area above the driver's cab. This raises the height of the motorhome, but creates additional space in the quarters.
Semi-Integrated Motorhome
Semi-integrated motorhomes are similar to the alcove type, but they do not have sleeping quarters above the driver's cab. They are therefore lower and require more efficient use of space. A couch may convert into a bed for sleeping.
Integrated Motorhome
The driver's cab on an integrated motorhome is virtually indistinguishable from the rest of the vehicle. These motorhomes resemble buses, and there can be a large range in sizes. Some integrated motorhomes are relatively small with efficiently designed sleeping and living quarters, and others are large and luxurious.
Camper Van
A camper van offers integrated living space. It is smaller than a semi-integrated motorhome and therefore features less space for sleeping and living. Many standard motorhomes have a shower and toilet, but there is no space in a camper van for these amenities. Many camper vans feature a pop-top roof to increase space for sleeping. It is also possible to fit a small kitchen into a camper van. The main appeals of a camper van are its small size and relatively low cost.
Caravan
A caravan is a type of motorhome where the living quarters are completely separate from the driver's cab. A vehicle tows a caravan behind it, so consumers should consider parts for their vehicles to be distinct from the motorhome parts. Many of the parts used for living and sleeping in other types of motorhomes are suitable for caravans as well. Caravans can vary a great deal when it comes to size, with some being quite spacious and others being smaller and requiring more efficient use of space.
Motorhome Parts
Motorhome parts fall into two categories: parts for functionality and parts for living. The former are parts that make motorhomes work, and the latter are parts that motorhome owners use for their own comfort while staying in motorhomes.
Motorhome Parts for Functionality
Motorhome parts for functionality may not be the parts that motorhome owners dream about when they imagine relaxing in the Lake District, but they are necessary to make motorhomes usable.
Towing
Towing parts are important for caravans. Parts such as cables and mirrors enable caravan owners to safely transport their living quarters behind their vehicles. Attaching a large cabin behind a vehicle can make it difficult to see surrounding traffic, so specialised mirrors are useful for broadening a driver's view. Cables are strong enough to tow caravans, but they also keep caravans from crashing into the attached vehicle when the vehicle brakes. Cables should also be able to transfer electricity so that braking lights on the back of a caravan light up when the vehicle brakes.
Electrics
Motorhome comfort depends on a steady supply of electricity. This is easy when the motor is running and creating electricity in the motorhome's battery. When a motorhome owner parks somewhere to spend the evening, maintaining an electrical supply can be somewhat complicated. Motorhomes therefore require electrics parts. Many campsites around the United Kingdom have electrical supply to which motorhomes can connect. It is therefore important that motorhomes have the right supply of inlets and outlets. For the times that electricity is not readily available, a motorhome should have a large battery that can connect to the motor for charging on the go. Consumers interested in environmentally-friendly electrical supplies may want to consider solar panels for their motorhomes.
Doors and Windows
Doors and windows are relatively basic parts, but they are necessary for easy use of a motorhome's quarters. Do-it-yourself motorhome design is a popular aspect of using motorhomes, and those interested in this facet may want to explore the different types of doors available in the market. Some motorhomes may not come with adequate ventilation, so consumers can add skylight/roof vent combinations to improve air circulation and let more light into motorhomes. Individuals planning to use motorhomes in colder weather should add thermal blinds to windows in order to improve insulation.
Lights and Reflectors
Lights and reflectors are important motorhome parts for safety and comfort. The living quarters of a motorhome require indoor lighting. Many motorhome owners use fluorescent tube lighting, as they stay cool and create light more efficiently. This makes them well-suited for motorhomes, where efficiency is a primary concern.
Motorhome owners should also make sure that the exteriors of the motorhomes have enough reflectors. Driving a motorhome is often more challenging than driving a regular motor vehicle, and reflectors help other drivers give motorhomes the extra space they need on the road.
Security
Just as homeowners generally lock their homes, motorhome owners should also lock their motorhomes. Security parts include door locks and alarms to alert motorhome users of intrusions. Drivers towing camper vans should use hitch locks to secure the cabins to vehicles.
Water and Waste
In addition to electricity, water is a key element to living in a motorhome. The three types of water are white water, grey water, and black water. The first is for drinking, the second for washing dishes and showering, and the third for using the toilet. Since camper vans do not feature toilets, they do not need the black water system. Grey water and black water systems are for disposal, while the white water is for supply. Colour coding the water helps avoid confusion about how it should flow throughout a motorhome.
No matter the type of water system, parts for water and waste should include hoses. Consumers can buy heat sleeves to keep these from freezing during winter camping. It is also important to insulate hoses in warm temperatures to keep them from weakening. Monitor panels can also be helpful for indicating the level of fullness in water tanks.
Motorhome Parts for Living
Motorhome parts for living are those that enable motorhome owners to comfortably stay in their destinations. Sleeping, eating, and relaxing are all important aspects of using a motorhome, and these parts allow motorhomers to enjoy these activities far from home without the need for hotels.
Sleeping
There are numerous options for sleeping in a motorhome. Many camper vans feature beds that convert from a couch into a bed, using a modicum of space. Those with more space in their living quarters may use bunks or fixed sleeping areas. The quality of the mattress is also important to comfortable sleeping in a motorhome.
Eating
One of the great pleasures of motorhome vacations is eating meals with great views. A good kitchen is therefore an important part of a motorhome. Almost every motorhome contains a kitchen, which can be quite functional while using little space. A good motorhome kitchen should have at least one stove, a refrigerator, and a sink. Some motorhome owners outfit their motorhomes with ovens as well. It is also wise to dedicate cabinets to kitchen utensils.
Relaxing
Whether on the road or parked at a scenic site, a motorhome should be a comfortable place to relax. Many motorhomes are therefore outfitted with couches. The couch may convert into a bed depending upon how much space is available. It may also be possible to attach a table to the floor of a motorhome for eating and playing cards. Some motorhomes also feature driver and passenger seats that swivel around to integrate with the living quarters.
Keeping a motorhome comfortable in various climes necessitates heaters and fans. It is possible to use ceramic fans that are capable of both heating and cooling. Some heaters require more energy than a battery can supply. Gas parts such as tanks, hoses, and gauges help deliver the right amount of propane to heat a motorhome. It also helps to outfit a motorhome with good insulation in order to regulate interior temperature.
Although it may not be a necessity, many motorhome owners like to watch television when stationed out in nature. TV reception parts such as satellite dishes enable them to do so.
Recreation
Motorhomes help users gain access to outdoor sporting. Owners may therefore want to outfit motorhomes with racks for bikes and kayaks. For those who want fresh air, an awning provides shade along the side of a motorhome. Awnings are great for grilling or simply sitting and reading outside the motorhome.
Buying Motorhome Parts on eBay
It is possible to buy motorhome parts from local and online motorhome retailers and shops that specialise in motorhome parts. eBay offers a large selection of motorhome parts, and it is easy to search the website for the parts that you need.
You can perform a search from an eBay page by using the search bar. Enter the term of the motorhome part you are searching for, such as "motorhome engine parts", into the search bar. When eBay presents the search results, you may choose to narrow the results by price range or other parameters such as seller and location. This can help you get at listings that are even more relevant to your search.
It is relatively easy to find a good bargain on motorhome parts when you shop on eBay. You can save even more money by buying from a local seller. To find local sellers for the parts you are looking for, specify a preferred distance from your postcode within which sellers should be located. The closer the seller is to you, the less shipping is likely to cost.
Conclusion
Using a motorhome is a great way to travel because it can bring the comforts of home to beautiful and isolated places. The right motorhome parts help owners get more out of their motorhomes. Which parts consumers buy sometimes depends on whether they own a standard motorhome, a camper van, or a caravan. There are also parts that are appropriate for all types of motorhomes. Certain parts, such as electrics and water and waste parts, are necessary for a motorhome to function. Other parts, such as those for sleeping, cooking, and recreation, enable owners to mould their motorhomes to their preferences.
eBay is a good source from which to buy motorhomes, and shoppers are more likely to get the parts they need if they know what to look for. It also helps if shoppers know how to search eBay and find local sellers on the site. This makes eBay a site that helps motorhome owners enhance their recreational vehicles and enjoy them just the way they want.