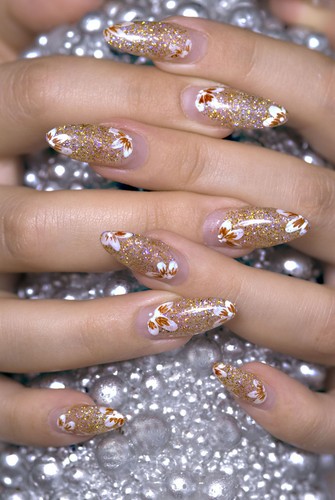 Nail decals include any applicable nail art such as stickers, paste art, and transferable water decals. Usually nail decals are designed in a shape or pattern and intended to be transferred either directly onto the nail, or onto a base coat of nail polish. In most cases, nail decals are available as an easy alternative to having nails professionally manicured and painted.
Nail decals are available in various qualities and styles for both kids and adults, and can be purchased in single applications and large lots, depending on the place of purchase and preferences of the buyer. Nail decals can be purchased in drugstores, nail salons, online stores, and speciality health and beauty stores. Before making a choice, buyers should consider the style of nail art they are purchasing, the cost of the nail decals compared to their budget, as well as how long they would like it to last.
Nail Decal Styles
Nail decals are available in a variety of styles, but mostly the style depends on the method of adhesion used for the art. For example, foil adhesives often cover the full nail while stickers and water applications can be complex designs that show the actual nail beneath. Most nail decal styles are designed to be applied onto a base coat of nail polish in order to avoid causing damage to the actual nail with glue. Some can be applied directly onto the nail, which is more practical for women who do not like to apply nail polish or who do not have the time. Transferable styles are the most commonly called decals, however, depending on where they are purchased, how they are purchased, and the exact style, a range of other nail decorations can also be labelled as nail decals. Usually a true nail transfer is labelled as 'transfer' or 'water applique'.
Foil Adhesives
Foil adhesives are a very common type of nail decals and can be found in a range of qualities and quantities. In most cases, foil adhesives are sold in large sheets that may or may not have glue already applied to the back. These can then be peeled off the sheet or cut out to the shape of the nail and applied or glued onto the nail. Foil adhesives are often somewhat shiny and not always appropriate for everyone or for every occasion.
Water Transfers
Water transfers, water appliques, or water based stickers are other popular forms of nail decals. These are similar to stickers in that they can be applied directly to a base coat of polish to add an intricate design. Usually these appliques must be soaked in water for thirty seconds and then applied directly to the nail for a few seconds longer. The result is a design, pattern, or shape in the same image as the applique, which can last for several days to a few weeks. Most women should purchase a few basic colours of nail polish to use as a base coat with water applications as well as a clear top coat to protect and preserve the applique. Without the top coat, the application can quickly become smudged and wash off in water.
Stickers
Stickers are one of the most common nail art decals but should definitely be used with care. Applying stickers to the actual nail can cause some damage, but is more likely to result in the nail sticker coming off after a few hours. It is important to apply a neutral base coat before applying stickers and also to make sure that the sticker does not overlap the cuticle or any part of the skin. Stickers are popular because they are easy to apply, come in many shapes and sizes, and can range from clear to brightly coloured. Styles include partial shapes, patterns, cut-out designs, as well as full nail designs that mimic professional nail polish.
Striping Tape
Striping tape is usually sold in rolls or sheets that can be cut to the desired length. This tape is essentially a long and thin sticker that can be used to add geometric designs to the nails in strips or patterns. Striping tape should be cut to the desired length, applied across the nail, and then sealed in with layers of clear topcoat. Usually striping tape requires a good nail polish base in order to be pulled off effectively, and can also be paired with other decals including stickers, bows, and patterns designed for being applied to the nails.
Nail Wraps
Nail wraps are common and popular as an easy way to add decoration to the nails. Some wraps feature pre-glued backing while others require nail glue. Nail wraps are simply wrapped around the nail and then trimmed to fit. These are most similar to full nail stickers and water appliques but are often sold specifically as 'nail wraps', and usually by top designers including Sally Hansen.
Other Nail Decals
There is a wide range of styles and designs for nail decals and among them are beads, gems, glitter, small plastic baubles, and a range of other products. Usually if it is available to be applied to the nail then it is a nail decal. Options range from the very small to the very large and can include full nail tips or very small stones intended for creating a pattern or adding small accents to the nails.
| Nail Art | Description |
| --- | --- |
| False Nails | Can be self-adhesive or require glue; available in a range of lengths and patterns |
| Nail Tips | Fake nails applied to the tip of the actual nail |
| Stickers | Stick-on applications in a variety of shapes and patterns; usually made of vinyl |
| Water Transfers or Appliques | Ink or other transferable design that must be soaked in water and applied to a base coat of nail polish |
| Stick-On Art | Any of a range of gems, jewels, stones, beads and more that can be glued or stuck onto the nails |
| Wraps | Nail decals that can be cut and applied to cover the nail; often mimic nail polish |
| Striping Tape | Thin vinyl strips with adhesive backing used to design a pattern onto nail polish |
| Foils | Similar to wraps except usually made of a thin foil substance |
Each of these nail art types can sometimes be classified as 'decals' but most commonly water transfers or appliques are used for the term. Wraps, foils, stick-on art, stickers, and striping tape are also commonly labelled as decals, while false nails and false nail tips are only very rarely sold under this label. Generally it is a good idea to check the description to ensure that the nail decal uses the application method that is preferred by the wearer.
Using Nail Glue vs. Stick on Decals
Many nail decals come as stick-on, with glued adhesive already on the backing or as simple soak and apply, or peel and apply with no glue. Other nail decals are sold without the adhesive backing, meaning that they must be used with nail glue. Both methods have their own pros and cons so buyers should decide based on what is most appropriate for them. Peel and stick versions are usually less messy but are likely to come off more quickly as the glue gives out.
Choosing a Design or Pattern
Choosing a nail decal should depend on where and how the decal is intended to be used. For example, many decals are quite large and very obvious, which makes them unsuitable for wearing to work. These decals are often excellent choices for weekend wear, for wearing to clubs or when going out, or for wearing to parties. Many decals are also very subtle, cute, or simply fashionable.
Choosing a style that is appropriate for the lifestyle of the wearer is important for finding usable decals. Buyers should check with any work areas to see what is and what is not allowed, check to see how well the nail decals stand up to specific usage, and how long the decals are intended to last. Basic considerations include the appropriateness of the style, the durability of the decal, as well as what the decal is intended to be used for.
Considerations for Kids' Nail Decals
Many nail decals come in kids' sizes and styles but it is important to check a few things before purchasing decals for young children. Many nail stickers are sold for babies as young as a year old, but not all of the designs are actually appropriate for every child. Buyers should check the amount of glue, and remember to avoid using nail stickers on young children if they tend to chew on their nails, suck at their thumb, or do any other activity that could lead to the decal being chewed on or swallowed.
Decals are most appropriate for girls who are four and up. A variety of patterns including Disney princesses, cartoons, Hello Kitty, and more are all available for young girls. Buyers should check for different styles and look for smaller designs that do not fall off easily. Choosing to add a topcoat of clear nail polish over the nail decals can also help to improve their longevity.
Buying Nail Decals on eBay
eBay is a great place to purchase nail decals of all shapes and sizes. With every style and design, and products ranging from top of the line designer to budget wholesale lots, buyers can find literally any type of nail decal on eBay. If you are looking for nail decals on eBay you should consider what style you are looking for, any specific design, if any, that you want, as well as when you want the product to arrive.
You can search for 'nail decals' on eBay or search for something more specific such as 'owl nail decals' or any search term that appeals to you. Once you find something that you would like to purchase, read the description to ensure that the product is what you think it is, and then check the shipping time to make sure the nail decals can be shipped before you need them.
Conclusion
Nail decals come in a range of sizes and styles including nail wraps, foil adhesives, vinyl stickers, shaped and patterned stickers, designs, gemstones and beads, and a range of other styles. Most women use nail decals to add a professional look to do-it-yourself nails by adding shapes, patterns, and longer lasting colour to their nails. Styles, patterns, shapes, designs, and colours all vary, with options ranging from simple one colour sticker nails to three-dimensional objects that can be glued onto a base coat of nail polish.
Buyers should consider what they are looking for based on where they intend to wear the nails, what their lifestyle is, and of course, what is appropriate for the occasion. Many nail decal styles are appropriate for everywhere but many are not so it is important to consider before making purchase. Finally, buyers should look into sizing options including pre-sized and adjustable, as well as adhesive options including stick-on and decals that are applied using glue.