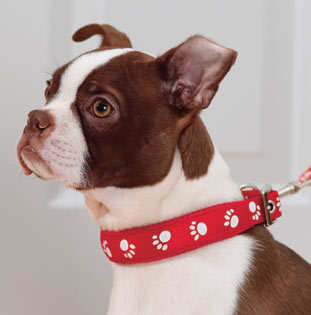 Dog walkers know how important it is to buy the right collar for their pet.
There are many different dog collars available on eBay, including those that wrap over the muzzle and keep the dog's mouth closed and stopping them from pulling on the lead. Others are designed to fit around the dog's neck, while coloureddog collars, plain dog collars, small and big dog collars, padded or unpadded means that there is a type of dog collar for every requirement, breed and budget.
This guide will primarily explore padded dog collars. These are essentially inbuilt with padding to cushion the feel of the collar around the dog's neck, to stop it rubbing against their skin and causing chafing. This guide will look at:
Origin of padded dog collars
Features of padded dog collars
Customisation options
Benefits and concerns
Most importantly, this guide will talk the reader through how to buy the right padded dog collar on eBay and will present the user with a variety of options and purchasing decisions to make.
Origins of Padded Dog Collars
Dog collars have been around for centuries, and their roots as an individual and distinguishable item can be traced back to the ancient Egyptians. Ancient murals show owners controlling dogs using leads and collars made of natural substances such as rope or reed.
In ancient Greece, dogs were harnessed and controlled using leather collars that incorporated small spikes in the design. The Romans often used collars to control both small pet dogs and larger animals.
In later centuries dog collars became more substantial and were used to train dogs to fight as well as used for ostentatious displays of wealth. Henry VIII is believed to have tied a bait collar around his dog's neck, made of sharp prongs of metal that could kill other animals if they decided to attack.
Since then, dog collars have become more flexible and softer in material. For example, most dog collars on eBay are made out of bendy material that can be tightened and loosened depending on the size of the dog's neck. This guide will explain the main features of padded dog collars.
Features of Padded Dog Collars
There are many common features that all padded dog collars share. These include:
Flexibility of size
Easy to put on and remove
Durable and long-lasting
Bright colours
Padded on the inside
However, not all padded dog collars are the same, and there is a lot of variation when it comes to buying padded dog collars from an online bidding site such as eBay. This is because, unlike various brick and mortar shops on the high street, eBay stocks nearly everything on one website from hundreds of different sellers.
Some of the main padded dog collars include:-
| Type of collar | Brands include: |
| --- | --- |
| Padded (neck) dog collar | 3 Peaks, Ancol, EzyDog |
| Padded (muzzle) dog collar | Halti, Nuts About Mutts, Trixie |
| Padded (coloured) dog collar | Ancol, EzyDog, Ferplast |
| Padded (Plain) dog collar | 3 Peaks, LondonTan |
| Padded collar with Lead Loop | Halti, Ancol, Hunters |
| Padded collar with Light Reflection | EzyDog, Home Fusion |
Padded Neck Collars
Padded collars that fit around the dog's neck on eBay are made to stretch to fit the width of the dog's neck. As a result, they are elasticated and adjustable and the user can see this when it comes to brands including:
Padded dog collars that fit around the dog's neck often have a heavy duty snap fastener in place to reassure the owner that the dog will be kept on its lead effectively.
Padded Muzzle Collars
Other types of padded dog collars include the muzzle collar, which is made to fasten behind the dog's neck with the lead loop normally underneath the dog's chin. This padded dog collar is useful for boisterous dogs or for dogs that are being trained to behave correctly when walking to heel. Popular kinds of muzzle collars come from brands including:
Halti
Nuts About Mutts
Trixie
These muzzle dog collars let the dog pant, eat and drink but restrict the loud barking that they may emit when coming into contact with strangers.
Other Kinds of Padded Dog Collars
Most padded dog collars are in bright colours, as seen on eBay. These help the dog to stand out and be visible to owners. For example, if the owner let their dog off the lead to run about in a field, they could easily retrieve the dog from a distance by recognising the brightly coloured collar it was wearing. Brands specialising in coloured dog collars include Ancol,EzyDog and Ferplast.
There are also many plain padded dog colours available on eBay. For example, 3 Peaks and LondonTan make padded collars in tan, black and grey shades. These come with everything a normal padded collar would have – a lead loop, adjustable strap and padded inside – but do not make these in bright colours. If the owner frequently took their dog out for walks and did not let their dog off the lead, plain dog collars might be most suitable, as they do not need bright colours to identify their dog from a distance.
In terms of colour, padded dog colours tend to come with light reflective strips. There are several brands specialising in this. These include EzyDog and Home Fusion. Light reflective dog collars normally have a thin reflective lining stitched in to the brightly coloured collar, and this helps visibility in dim light or at night.
Customisation Options of Padded Dog Collars
Padded dog colours also come in different sizes on eBay. There are Small dog collars, for instance, roughly 30-36cm / 12-14" in width, and larger sizes also.
Because padded dog collars are adjustable anyway, the user has the freedom to customise the size of their dog collar easily and can even change it if they have multiple dogs that they walk at different times. For example, a professional dog walker can have a supply of dog collars and can re-adjust these each time they walk a different dog.
Sizes of padded dog collars include:
XXS (280-301mm)
XS (309-340mm)
S (250-390mm)
M (403-453mm)
L (468-528mm)
XL (545-615mm)
Padded collars are available for specific dogs as well. For instance, if the user looked at the first couple of pages of search results, they would find entries relating to specific dogs such as Greyhounds and Jack Russell Terriers. These padded dog collars have been designed to control even the most excitable of pets, and the fact that they have their own padded dog collars implies that every dog needs a different amount of control and support given to them through their dog collar.
Benefits of Padded Dog Collars
Wearing a quality padded dog collar from eBay that fits the animal is beneficial for both owner and dog. It helps the dog stay under control and on the lead, and helps the owner feel reassured that the dog will not run away or get into fights with other animals.
Advantages of padded dog collars include:
Loop leads stop the collar slipping off.
The collar will not pinch the dog's skin, because it is padded.
Adjustable straps make it the right fit for the dog.
Collar does not choke or pull the dog's neck.
Effective at keeping boisterous dogs under control.
Padded collars stay in position for long periods of time.
Light-reflective padded collars keep the dog safe.
Concerns of Padded Dog Collars
Like any product on eBay, there are considerations to weigh up before committing to buy.
Look around and use the expert opinions on eBay to make sure that the collar chosen is not poor quality that may fall apart after very little use. There have been concerns with some dog collars from high street stores that they wear too quickly and are not an investment because the owner has to keep replacing the collars. Therefore, using the site eBay will help eradicate this issue and reassure the buyer that there are expert sellers out there who are ready to answer questions and help the buyer find the right collar for their dog.
Conclusion
It is clear that buyers have lots of choice when it comes to buying a padded dog collar on eBay. Unlike brick and mortar stores, with limited supply of this item, eBay has thousands of items that can be filtered down in the search engine to browse properly.
You might decide to purchase a dog collar from authorised sellers on eBay who have received positive feedback and have a good reliability rating. However, you may conversely decide to buy from local sellers, to save time and money in the delivery process and decide to purchase a bundle of many products at once. This is a cost-effective solution and the discounted prices make it a popular one for many users. In addition, many products are delivered with free postage and packing, saving the buyer money.