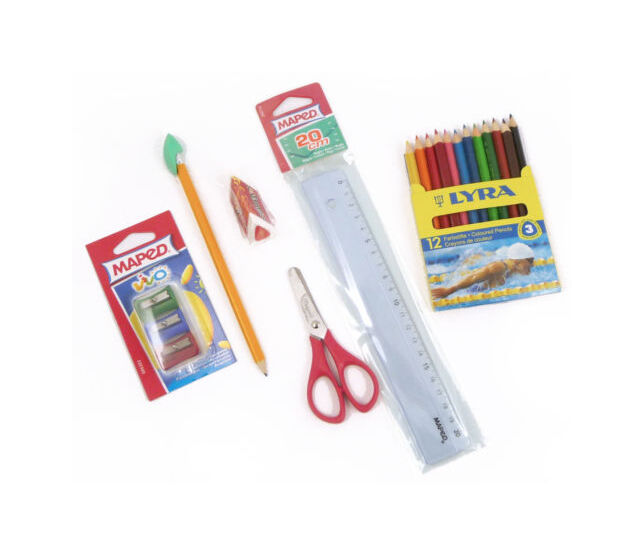 Every child loves to draw, colour, and write. From early toddlerhood right through to school age, pens, pencils, and crayons tend to be a part of every child's regular activities, whether at home or at school. Craft supplies for children like pens, pencils, and crayons make for a wonderful birthday or Christmas present. Whether buying for your own child or for a young relative or family friend, consumers have quite a lot of options.
eBay is a popular choice for those looking to purchase children's art and craft supplies, especially pens, pencils, and crayons. The selection is extensive, and buyers can shop from the comfort of their home computer or mobile device anytime they wish. With regular alerts and updates, they can keep an eye out for their craft supplies at a competitive price. To ensure value for money, it helps if consumers have an understanding about the age suitability of these types of art supplies and the different types of pens, pencils, and crayons that are available.
Shopping for Pens, Pencils, and Crayons on eBay
The best way to find pens, pencils, and crayons on eBay is to type this into the search bar. This gives you an overall idea of what type of art and craft supplies are available for sale. To search for something more specific, like Crayola washable crayons or glitter pens, simply type your desired phrase into the search bar. eBay also allows you to search for pens, pencils, and crayons by their condition and price range.
Pens, Pencils, and Crayons for Different Ages
Children of all ages love to write with pens, pencils, and crayons. To help with their development, it is ideal to allow children to use crafts that are age appropriate. A two-year-old given an ink pen to draw with is likely to find it too difficult to use. The logical development process for children involves starting out with large crayons that are easy to use and hold. They can then move on to using pencils to improve fine motor skills of drawing and colouring in. Finally, once they have the manual dexterity and hand strength, children can enjoy colouring in, drawing, and writing with pens.
| | |
| --- | --- |
| Writing Tool | Description |
| Crayons | Ideal for children 14 months to 5 years; large, easy to hold, requires minimal dexterity and hand strength to use |
| Pencils | Ideal for children around 4 years and up; requires greater dexterity and hand strength to use; easier to use than pens |
| Pens | Ideal for school-age children; not normally introduced to children under 5 years; requires the ability to hold the pen correctly in order to write or draw |
Children benefit greatly from spending time drawing, colouring in, and writing. Giving a child age appropriate art supplies helps with their development and allows them to be creative, without getting frustrated.
Buying Pens
Pens are generally used by school-age children. Pens do require some level of manual dexterity and hand strength in order to use them effectively. However, there are a range of different types of pens available, suitable for children's craft activities of varying ages.
Different Types of Pens
A wide number of children's craft brands make pens of varying types, designed for use at different stages of childhood. Popular pens include permanent markers and felt tip pens, ink pens, fabric pens, and glitter pens.
Permanent Marker and Felt Tip Pens
Permanent markers should really be reserved for older school children. As their name suggests, they are permanent, making it difficult to remove from skin, clothing, fabrics, walls, and furniture should a toddler get hold of one.
On the other hand, felt tip pens are a far more suitable choice for children over permanent markers. Felt tip pens are relatively easy to use with a good selection of bright, vibrant colours to choose from. Washable felt tip pens may be a suitable option for a young child who enjoys using them. Should the child draw on themselves, the furniture, walls, or their clothing, washable pens are easily cleaned and do not leave any permanent marks.
Ink Pens
Ideally used by school-age children, ink pens have a narrow tip and are designed for more accurate writing or drawing. They require good hand control to use effectively. Ink pens include the commonly available ballpoint pen, an inexpensive and everyday use pen, and fountain pens. Fountain pens are not suitable for children as they are expensive and are difficult to use with accuracy. Popular pen brands includeBic and Parker.
Fabric Pens
Designed to be used on fabrics, fabric pens are a fun and creative way to make all sorts of arts and crafts. With fabric pens, children can decorate their own T-shirts or hats, make special pillows, and do art and craft projects using all sorts of fabrics. Berol offer a good selection of quality fabric pens in bright, bold colours suitable for children to use.
Glitter Pens
Little kids, especially girls, love glitter pens. Their sparkly ink is available in a range of colours. Consumers can buy glitter pens with glue in them to use on artwork, or even glitter pens to use on fabrics.
Buying Pencils
Children love to draw and colour with pencils . In a wide range of types, pencils are relatively inexpensive to purchase. They come in a vast range of colours, and one can choose to buy a small 12 pack or a large 100 pack of varying coloured pencils.
Different Types of Pencils
Pencils are available in a wide range of colours, sizes, brands, and qualities. Children's art pencils tend to be inexpensive and readily available to purchase on eBay. The greater the quality pencils, the more expensive they can become. The popular types of pencils include lead pencils, colouring pencils, watercolour pencils, and personalised pencils.
Lead Pencils
Probably the most common type of pencils available, lead pencils are available in a range of gradings, from soft graphite to hard graphite. No longer made from lead, these pencils are made from graphite. HB, a medium grade pencil, is the most readily used pencil.
Colouring Pencils
The more popular type of pencils, colouring pencils come in a range of colours. Ideal for older children as opposed to young toddlers, pencils make for a great gift for any child, whether they are a boy or girl. Popular colouring pencil brands include Lyra,Staedtler, and Crayola.
Watercolour Pencils
Watercolour pencils are unique pencils that allow one to blend colours together to look similar to a watercolour image. Faber-Castell and Derwent are two popular brands of watercolour pencils. Watercolour pencils can be quite expensive to purchase and would suit an older child who enjoys drawing and creating pictures.
Personalised Pencils
Useful for school-age children, personalised pencils are specially engraved with the child's name on each individual pencil. This is handy to help a child keep track of their pencils at school. Getting pencils personalised can be more expensive than purchasing non-personalised pencils. However, eBay offers a good selection of personalised pencils at competitive prices.
Buying Crayons
Crayons are usually the first thing young children start drawing with. Large, easy to hold, and easy to write with, crayons come in a range of different types. Relatively inexpensive to purchase, crayons are the ideal choice for any young child.
Different Types of Crayons
Made from non-toxic wax, crayons come in a range of different types, from traditional colouring book crayons to user-friendly washable crayons and creative fabric crayons.
Traditional Crayons
A favourite for all young children, traditional crayons are the larger sized crayons commonly used for colouring in books and drawing. Generally about 12 to 15 centimetres in length, they are covered in paper with a blunt tip and designed for small hands to easily grasp them. Available in more than 100 colours, they are a popular type of crayon to purchase for any child.
Washable Crayons
Because crayons are generally used by small children and toddlers, crayon markings can often get onto furniture, walls, and other surfaces where they do not belong. For this reason some brands, such as Crayola, have created washable crayons. These are easily wiped off from a wide range of surfaces with a damp cloth, making them a favourite choice for mothers with creative toddlers.
Fabric Crayons
A great craft activity for any child, fabric crayons are simple to use and allow children to decorate their own clothing and fabrics. The child draws with the crayons onto a piece of paper, and then this is simply ironed onto the fabric. Fabric crayons are permanent, and fabrics are able to be washed in the normal way.
How to Buy Pens, Pencils, and Crayons on eBay
Once you have found the desired pens, pencils, or crayons you want to purchase on eBay, be sure to read the listing description carefully. Take note of the seller's preferred payment methods, delivery options, and their feedback rating. PayPal is the recommended method of payment as it is a secure online payment system where you can quickly and easily transfer money directly from your bank account or credit card. Delivery options may include regular shipping, track and trace shipping, or you may be able to pick the item up in person if the seller is local to you.
Reputable sellers are those who have been awarded top-rated seller status. Only those eBay sellers who consistently achieve 4 and 5 star ratings, receive excellent feedback, provide accurate listing descriptions, and ship items quickly are awarded this status. If you want to buy with confidence on eBay, be sure to buy items from these top-rated sellers.
Conclusion
For young toddlers, crayons are a great option as they allow the child to easily experiment and learn the necessary physical and developmental skills required to write and draw accurately. Not only available in the traditional colouring book type, crayons also come as washable types and those used on fabric.
Pencils are a usual favourite of older toddlers and young school age children who enjoy creative art and colouring in. Consumers can choose from a wide range of pencils, including traditional lead pencils, colouring in pencils, watercolour pencils, and personalised pencils. Many school age children like to get creative with different coloured pens, including permanent markers and felt tip pens, ink pens, fabric pens, and even glitter pens.
For those who choose to buy pens, pencils, and crayons on eBay, they can use the simple search methods eBay offers, useful buying tools, and reputable sellers to find their desired children's art and craft supplies at a competitive price.