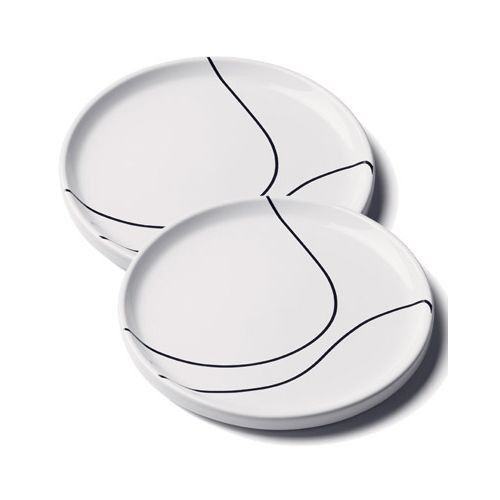 Buying plates may sound like a perfectly straightforward pursuit, but there is a key factor which needs to be covered. This is the split between plates for everyday use as kitchenware, and plates that are intended as collectors' items. The distinction is important as there are obviously two very different groups of buyers: somebody who is looking for plates to eat off will not be interested in a collector's plate, and vice versa. Furthermore, the former category contains subdivisions of its own.
About Plates
Although the vast majority of everyday plates are divided simply by size and material, there are also various speciality plates which are intended for specific purposes: sometimes a set of plates will be designed to interlock when placed together in a certain manner, for example, and thereby decorate a party spread. There are also plates which contain a single large area and one or more smaller spaces - essentially conjoined plates - which are designed primarily for holding sauces such as dips. Unorthodox plate designs such as these are uncommon, however, and are unlikely to appear in a casual search of eBay.
Choosing a Plate
When buying plates for food, the decisions are largely down to individual tastes and the designs of the respective kitchen and dining room. The items for sale or auction on eBay are liable to range from cheap disposable plastic plates to more expensive fine china tableware, with many other varieties in between. Be advised to make good use of the aforementioned links in the left-hand column that limit displayed results to those which fulfil a certain criteria. By focusing on plates of a certain size or material it is possible to find the most suitable item in a matter of seconds. Also, be aware that both single plates and entire sets are sold on eBay; If looking specifically for either one or the other, it is possible to search within the section by entering either "plate" (note the singular) or "plate set" into the search box. This is the quickest way of paring down the results to those which are most relevant. Collectable plates are divided up differently. Instead of selecting the size or material, it is possible to select the manufacturer and whether the displayed items are boxed or unboxed. Collectors' plates obviously have far more variety than kitchen plates and so it is advisable to perform searches on certain terms within the section. A list of suggested searches will be presented near the top of the page and will include popular themes such as fairies or Peter Rabbit; beyond this, it is down to each individual buyer to find whichever type of collectors' plate that is being looked for. Although there will be literally thousands of collectors' plates listed on eBay at any one time, the specific designs that are available will vary from month to month. The most popular subjects - plates depicting flowers or rural scenes, for example - are always likely to be listed, but if looking for more specific designs, be prepared to return to the site and perform the same searches regularly over a period of time before finding the items that are being looked for. Collectable plates are liable to be sold by people who are collectors themselves and are disposing of their unwanted items. Because of this, if having obtained one plate, it is advised to look at other listings from the same seller, as there is a chance that similar items will also be for sale at the same time. It would be unfortunate to oversee another collectible piece belonging to the same set. Moreover, if already having had a positive experience with a particular seller, there is a higher sense of certainty and confidence when browsing through the listings of that given seller.
Condition of Plates
One issue which many new users of eBay may find themselves worrying about is the condition of the items on which they are bidding. In the vast majority of cases the collectors' plates that are available will have had photos uploaded by their sellers, but as the quality of these is often low, feeling concerned about any unseen scratches, grazes or blemishes that will not be visible until the item has arrived is only natural In fact, eBay has provisions in place to prevent any misleading selling of items, and so if a plate is billed as new, then that should be the case. If a plate is used, however, and the description does not go into detail about its condition, then the seller can always be contacted for more information on the matter. The more expensive plates available on eBay are liable to be sold by experienced dealers, and so there is little reason to feel concern about this matter.
Prices
As noted above, the prices of food plates will vary considerably, but there is no need to buy expensive items unless looking specifically for designer kitchenware; there will never be a shortage of inexpensive items that will fit everyday needs perfectly. If looking for collectable plates, however, then the prices of the listed items may be more of an issue. Generally speaking there will be a large number of inexpensive collectors' plates, with a few items alongside them that are going for a higher price. Collectable plates on eBay may sometimes have prices that range into the hundreds, but these are a definite minority; most will fit within even the most modest budget. If a plate is up for auction, rather than being sold directly, then this obviously has a chance of raising the overall price. However, this is less of an issue than might be expected: it is very common for collectable plates to have no more than one bid when the auction is over. Do not let the potential of stress and raised prices resulting from auctions act as a deterrent to placing a bid on a desired item. One thing that should be borne in mind, however, is the cost of postage and packaging: due to the fragility of plates, this is likely to add a few pounds, but not more, to the overall price. More expensive plates will come with higher postage prices, as will sets of plates. It should also be remembered that, with all items on eBay, the displayed listings can easily be limited by price.
Find Plates on eBay
The first thing to do upon visiting the eBay home page is to decide which kind of plate to look for. For ordinary tableware, click the All Categories box, select Home, Furniture & DIY and then click the search button. Select Cookware, Dining & Bar from the left-hand column, followed by Tableware, Serving & Linen and finally Plates.. At this point, additional options of choosing the size, material, and condition of the plates that are displayed will be given. Collectors' plates are located in a different section. At the home page, click the All Categories box, select Collectables,, and then click the search button. Select Decorative Ornaments/Plates from the category list on the left, and then select Collector Plates.. This will lead to a section devoted specifically to collectable plates.
Conclusion
Although a plate is a perfectly simple item, buying one is - as can be seen - a sometimes complicated process. There is a large amount of luck involved, as a visit to eBay at any given time will reveal a large number of items that will inevitably fail to suit the purposes of any one buyer. Every plate collector will be different, and their tastes will not necessarily be represented in a typical browse through eBay's listings. But there is no need to feel overwhelmed the amount of items available. By searching in the right places, any eBay user will be able to find the plate that suits them in a short amount of time.