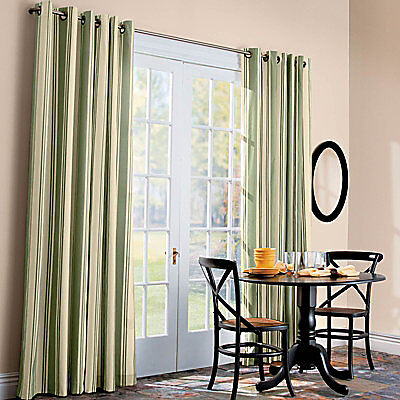 It is everyone's dream to have a beautiful and cosy home. A person likes their home to be an expression of their personal taste. One of the most important parts of an attractive house is its window. The window is often a focal point in a room. Windows can be made to complement the house's theme, and hanging a nice curtain is one of the best ways of accenting the interior decoration of a room.
There are different types of curtains. They come in plenty of styles, colours and materials to choose from. There are also curtains designated for each type of window. For example, a kitchen curtain has a different style, in that it is a little shorter compared to the curtains that people usually use in the dining area or hanging in a bedroom. Curtains are also made of different materials such as linen, silk, cotton and synthetic materials such as nylon and polyester.
Polyester is a fine material that is often used to make curtains. It is sometimes blended with other materials like cotton and silk to improve its look, how it hang, and its texture. Polyester is easier to clean and more stable compared to other fabrics. Not to mention, polyester is cheaper. eBay offers buyers a wide selection of polyester curtains.
What Is Polyester?
Polyester is a type of synthetic fabric commonly used in clothes, suits, and curtains. This is a very strong and durable material. It is resistant to wrinkle, abrasion, stretching and shrinking. It can also be dried quickly after washing, as it doesn't absorb too much water. As polyester is a very versatile material it comes in a variety of solid colours as well as vibrant patterns.
How to Choose a Quality Polyester Curtain
There is no perfect formula in choosing the right curtain, but there are some tips to ponder when shopping for polyester curtain. Although polyester would not be considered a delicate material, the quality of the curtains made and sold by home decor shops should not be taken for granted.
Understanding the Material
When shopping for curtains, it is important to know the exact length and width of the window. These measurements are an important guide to figuring out the the right size of curtains. It is also essential to consider in what part of the house these curtains will be hung. Polyester is a good type of material for most curtains, but the downside of it is that, since the air doesn't circulate well through this type of fabric, polyester curtains have the tendency to retain odours, and since polyester is a polymer, this material is also flammable.
For these reasons, it is advisable that polyester curtain should not be hung in the kitchen as they will soak up cooking smells and due to the proximity of heat sources, they may catch fire. Remember that above all, the family's safety should be considered all the time. It is better if polyester curtains be hung in the bedroom or in the living area. Polyester is a common type of textile used in most curtains. It can also be mixed with other material such as cotton, to enhance the features of polyester. Polyester can be identified by its silky texture that is soft to the touch.
Selecting the Design
A curtain sporting a beautiful pattern can certainly be attractive to the eye. Consider choosing a nicely embroidered curtain. However, for embroidered polyester curtain, make sure that the thread used in embroidery is also made of polyester thread. The reason behind is that some threads, like cotton, can shrink over time. The best material to use in embroidering a polyester curtain is another polyester thread or one should consider silk thread. These materials do not wrinkle or shrink.
Picking a Colour
One of the most vital parts of choosing the perfect polyester curtain is picking the colour. Try to avoid lighter shades. Once a polyester material is stained, it may be difficult to remove that stain. Look for a curtain with darker shades, such as black and brown, that can go along with the theme of the house or of the room where it will be hung. In that way, even if the curtain are stained, the stain will not be obvious.
Consider the Production Method
It is also good to consider how the curtain was made. Was it handmade or machine stitched? Some people believe that buying handmade curtains is better than those made with machines, because they are more detailed and more durable. Lastly, before paying for a set of polyester curtains, make sure that the store is a credible manufacturer of curtains, especially those that are made of polyester. It is true that polyester is a long-lasting type of fabric, but if the curtain was poorly made, regardless of the material used, the curtains won't hang properly
Maintaining Polyester Curtains
When shopping for new polyester curtains, the buyer should consider washing and ironing them first before hanging them. Polyester curtains are often easy to care for because most are machine washable, although one should always read the care instructions before doing anything.
Wash the curtain in a washing machine, with a mild detergent and cold water. Always wash it with care. Machine washing is the way to go, be it in warm or cold water. Do not put bleach (unless instructed) as it makes the colour in the curtain fade. Choose the medium speed. After washing the curtains, drain the water. Fortunately, polyester does not absorb too much water so it will dry quickly.
Once the curtain is dry, the next step is to iron it. Remember, polyester can melt and burn easily so be mindful of the temperature of the iron. Never iron polyester curtain on a high temperature. There are irons that have special settings for polyester fabrics, if that iron is to be used, then set it to it predetermined the polyester/fabric temperature setting. Avoid placing the curtains near any heat source, and leave them unattended, that includes irons. Polyester curtains can often be dry cleaned.
Where to Buy Polyester Curtains
Many home decor stores have a wide variety of curtains. Most of them offer curtains that are made of polyester fabrics because they are often cheaper compared to those that are made of silk or cotton. Curtain stores can found inside shopping centres and there are curtains on the high street. One should also consider vintage shops
Another option are curtain makers who can make bespoke polyester curtains. If a buyer is going for a particular look with the windows in a room and they are coming up short in their search of shops, they should consider custom-made curtains. But readymade polyester curtains are certainly the most affordable option. The widest selection of readymade polyester curtains at the best prices is to be found on online.
How to Find Polyester Curtains on eBay
Last but not the least on the list; readymade curtains are also sold throughout the internet. There are online stores that provide various styles and designs of polyester curtains. eBay has a wide selection of beautiful polyester curtains to suit all tastes and types of windows. The most convenient way to search the site is to begin with a keyword search, starting on the eBay home page. Start by entering a generic search query into the search bar. An example, would be "polyester curtain".
After clicking the 'Search' button, the search results will appear. These will include different colours and styles. Make sure to read the description carefully. It is also important to compare the prices. Some sellers include postage in the price while others add it in at the end. If the curtains are used, you should examine the photos provided by the seller very carefully. If the photos are not very clear or you would like to see close-up photos of the curtains, simply ask the seller for them. You can contact the seller by going into their profile and clicking on the contact link provided.
Conclusion
Polyester curtains are very common in homes across the country and around the world. These curtains come in a variety of colours, designs, and patterns. While polyester can be counted on to be a cheap and cheerful sort of fabric, it is often blended with natural fibres like cotton and silk to improve the appearance and texture of polyester curtains, while still keeping them affordable. However, polyester is still a synthetic fabric and so is prone to absorbing strong smells. Polyester curtains should not be hung in kitchens for this reason. The other reason is that polyester curtains are flammable and so can catch on fire if exposed to a heat source.
One should consider the production method when choosing curtains. Some argue that handmade is always best. If the curtains are embroided, make sure that the thread used is polyester or silk, as cotton tends to shrink. You will find polyester curtains sold at curtain shops on the high street and in the home section of most department stores. You could also have bespoke curtains made, but readymade will be cheaper and the best deals on readymade polyester curtains are to be found on eBay.