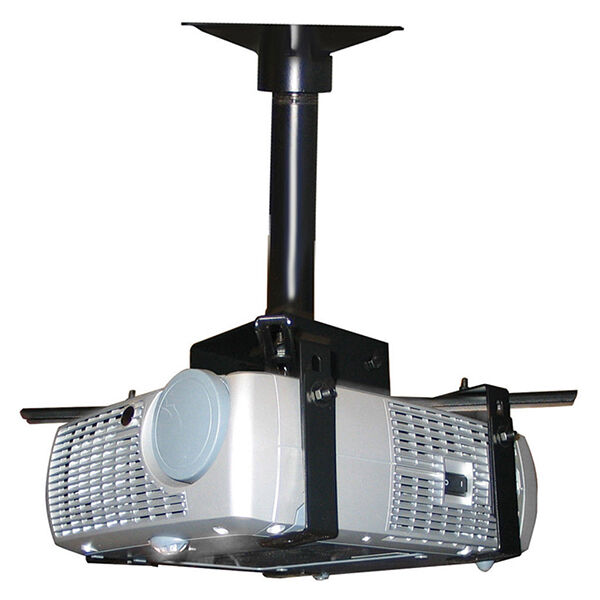 Anyone seeking projection accessories can find a range of these on the eBay marketplace for competitive prices. Sellers do not have to pay for advertising fees, rental of premises, or television marketing; therefore, sellers on eBay can afford to offer items for a much reduced price than high-street retailers or conventional retailer's websites. Projection accessories can be bought alongside the purchase of a home cinema system, an individual projection unit, or simply as replacement components for an existing projector.
What are Projectors
Projectors are a suitable replacement for television sets as part of a home cinema system for those seeking a full cinema experience in the comfort of their own homes. They are capable of projecting an image of 720p or full 1080p quality, the same resolution offered by the majority of modern high definition television sets. The image is projected onto an accompanying screen, which can be mounted on a stand or attached to a wall within the room that the system is installed within.
Important Components
The table below lists the essential components involved in a projection unit, some of which may require replacement after extended periods of use. These are usually included as part of a projector package so that they do not need to be purchased separately.
| | |
| --- | --- |
| Power cables | Of course one of the most essential components is the power cable. Though television sets commonly have relatively short cables included, projectors will often require longer cables, especially if installed on a ceiling or wall. |
| Projector lamp | The lamp within a projector is responsible for projecting the image out onto a screen. These lamps commonly last anywhere from 2000 to 4000 hours when purchased in a new condition, though will eventually wear out and begin to dim. When a projector lamp begins to dim, the image quality projected by the unit will be compromised. Therefore it is important to monitor the quality of the lamp and order a replacement when the component begins to wear out. |
| Projection screen | Though projectors are capable of projecting their image onto a wall, a good screen can make picture quality far better; therefore, this accessory is considered an essential purchase. These screens can be fixed onto a tripod unit or mounted to a wall, depending upon the buyer's preference. Either way, these screens do not have to be left extended between periods of use and can be retracted either manually or using electric controls, depending on the model. |
Further Considerations
These products are not essential but should be considered with any projector purchase. They can offer further functionality to the installation of a projector as part of a home cinema system.
| | |
| --- | --- |
| HDMI cables | HDMI cables are an essential component for any projector system, though almost all good sellers offer at least one included cable with a purchase; therefore, this is listed as a further, additional purchase. Buyers that intend on connecting multiple devices, such as consoles, Blu-ray or DVD players, or a music player should consider purchasing additional HDMI cables to connect to each separate component. |
| Replacement lamps | It is worth considering an additional lamp alongside the one included with the initial projector purchased. If a lamp fails, it will generally do so within the first 4 to 8 hours of use, so having a spare means that no downtime need be experienced. Despite this, if an included lamp fails immediately, consider contacting the seller for a replacement product. The further from a screen that a projection unit sits, the more powerful the lamp that will be required. |
| Projector case | One of the major benefits of owning a projector instead of a television set is that they are very portable. It is possible to transport projectors on long journeys or for business purposes, and as such it is useful to have a travel case if such travel is planned. These hard cases are capable of protecting the projector from knocks and scrapes in transit. Screens can also be transported in their retracted state, when the screen has been rolled back into its housing unit. Long carry cases are available for this purpose. |
Making an eBay Purchase
Committing to a purchase on eBay can be a big decision for a first-time buyer, but buyers should be reassured that it is a completely safe process. In the rare event that there are any problems during a sale, such as non-delivery of an item, it is reassuring to know that the eBay website offers support and assistance in resolving such problems. There are also features in place on the eBay website that help to fully inform buyers before a purchase is made.
Type of Listing and Finalising a Purchase
When creating a listing, sellers have the option of using either Auction or Buy-it-now formats, both of which have their own benefits. Auctions allow users to make bids on an item up to a specified time limit, with the high bidder winning the item, whereas Buy-it-now listings allow instant purchase of the item for the pre-set price visible on the item listing. Auctions are beneficial in that a bargain can be found if an item goes for a lower than usual price, whereas Buy-it-now auctions mean that bidders do not have to worry about losing an item to a higher offer. After winning an item through either method, it's possible to either pay for the item instantly or delay the payment for several days. Though it is generally acceptable to opt for the latter, good communication should be maintained with the seller in order to avoid a non-payment accusation being filed. In most cases, it is advisable to pay for an item immediately. This also helps to maintain good feedback.
How to Pay
Most buyers and sellers on eBay prefer to use PayPal as their means of making transactions on eBay. This partner website is well-reputed for its long-term association with eBay and offers a safe and secure means of transferring money. After a bank account is linked to the PayPal website, no future banking details must be disclosed, and the process for making any payments is straightforward. Credit cards may also be used to make payments and some buyers prefer this method. However, sellers are not always open to this kind of payment.
Postage and Packaging
The time for delivery of an item can vary based on several factors. Sellers are responsible for stipulating their delivery methods offered, which can include the range of services offered by Royal Mail, such as recorded and signed-for deliveries. However, other factors can also influence the delivery time; international delivery from countries like Hong Kong - the country in which many accessories and clothing products are made - can take up to three weeks. Delivery charges also vary between sellers, though most sellers are reasonable in setting these costs. These charges can also be based upon the weight and size of the item, with large items such as televisions and bikes requiring a courier service. Many sellers operating individually rather than as part of a business will only offer local collection on large items such as these.
Finding Projection Accessories on eBay
The eBay website contains a number of product-specific headings on the left-hand side of the homepage, which lead to sections dedicated to related groups of products. Under each of these headings can be found a number of categories, branching into subcategories, which contain the various different accessories available for each different product. Projection accessories can ultimately be found under the Projector Lamps & Components subcategory. This is accessible by first navigating into the Electronics & Technology section of the website, followed by clicking into Sound & Vision. There is a number of different subcategories relating to projectors in general can under this category. Home Cinema Projectors contains full projector systems for those seeking a new unit. Projector Mounts & Stands holds listings relating to units on which to position a projector, and Projector Screens contains a wide range of wall-mounted and regular projector screens.
Conclusion
Projector accessories may be needed to supplement a projector purchase or as replacement parts for an existing projection unit. Whatever the reason, a wide range of components can be found on the eBay website. These are both essential components, such as projector screens and lamps, and additional components, such as carry cases and HDMI cables. Making a purchase on the eBay website is straightforward, and help is available in the form of menus and guides relating to the buying process and various products available. Projection accessories can be found under Sound & Vision, a subsidiary of the Electronics & Technology section of eBay.