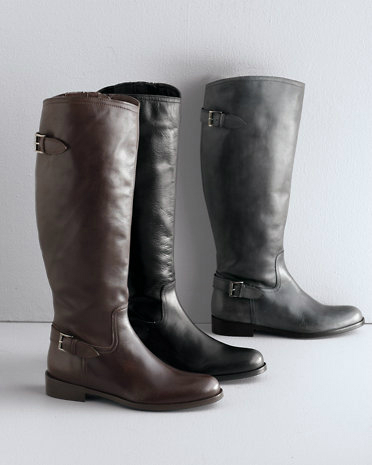 Whether it is for hacking about, schooling, yard work, or competition riding, a good pair of riding boots is necessary for the rider's safety, comfort, and correct seat positioning. Riding boots are made for horse enthusiasts of all ages, and they range significantly in price and quality. Some brands design their boots specifically for men or women, while other brands make boots suitable for any gender.
To find the right pair of riding boots for sale, buyers can find a good selection from specialty equestrian stores. Here, staff can help a buyer to find the right style and size to suit their needs and budget. Some selected sporting goods stores also sell riding boots for children and adults. eBay is one online store that offers a vast selection of riding boots to meet any buyer's budget.
Having the right information about the different types of riding boots available, the differences between leather and synthetic riding boots, and the best way to care for riding boots can help a consumer make an informed and cost effective purchase decision.
Different Types of Riding Boots
Riding boots are grouped into three main categories. Long riding boots and paddock boots are considered to be part of the English design of riding boot, while cowboy boots make up the third category type. Each different type of boot is uniquely designed for a different style of riding.
Long Riding Boots
Long riding boots, sometimes called tall riding boots, are the traditional style of English riding footwear. A boot that extends up the leg to the knee, a long riding boot comes in three styles, designed for use in the various English riding disciplines. These three styles comprise the dress boot, the hunt boot, and the field boot. Each style can be pulled on and off the foot or may feature a long zip that runs up the rear of the boot.
Dress Boots
Dressage riders, eventers, and people involved in formal fox hunting events wear dress boots, the most popular of the long riding boots. Moreover, competitive show jumpers often wear dress boots. They are traditionally black and made from leather although rubber dress boots are an option for riders who want to stick to a tight budget. Many dress boots feature a higher cut on the outside of the leg, extending up over the outside of the knee. This cut is called a Spanish cut.
Hunt Boots
Similar to dress boots, the hunt boot features a cuff at the top of the boot. Traditionally, men wear boots with a cuff of tan or brown leather at the top. Riders heading out on a fox hunt wear hunt boots, which are usually made of black leather, as with dress boots.
Field Boots
Field boots are similar to other types of long boots but feature lace up closures at the front of the ankle. This allows greater flexibility of the rider's ankle. Because the wearer can bend their ankle more, field boots are used for the various jumping disciplines, including show jumping, event jumping, hunting.
Paddock Boots
Short boots that cover the ankle, paddock boots are designed for yard work and everyday riding. Less expensive than long riding boots, there are two types of paddock boots available, including Jodphur and mucker boots.
Jodphur Riding Boots
Jodphur boots are leather boots that come up to the ankle. With a smooth sole, slightly pointed toe, and heel, ideal for everyday riding, they are durable and hardwearing. They feature elasticised bands on each side, making them easy to get on and off the foot. Jodphur boots can be used with chaps to increase the rider's comfort while in the saddle. This type of paddock boot is a popular choice for young riders as it offers comfort, durability, and value for money.
Mucker Boots
The other type of paddock boot available is the mucker boot. Mucker boots are not designed to be used for riding. Instead, they are designed for use while in the yard or when working around horses. Made from durable synthetic materials, mucker boots are designed to offer maximum comfort in summer or winter. With a well-padded sole and a protective toe, they are waterproof and easily cleaned. Mucker boots for use in very cold temperatures feature a padded leg that extends up towards the calf. This wide leg can be adjusted to fit the wearer with Velcro tabs.
Cowboy Boots
Cowboy boots are designed for western style riding and are available in three different heel heights. The following table provides some information on the different types of heel heights available and their uses.
| Heel Type | Description |
| --- | --- |
| Cowboy Heel | Also called a riding heel; high in order to protect the rider's foot from slipping through the stirrup while in the saddle; heel height anywhere from 3.8 to 4.5 cm |
| Walking Heel | A medium height heel; designed for comfort while on and off the horse; heel height is around 3 cm |
| Roper Heel | A flat square heel; designed for cowboys who do a lot of calf roping, which requires quick mount and dismount; heel height is usually 2.5 cm |
Cowboy boots may extend just above the ankle, as in the roper style boot, or they can extend up to the mid-calf, as with the walking and cowboy boot. Traditionally, cowboy boots do not feature any zipper closures; instead, they are pulled on and off the foot. For this reason the leg of the boot is quite wide. Cowboy boots are made from durable, cowhide leather.
Riding Boot Materials
Leather and synthetic are the two materials that riding boots are made of. Both types of materials have their advantages and disadvantages, and the price and quality range significantly.
Leather Riding Boots
Leather riding boots are the traditional style of riding boot. Providing excellent comfort, contact with horse, the necessary protection and safety features, and offering style and elegance, leather riding boots are expensive to buy. Made of cowhide or pigskin, leather riding boots become more comfortable as they are worn in. The leather moulds to the shape of the rider's leg position while in the saddle. Softer, more luxurious leather boots are more expensive than boots made from less expensive, harder leather.
Because leather boots are breathable and waterproof, they are ideal for wearing in summer or winter. The disadvantage of leather is that it needs to be regularly cleaned and conditioned in order to keep it in top condition.
Synthetic Riding Boots
The advantages of synthetic riding boots are that they can be easily cleaned, inexpensive, waterproof and durable, and ideal for everyday riding. The disadvantage of synthetic riding boots is that they may not provide as much comfort as leather boots, as they do not tend to mould to the shape of the rider's leg. If scratches occur, they cannot be buffed out as with leather. And because synthetic is not very breathable, synthetic riding boots can be hot to wear in summer and cold in winter. For this reason, many people who ride all year round often have one lightweight pair for summer and a thicker, more insulated pair for winter.
How to Care for Riding Boots
Because riding boots can be quite expensive to purchase, they should be properly maintained and cared for regularly. Leather riding boots need to be regularly cleaned and conditioned suitable leather products. Synthetic riding boots can simply be cleaned with water and a mild detergent. When boots are not being worn, they should be kept upright, with the use of boot shapers. If storing boots for a season or longer, be sure they are completely cleaned and stored lying flat with the use of boot shapers. The boots should be stored in a dust bag and box and kept in a cool dry place out of direct sunlight.
Find Riding Boots on eBay
To find riding boots for sale on eBay, you can use the search bar option, where you type in what you are looking for. For example, if you want to get an overall idea of what is available, you might just type in "riding boots". If you prefer to search for a specific type of riding boot, such as women's size 6 Jodphur boots, then simply type in this phrase. To search using the category options to find a certain type of riding boot, say a certain size or brand of boot, or boots within a certain price range, simply select from the available categories that are relevant to the product.
Before purchasing your riding boots on eBay, be sure that you understand the delivery costs and the estimated delivery date. If you are given the option of choosing a delivery service, it is recommended that you opt for the service that enables you to track your item.
Conclusion
Riding boots come in a range to types, including long riding boots, paddock boots, and cowboy boots. Before heading out to purchase new riding boots, buyers should first identify what type of boots they need. The dressage rider looking for competition footwear would benefits from long leather riding boots, while a pair of Jodphur boots would be an ideal choice for the young child just starting out at Pony Club. Once the type of boots required has been identified, buyers can then move on to deciding whether they want to purchase top quality leather riding boots, or less expensive synthetic riding boots. If properly cared for, riding boots can experience a lot of wear and tear and still look and feel comfortable and supportive.
Furthermore, buying a pair of riding boots on eBay can save time, effort, and money. With easy ways to search for any type of riding boots, secure payment methods, and many reputable sellers, eBay is a popular way to buy new or used riding boots to suit any budget.