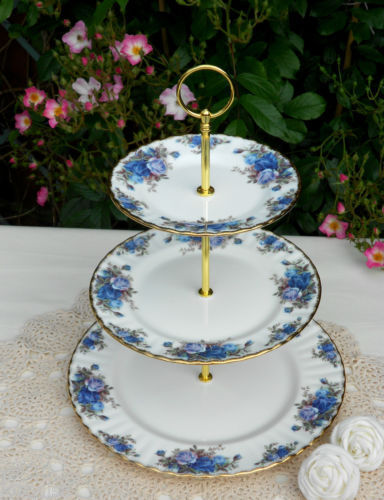 Royal Albert tableware has been in production since the end of the nineteenth century and remains a popular choice for collectors and people with a love of fine china. The range features floral designs based on cottage gardens and shady woods. England's national flower, the rose, features in a number of designs. The name Royal Albert was first used in 1904.
eBay is the perfect place to find contemporary and antique Royal Albert tableware. The site allows a large number of sellers to reach buyers, keeping prices competitive and creating a convenient place to search for elusive pieces or patterns. Buying on eBay is simple if you know how to search and how to evaluate items and sellers. The site is designed to make it easy for you to find what you want, to decide whether a product is exactly what you are looking for, and whether a seller meets your expectations.
A Brief History of Royal Albert Tableware
The Royal Albert company started as Thomas C. Wild (& Co.) in 1896, following the purchase of the Albert Works in Longton by Thomas Wild and his son in 1895. Upon the death of the elder Wild, the company became known as Thomas C. Wild. It grew, with more factories and pottery businesses being bought over the years. By the early 1920s, Wild had controlling interests or owned approximately 15 North Staffordshire potteries. By 1917, Wild's sons joined him in the business and they started trading as Thomas C. Wild & Sons.
As the company continued to grow, it was floated on the stock market, eventually being bought by the Pearson Group and forming part of Allied English Potteries Ltd. In 1970, the Thomas C. Wild & Sons Ltd subsidiary was renamed Royal Albert Ltd. In 1972, Royal Doulton acquired the Pearson Group and Royal Albert Ltd. UK production of Royal Albert ceased in 2002 after being moved to Royal Doulton's manufacturing plant in Indonesia. In 2005, Wedgwood took over Royal Doulton and the Royal Albert brand.
Royal Albert Trading Names and Backstamps
The Royal Albert name was first used in 1904. Before 1922, marks on tableware included a crown surrounded by a garter, bearing the words "Royal Albert Crown China" and the initials "TCW". From 1917 to 1935 the crown was surrounded by the words only and "England" appeared beneath the mark. After 1935, "Royal Albert Bone China" was used in conjunction with a great many variations. The pattern name was often included, and items produced after 1945 frequently featured elaborate floral backstamps.
Royal Albert Ltd marks feature multi-colour floral sprays, the company name, and the pattern name. "Royal Albert" was registered as a trade name in 1993. Due to the numerous variations in backstamp designs it may be best to research the versions used in specific eras or for particular sets of tableware.
Popular Royal Albert Tableware Patterns
Old Country Roses, released in 1962 and still in production, is the most popular Royal Albert pattern ever made. More than 150 million pieces have been sold worldwide. The design features three roses: one pink, one red, and one yellow.
The 100 Years of Royal Albert Collection can be used as a guide to identifying the most iconic patterns of the twentieth century. The collection features 10 patterns, each representing the trend of a decade. The patterns used are:
* Regency Blue
* Duchess
* Spring Meadow
* Festival Golden Roses
* Poppy
* Holyrood
The Moonlight Rose and King's Ransom patterns are also much loved by collectors and enthusiasts.
How to Search for Royal Albert Tableware on eBay
The key to finding Royal Albert tableware is knowing how to search the listings on eBay. Type a key phrase, for example, "Royal Albert side plates", into the search field, which can be found on every page. Alternatively, choose one of the autocomplete options to see popular searches. This displays all the items tagged with the keywords you have selected.
Narrow your search results by choosing the most suitable category and item characteristics. The most suitable category is usually the one with the most listings, but this may not be the case if you are looking for something rare or unusual. Use the advanced search option if you would like more control over the number of results displayed. You can widen or refine your search using this feature.
How to Evaluate an Item on eBay
Once you have found the Royal Albert tableware that you want, take the time to learn all that you can about the item before committing to a purchase. Simply click on an individual listing to see the item listing page. This is where you can find item and buying details, including the full item description, photos, buying choices, the seller's accepted payment methods, postage and packaging costs, and the seller's feedback information.
Check the Item Condition
When buying china it is important to check the condition of the pieces. As you are not able to do this in person, ask the seller for more photos if necessary. You can contact the seller by using the "Ask a question" link. Also ask about any signs of wear and damage, for example chips or cracks in the glazing, and whether any of the items have been restored.
Remember to add the postage and packaging costs to the item's final selling price to work out the total cost of your purchase. If you are purchasing a set of plates or other heavy items, consider buying from a local seller who allows collection. This way you save on postage costs, are assured that the items can travel safely, and you can start enjoying them as soon as you have the opportunity to collect them.
How to Evaluate a Seller on eBay
Evaluating the seller is as important as evaluating the item. You may find the sheer number of sellers active on eBay daunting, but rest assured that each of them has a feedback profile that allows you to take a look at individual online reputations before you buy. Click on the number next to the seller's username to view his or her seller feedback. This information shows you what other buyers think of this particular seller's products and customer service.
You can view individual comments from buyers along with a list of items sold previously. This information comes in handy as it shows you whether the seller is experienced in selling china. You can use this as a guide to formulate questions you want to ask about the item. Remember that a lack of experience is not always a bad thing and should not deter you from dealing with someone. It could be that the person is selling an unwanted set of tableware that he or she had received as a gift or has inherited. It simply means that you should ask the right questions before buying.
Detailed seller ratings provide additional information about aspects such as the seller's communication and the accuracy of the item description in the original listing. This is displayed once 10 buyers have left this kind of feedback. Once you have received your tableware, leave comments for the seller to let other buyers know what to expect. In most cases you will just be saying thank you for a job well done.
eBay Shops
If you find a seller whose products and customer service you like, check whether he or she has an eBay Shop. Some sellers specialise in product types. You could find what you need to complete a collection of one pattern and the first few pieces for your next collection in one place from a single seller.
Conclusion
Royal Albert tableware has been a popular choice for well over a century. Some patterns have been in production for decades, while others are found only in certain eras. Whether you are buying for your own collection or looking for a special gift for a friend or family, you can find what you need on eBay. When buying Royal Albert tableware it is beneficial to know something about the history of the range, especially if you are a collector. Learn how to authenticate and date pieces, and recognise popular patterns. Doing adequate research before you buy gives you an indication of an item's fair market value and makes it easier to spot bargains and avoid buying overpriced pieces.
eBay's search function is easy to use and allows you to view all the items listed that have been tagged with the keywords you choose. Narrow your search results by choosing the most appropriate category. Use the advanced search feature for more search options. Once you have found the item you want, use the information on the item listing page to evaluate it. Ask the seller for more photos or additional detail, if required. Most sellers are happy to answer questions from buyers. Get to know the seller by viewing his or her feedback information, as this lets you see what other buyers have experienced when buying from particular sellers. The wide range of Royal Albert tableware available on eBay makes it easy to find the right pieces.