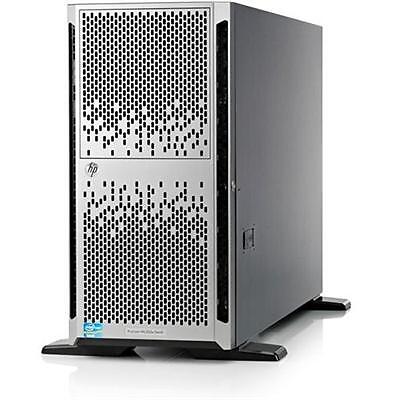 Any small business that uses a large database should consider setting up a centralised server to store and share data. While businesses that do not generate massive amounts of data can do just as well with network attached storage (NAS) devices, those generating a sufficient flow of data that needs to be shared with employees and clients must necessarily work with a server of their own.
A network of three or four computers featuring a printer and a router can function very well as a peer-to-peer network, but when larger numbers of users are involved, a server is needed to store, share, and organise data efficiently. Although cloud computing and virtual servers are becoming more and more popular every day, on-premise servers are still the norm in the case of small businesses.
Different businesses need many different things from a server. There are dozens of server models from each leading server manufacturer, and many of them are highly customisable. When buying a server for a small business, it is important to consider processor specifications, budget, scalability, environment, and fault tolerance. Additionally, server buyers must always try to avoid overspending on features that are of no use for their particular company's everyday operations.
Finding the Right Server for a Small Business
Servers are basically used to store data and manage printing jobs. They also control user privileges over a network, allowing or restricting access to different resources. Additionally, they can manage company websites, email, and remote access. A server can be anything from an ordinary desktop PC to a state-of-the-art box ready to process massive amounts of data, while also offering backup mechanisms, data redundancy, and fault tolerance.
In order to find the right server, the most important thing to consider is what each business really needs. For instance, some businesses need scalable servers with bulletproof security, while others can very well do without these things. Whether looking for a high-end, midrange or low-end product, it is important to learn a few things about servers before making a purchasing decision.
Basic Considerations
Any dedicated business server needs to fulfill a few basic requirements, in order to make a good option for any small company. First of all, it must be priced under the three-year cost of a cloud server offering similar features and storage capacity. It needs to support the right number of users. It must provide at least 2 TB of local storage and offer the possibility of remote management.
Budget Considerations
Budget is always an issue when selecting a business server. It is possible to obtain servers in different categories, with widely varying costs. Server configuration is generally the most significant price component. For example, a low-end server configuration can suit small businesses in need of storage, printing management, backups, and remote access. Though small, inexpensive servers are perfectly capable of managing these tasks, they are usually less scalable and offer limited fault tolerance capabilities. On the other hand, higher-end server configurations feature more memory and more powerful processor units, while also offering support for multiple drives.
Everyday Operation Dynamics
Analysing a company's everyday operation dynamics is essential for server selection. For example, remote access may or may not be needed, state-of-the-art databases may be unnecessary, etc. Manufacturers often offer variable configurations with each server model. Heavy workloads typically require high-end server configurations. Any specific server model may cost three times its basic price when presented with a high-end configuration that allows for intense database transactions. No company wants to spend money on something it does not need. Therefore, understanding workloads and operations can save businesses a lot of money at the moment of purchasing a server.
Scalability
A server that suits the operational needs of a company of five employees is not necessarily equipped to cater for a network of 10 or 20 users. Therefore, companies with a potential to grow need to consider a server's room for growth or scalability. Servers with high scalability usually feature expandable storage capacity, support for more than one drive, and sufficient physical room to add hardware upgrades. As a response to these needs, HP has created a special range of products; the Proliant Scalable Systems. Lenovo's latest Thinkservers are also a great option in this category.
Data Redundancy and Fault Tolerance
Businesses that handle critical tasks over their internal networks need to make sure their servers are not going to cause any interruptions or problems. In some cases, data loss main signify the ruin of the business itself. Data redundancy and fault tolerance ensure that servers can keep functioning and data is not lost, for example, in the event of disk failure. These server safety and disaster recovery systems are known as RAID.
Low-end servers generally offer only basic RAID, which often features insufficient fault tolerance or none at all. RAID is classified by levels. High-end servers offer level 5 to 10 RAID, which features high-level fault tolerance. For example, Dell's PowerEdge T310 offers outstanding RAID capabilities for a small business server within its price category.
Finding the Right Place for Servers
Some servers can take up a lot of space. Shape is also an issue when considering where to place a server. Servers designed to fit inside a special kind of rack do not function as well when placed on a desktop. Moreover, adequate ventilation is necessary to keep a server in optimum condition. Rack and tower servers require a suitable space. Sometimes, there can be room for a server in the workspace, but the noise generated by it can be a deterrent. As a rule, servers must be kept in a temperature-regulated, well ventilated room.
IT Expert Requirements and Office Environment
Some servers feature remote administration, which means that an on-site IT expert is not required. Businesses planning to manage servers by themselves without outside help usually prefer user-friendly servers like Apple's Mac mini, which is, in fact, compatible with PCs.
Naturally, all-Mac network environments can be better served by Apple's server systems. On the other hand, businesses functioning in a Windows environment may find it easier to stick to Windows-based servers.
Top Small Business Servers Chart
Any growing business needs a flexible and scalable server that can allow employees to share data and collaborate over an internal network. Although many businesses are currently opting for cloud servers, there are several top sellers and outstanding performers in the small business servers' market.
| Server Model | Description |
| --- | --- |
| HP ProLiant N40L Microserver | AMD Turion Neo N40L 1.5GHz CPU, 250GB HDD; supports RAID 0 and 1; six USB ports, Gigabit Ethernet and eSATA ports; supports SBS Essentials 2011 and Windows Home Server 2011; compact, great power efficiency |
| HP Proliant ML110 G7 Server | A budget server for businesses with on-site IT experts; basic configuration: eight-core Intel Xeon X3 CPU, 250GB HDD, six-port RAID, two Gigabit Ethernet ports; supports a maximum of 16GB RAM; remote management; extremely safe when adding optional dual 460W hot-swappable PSU; smart choice for any small business. |
| IBM System x3100 M4 | Intel Xeon E3 CPU, two Gigabit Ethernet ports, four PCI Express slots; supports 32GB RAM; six-port RAID, supports RAID 0,1, and 10, RAID 5-upgrade capable; six USB ports plus, USB backup device; remote management and predictive Failure Analysis; quiet and power-efficient; ideal for small office use |
| Dell PowerEdge T410 Tower Server | Highly scalable in all specs; linux and Windows versions; does not need to be rack-mounted; Intel Xeon E5603 CPU, 2GB RAM, two Gigabit Ethernet ports, 500GB HDD; RAID provided by Dell SAS 6/iR card; features fixed 525W power supply; ideal for businesses with midrange to high-end server needs |
| HP ProLiant BL460c Gen8 Server Blade | World best-seller; highly configurable and scalable; virtualised Ethernet and Fibre Channel connections; four-core Intel Xeon E5 2.5GHz CPU, second CPU socket, 16GB RAM, expandable to 512GB; two FlexFabric 10 Gigabit ports; cloud-enabled management; HDDs not included in the standard price; great power and versatility that do not come cheap |
Scalability in all its forms is one of the biggest price-tag components of servers However, it is also the best investment one can make in any server feature.
How to Buy a Server on eBay
eBay offers thousands of low-end, midrange, and high-end servers that can fit any company's needs. The initial search you can perform to find a suitable server for your business highly depends on your specific operational needs and brand preferences. If you know you want HP, then you can type "HP server" into the search bar, if you want a microserver, you may add that too. The type of CPU you need is also another specification you can use to refine your search results.
Selecting price as a results' sorting criterion is also a good way to find what you are looking for more quickly. Many server buyers are primarily interested on CPU type, RAM, and HDD capacity, so, you may input some of your desired specifications for these features as well. If your business requires extra safety, it is also a good idea to include RAID requirements.
Once you have found a few suitable servers at the right price, it is always wise to review the seller's reputation. Likewise, your time is always well spent on asking vendors some questions before making a purchasing decision. Finally, you must not forget to consider shipping costs, warranty details, and return policies.
Conclusions
A powerful server can make a big difference in the way any business runs. Highly configurable and scalable servers should always be preferred, especially in the case of fast-growing businesses. While cloud storage is becoming more and more popular, companies of all sizes all over the world are still very keen on maintaining internal servers.
Scalability, CPU type, and RAID support are among the most important details to consider when selecting a server. Another thing that may seem unimportant but is not trivial at all is the server's shape and size; the best server in the world cannot function well if there is no suitable physical place for it within the office.
Because technology is changing fast and some server types are rapidly becoming obsolete, scalability and flexibility are the two main things server buyers should be spending their money on today. Moreover, while a cheap server may suit a company's present needs, it may be ill-equipped to cater to the future version of that same company. In short, servers need to be safe, flexible, versatile, customisable, and highly expandable.