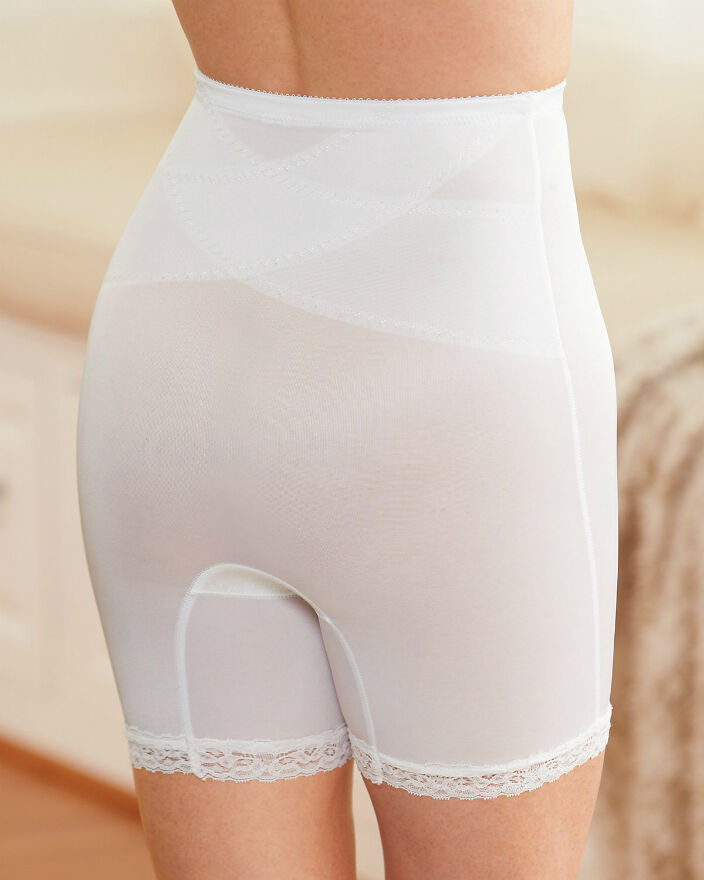 Shapewear is commonly worn by women as an alternative to more drastic measures, like plastic surgery, although men can benefit from the results of the clothing too. Shapewear successfully lifts, flattens, and shapes the wearer's figure, thereby minimising the appearance of problems that can lie under clothing. This allows the wearer to feel more confident and promotes a good body image. There are many different types of shapewear, each targeting specific parts of the body, from the thighs to the bottom and tummy. Not only does shapewear provide a smooth, clean line for best displaying an outfit, it also promotes good posture, helping to relieve discomfort in areas, such as the back. This guide provides information about the types of shapewear available, the level of control that they offer and how to find just the right shapewear on eBay.
Types of Shapewear
Shapewear garments come in many different styles and types including control pants, body shapers, waist cinchers, and control tops, all of which target different areas of the body.
Control Pants
Control pants focus on the tummy, thighs, and bottom, and are ideal for wearers who have cellulite in these regions. Those who feel that their problem is in their lower half should use control pants as an alternative to full body shapers as they are less restrictive. Control pants can also help to balance out the wearer's shape in relation to their upper body.
Body Shapers
Body shapers span from the bra line to the mid thigh, although some may be designed to encompass the bust area as well. This type of shapewear is designed to smooth out and shape all areas of the body including the tummy, waist, and bottom. Some body shapers may boost the breasts, while others elevate and sculpt the rear. others are designed with thigh panels to help to slim and smooth the thighs. Body shapers are ideal for those with back problems as they help to promote good posture and relieve any associated pain.
Waist Cinchers
Waist cinchers focus on the entire mid region and help to prevent the appearance of the dreaded "muffin top". They are designed to help to smooth out the silhouette, minimising the appearance of lumps and bumps.
Control Tops
Control tops are often seen in the form of camisoles or shapewear bras, and target the back and waist. For shapewear that encloses the breast area, the wearer must consider her bra size in order to get the perfect fit.
Levels of Control
Shapewear comes in three different levels of control: light, medium, and firm. While light shapewear is designed to minimise the appearance of visible underwear lines, medium shapewear helps a wearer achieve a more toned look and decreases the appearance of excess flab. For wearers hoping to see more drastic results, firm shapewear has the ability to remove inches from the figure.
Choice of Colour
When considering shapewear, the right size should chosen based on overall comfort rather than attempting to squeeze the body into a garment that is too small. Choosing the right size, control level, colour, and style of shapewear is crucial. The shapewear should support the wearer while still allowing them the full range of movement. Shapewear can be bought in several different colours; if possible, wearers should match the colour to that of their skin tone. This helps minimise the appearance of the shapewear should it become visible. However, if wearing a black dress, it is best to pair it with black shapewear.
Choice of Fabric
The choice of fabric directly affects the garment's visibility on a wearer's body. Silkier shapewear is lightweight and usually more expensive than other types. However, this fabric should be avoided when worn with cotton as it has the tendency to cling to the wearer.
Registering for an Account
Buyers are free to browse the eBay website as a guest, but to buy and sell items, registration is required. By registering for an account, buyers can successfully manage their buying activity, create reviews, and post to eBay's community boards. This includes leaving feedback for an item's seller after receiving the item.
How to Find Shapewear on eBay
There are many ways to find shapewear on the eBay website. From the eBay homepage, buyers can use the search bar to conduct a search for shapewear. This method is likely to result in a large number of listings. Buyers with a more specific idea about the type of shapewear they would like to purchase should use eBay's advanced search feature. This allows buyers to include additional search terms, which helps narrow down their results. Once on the search results page, buyers may further filter their search by using the subcategory listings. These subcategory listings give buyers the option to choose between new and used shapewear, to search within a limited price range, and to search by item location.
For those who are unfamiliar with the various types of shapewear available, eBay offers an easy to navigate category search option. By following the provided category links, buyers are lead to their desired destination. This is often the preferred way of searching as it allows buyers to see the options that they may have otherwise missed by limiting the search.
Narrowing the Search Results for Shapewear on eBay
The number of search results for shapewear can seem vast, especially to first time eBay buyers. Although eBay's large selection of products is often the main reason buyers are attracted to eBay, with so many choices, it may be difficult to settle on the right type of shapewear. eBay's filters can help the buyer to navigate the buying process.
Search by Cup Size
Filtering by cup size is a great way for women to search for a control top. This limits shapewear results to the size of the bust, thereby eliminating all shapewear that is not of the appropriate size. Siizing may differ between manufacturers, so it is always important to take measurements and consult the brand's sizing chart before placing a bid. This helps to ensure a well-fitting garment.
Search by Style
Alternatively, buyers are able to search shapewear by style. Searching by style allows buyers to narrow down search results based on their targeted body area. Those who have excess cellulite in the bottom and thighs may opt for control pants, while waist cinchers better suit a buyer hoping to hide excess skin that tends to hang over the waistline of jeans.
Search by Main Colour
Buyers can limit their search of shapewear to a particular colour. While black shapewear is typically reserved for being worn under black clothing, beige shapewear best complements paler items. Although white may seem like the obvious choice for underwear, this colour is actually the most visible when worn under a light-coloured garment.
Buy Shapewear with Confidence
Before making a purchase, buyers should always examine listing images for signs of wear and tear to the shapewear. The photos of shapewear can provide helpful insight to the buyer and let them know exactly what they are bidding for. If additional images or information is required, ask the seller. Most sellers are happy to provide additional information to promote a positive transaction. However, it is possible to buy shapewear that is not as one expected.
To prevent being left with an unreturnable item, buyers should only purchase shapewear from sellers that accept returns. Information regarding returns and exchanges are generally included within an item's description. If the description does not discuss the returns policy, buyers should contact the seller to ask about this important detail before committing to a bid.
Ask a Question
Buyers can use the Ask a Question link under each item listing. This link is designed to help buyers to communicate effectively with the seller. If an item listing is unclear or a buyer would like more information about the shapewear, the link allows the buyer to get in touch with the item's seller directly.
Feedback Ratings
Choosing "Top-rated sellers" on eBay ensures that the seller has a history of satisfactory customer service. This feature makes eBay a secure online marketplace to buy and sell shapewear. It is a good idea to become familiar with the terms and conditions before buying. Most questions that a new bidder may have are answered in the eBay Answer Centre.
Preferred Method of Payment
Items bought on eBay can be paid for using a credit card or debit card, as well as PayPal. A buyer should never select cash or cheque as their chosen payment method as these methods are not secure.
When considering a purchase, buyers should find out which forms of payment the seller accepts. This information should be listed under the item description. All sellers are required to offer at least one approved method of payment. When the payment is by credit card, the seller can never view a buyer's credit card information. For a complete list of payment options, buyers should refer to How to Pay on eBay.
Conclusion
The selection of shapewear on eBay is far larger than many other retailers can offer. It is important to consider the size, level of control, and colour of the shapewear to maximise the garment's effectiveness. Each item of shapewear should contour to the wearer's body comfortably, while still allowing them to perform everyday activities. Whether buying shapewear to help minimise the appearance of lumps and bumps or to remove inches from one's figure, eBay offers buyers competitive prices designed to fit the constraints of any budget. The category listings on eBay are designed to help buyers narrow down their options, although buyers are free to use their own search details as well the keyword search. Whichever route one decides to take, buyers should always familiarise themselves with eBay's payment options and use the feedback rating system before placing a bid. Doing so helps to ensure a positive transaction and a pleasurable online shopping experience.