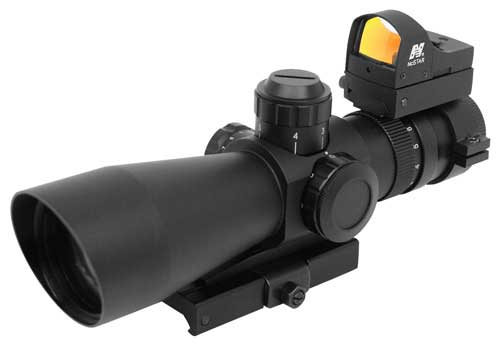 There is nothing more frustrating for hunters than having a top of the range weapon that has a sub-par scope. All hunters will testify that owning the correct riflescope is worth its weight in gold when out on a hunt. However, it's acquiring the right riflescope that is a daunting task.
The sheer range of riflescopes available makes it a tough market to wade through. This guide is here to make the process of buying the right riflescope simple. It will look at all types of sights and scopes, whilst detailing how to go about buying one on eBay that suits your skill set.
Types of Riflescope
A rifle is a potent choice of weapon; however, having the wrong scope attached can nullify its power. This guide will detail the sights available and help shoppers find the one that's right for them. Listed below are the three types of sights available:
Iron Sights
Iron sights use alignment markers made out of metal to help shooters prepare a shot. Even though they can be found on crossbows, they are mainly used on guns, like rifles. They use two component sights made of metal blades. An iron sight comes in four different forms. These are:
| Form | Description |
| --- | --- |
| Fixed | Fixed sights are non-adjustable and don't provide much room for manoeuvre in terms of versatility. They are popular amongst revolver users, as the sight is groove milled into the weapons receiver. |
| Adjustable | Adjustable sights are fully adaptable and provide great flexibility when out on a hunt. The downside of these sights is that the parts used to construct them are fragile and bulky. Recoil regularly knocks an adjustable sight out of alignment. |
| Open | Open sights are used when the rear sight is at a significant distance from the shooter's eye. They do provide a wider view, but this is at the expense of accuracy. Such sights use either a square post or bead that is placed in the rear sight notch. |
| Aperture | Aperture sights also go by the name of peep sights and ghost sights. The thin target blurs to near invisibility allowing for a focused look at what is ahead. Generally the thinner the ring the less precise the sight, and thus a faster a shot can be executed. |
Red Dot Sights
They project a red dot onto the target by using projector-based sight. Considered to be the premier option for speed shooting, but that is not the only upside of this type of sight.
The easiest sight to use.
Helps snipers go undetected.
Allows shooters to maintain a wide view without sacrificing accuracy.
The lack of magnification means that users don't have to worry about suffering eyestrain.
Can maintain accuracy even in instances of heavy recoil.
Can be partnered with night vision equipment to great effect.
Laser Sight
Laser sights and scopes use a straight line of light to target objects, meaning that accuracy is one of its key features. They are designed to simplify the shooting process and reduce it to a simple point and click system. Laser scopes come in a variety of different forms, so shoppers will need to figure out which one suits their shooting style best. They are:
| Laser Sight | Description |
| --- | --- |
| Real Laser Sight | Real laser sights are a typical replacement for an already established iron sight, as the laser runs along the top of the barrel. They allow for shooters to switch between manual and laser assisted shooting at will. |
| Laser Grip Sight | Sophisticated and unstoppable when used correctly, laser grip sight is the best form of technology money can buy. There is a pressure sensor built into the handle of the weapon that turns the laser on when touched. Perfect for those looking to remain inconspicuous when out on a hunt. |
| Rail Mount Laser Sight | The most affordable option currently available, but no less reputable. Clips onto the frame of the weapon and allows users to maintain pinpoint accuracy in spite of heavy recoil. Has been known to suffer major visibility issues in low light areas, however. |
| Guide Rod Laser Sight | Guide rod laser sights come built into a weapon and can't be knocked out of alignment because of this. It is positioned as close to the barrel as possible, which means its accuracy is unrivalled. |
Green or Red Beam
The difference between green and red lasers is far more than just colour. In fact, they each have an array of strengths and weaknesses that need to be considered prior to use. These are:
| Red Laser | Green Laser |
| --- | --- |
| Wide temperature range. | Visible at over 100 yards. |
| Range is between 20 and 50 yards. | The most up to date technology available. |
| Simple and somewhat dated technology. | Expensive to buy. |
| Doesn't consume much power. | Consumes a lot of power. |
Brands
When it comes to rifle accessories none command more attention than the scope. It's importance in improving shot accuracy is unrivalled, and is a must have for any shooter who takes hunting seriously. The popularity of scopes means that there are brands clambering to get your business. The following are considered amongst the top names in the field.
Aimpoint
Burris
Carson
Elotech
Hawke
Konus
Leupold
Millett
Nikon
Russion
Simmons
Trijicon
Vortex
Yukon
Zeiss
Head down to a local gun range and try out a few scopes to see what brands suit your shooting style. Once you've found a unit or range of interest, head to eBay to get exactly what you need at the most affordable price.
Buying Used
Not everyone has the money to buy a brand new riflescope, and a lot of consumers are looking to get the most bang for their buck. A great way to stretch a budget is to buy a used riflescope. They may not have immediate appeal but they can do just as good a job as their new counterparts. However, when shopping for used scopes it pays to be cautious. Ask the seller questions and get more information to see if the used scope is right for you.
How often has the scope been used?
Has it been previously repaired? If so, what repairs have been carried out?
What rifle has it been attached to?
Has it been customised or modified?
Is it still under manufacturer warranty?
How to Purchase Sights and Scopes on eBay
The Internet has changed the way gun enthusiasts go about buying accessories. Shoppers no longer need to search out a local gun club in order to find what they're after. eBay has shot to the top of the list in terms of places to buy sights and scopes, allowing buyers to browse stock from the comfort of their own home. The success of eBay is in large part due to their competitive pricing and stock range. It's almost a guarantee that you'll find what you're after on the world's leading online marketplace.
To start browsing the riflescopes that are available go to eBay's homepage and select the sporting goods option.
From there, click on hunting then sights and scopes. This will display all live riflescope auctions and allow shoppers to browse freely.
If shoppers have a specific brand or variation in mind they can use the keyword search tool found at the top of the page.
eBay Shops
Hunting and clay pigeon shooting continue to rise in popularity, with people of all ages taking up these exciting hobbies in controlled environments. This means that the need for stock is becoming more prominent. 'eBay shops' has become a useful outlet for shoppers. They can expect to find special offers and great deals in these specialist miniature stores. To see what eBay stores are open for business, select the eBay shops link at the bottom of the homepage.
Delivery
Sights and scopes are fragile; most can't even withstand heavy recoil let alone mistreatment in transit. When buying from eBay speak to the seller in regards to delivery options. If given the choice, always opt for a secured courier delivery service, as this will offer the buyer protection should the order be damaged during delivery.
Completing a Transaction
When a shopper has found a riflescope of interest they will need to do one of the following:
Place a Bid
Make a Best Offer
Buy it Now
Once an auction has concluded the winning bidder will need to complete the checkout process.
Doing this via PayPal will mean that the buyer protection program covers the transaction.
Conclusion
Owning the correct riflescope can mean the difference between a hit and a miss when out on a hunt. This also counts for those using the incorrect riflescope for their shooting style. Entering the market can be daunting for even the most seasoned rifle accessory buyer. This guide is here to help simplify that process, ensuring that everyone can obtain the right scope for his or her skill level.
It's time for shooters to get serious about their riflescope needs and be smarter when shopping for them. eBay has become a top tool for those looking to buy rifle accessories. This means shoppers are sure to find what they are after on the worlds leading online auction site.